Dhak Dhak Go - stomping ahead with this slogan, Hero MotoCorp has come a long way since its inception in 1984 as a joint venture between Hero Cycles and Honda Motors. Since then it has emerged as a hero to become the world's largest motorcycle company with over 50 million units zipping through Indian roads today. Hero MotoCorp (HML) commands more than 50 per cent market share in the domestic motorcycle market. The company enjoys leadership when it comes to technology and has set forth a benchmark in the two-wheeler industry.
Termination of Honda joint venture
In December 2010, Hero Honda decided to end the joint venture between the Hero Group and Honda Motors. Under the new agreement, Honda sold its 26 per cent stake to the Hero Group. The company entered into a licence agreement in which Honda gave HML the licence to manufacture and export certain products and parts, for which Hero would pay an amount of `2,479 crore as fee over the years. Subsequently, in August 2011, the company was renamed Hero MotoCorp with a new corporate identity and logo. The ending of the 26-year-old venture can have the following implementations: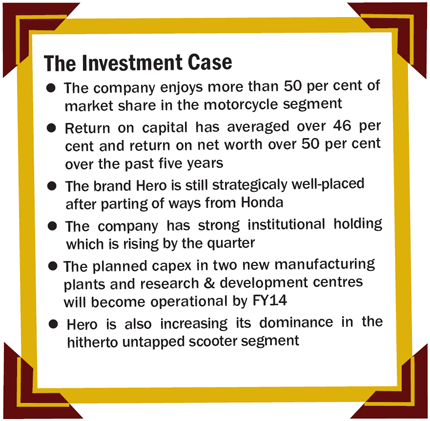 Pros: Prior to the JV split, HML was not allowed to export as per the licence agreement with Honda. But with the new export licence it can tap overseas market. Hero is free to use any vendor for its components instead of just Honda-approved vendors which means it can now buy parts at competitive rates.
Cons: Since inception, the Hero Group has relied on its Japanese counterpart for technology. So, there are concerns that HML might not be able to sustain the same. Hero can use Honda's brand till 2014 but will have to work on rebranding after that. It will also have to establish and invest into R&D for future innovations.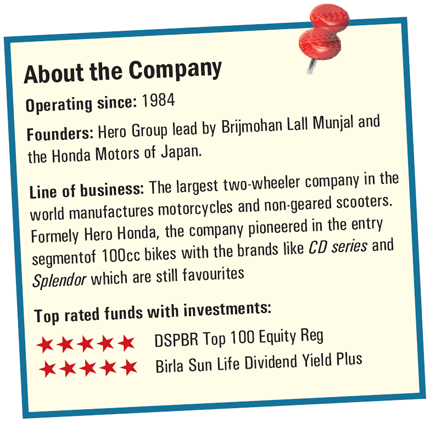 Strengths
The fact that Hero was one of the first to introduce the four-stroke bikes that were known for their fuel thrift and low pollution emissions, the company has created a reliability factor for itself. HML has focused on the entry segment bikes (100-cc) which are fuel efficient, a priority for a middle-income country like India. The company has successfully targeted this segment with its hit models such as the CD-series and Splendor. Hero has also captured other segments with its mid-range bikes - Passion, Hunk, Splendor Plus, Ignitor - and high-range bikes - CBZ and Karizma.
* Hero has created a brand recall value by its smart ad-campaigns and associations with events like cricket, hockey and the IPL
* With its finance scheme - Saral Finance, it has wooed the rural population through ties with Cooperative and Grameen banks
* HML holds 47 per cent market share in the two-wheeler segment and 36 per cent market share of the total auto industry in India. Market share in the scooter segment has also risen from 2 per cent in FY06 to around 20 per cent in FY12

Growth drivers
Long-term growth prospects of Indian economy and favourable demographics, coupled with rising incomes are the major growth drivers for the company. With better roads connectivity in the rural areas and changing lifestyle, the demand for two-wheelers will witness a constant rise.
* The two-wheeler penetration in urban India is 20 per cent and in rural India just 10 per cent. There is still huge potential left in tapping the whole market. Thus, the entry level bikes are going to play a major role in HML's growth story
* The interest rates are on the higher side and are expected to ease in the coming months if inflation comes down within the normal range.
* The company plans to expand the installed capacity to 7 million from the existing 6.6 million capacity (3.4 million in FY07). Moreover, HML utilises near 90 per cent of its current capacity and hopes to sustain this
* With its new licence agreement the company can now export its products overseas and has started venturing into Africa and Latin America. With rising preference for scooter in the urban areas, HML will benefit by targeting students and women for light non-geared scooters
* To develop its R&D, Hero MotoCorp has started the process of building global centers. It has also formed a coalition with European firms to design engines and other parts. The company, with its experience from working with Honda, is working to launch its own products
Concerns
The competition in the entry-level motorcycles from Indian companies such as Bajaj Auto and TVS has been intensifying over the years. HML will have to be more innovative in terms of design and mileage to attract customers. The company will also have to focus on the premium bikes since it does not offer many variants in this segment. Rising metal prices, particularly steel, copper, aluminium and nickel have resulted in the escalation of material costs. Cost of services and raw materials as a proportion of total expenditure increased from 81 per cent in FY11 to 87 per cent in FY12 and has adversely impacted Ebitda margins. Most of the parts are imported and with the falling rupee it is becoming increasingly costlier for the company. It will have to find a domestic replacement soon.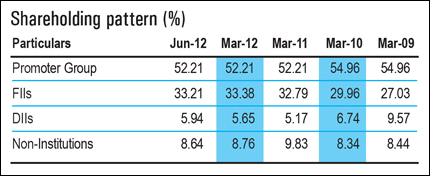 Many of the vendors are facing constraints for expansions given the high cost of debt which is expected to remain high in the coming months. The company is currently enjoying its tax-exemption agreement at the Haridwar plant which will end in FY13. This may further put pressure on margins and the effective tax rate on profit before tax could escalate from current range of 16-17 per cent to 23-25 per cent.
Financials
HML has shown a healthy growth with revenues growing at an annualised rate of more than 15 per cent in the past five years and earnings at the rate of more than 20 per cent. Hero has been virtually a debt-free company for the past 11 years and net interest payment by the company has been negative in the past few years. Working capital has remained negative since FY99, signifying that it gets advance payments from dealers and enjoys credit from vendors. This not only frees up the cash and liquid assets for day-to-day working but also earns interest on those advances. Hero has an exceptional return of capital employed (RoCE) with 5 year average of 58 per cent.
Valuations
Hero MotoCorp is trading at 17.09 times its earnings which is slightly lower than its 5-year median of 17.12. Also factoring the earnings growth of 23 per cent, the stock's PEG stands at 0.75 which makes it an attractive bluechip buy. It has also given a decent dividend yield of 2.13 per cent. With the interest reversal and finance cost coming down, the revenue will pick momentum realising the potential of the stocks. BUY