Value Research Stock Advisor has just released a new stock recommendation. You can click here to learn more about this premium service, and get immediate access to the live recommendations, plus new ones as soon as they are issued.
Given a choice, would you like to limit your investment horizon knowing fully well that it is no guarantee for better returns? For some strange reason, fund houses keep coming up with concentrated equity funds that seek to invest in just 20-25 stocks, thereby doing away with the need of diversification in a portfolio.
Overall, we have eight such concentrated funds in the country (see graphic) which remain invested in only 10-25 stocks all the time. The other equity diversified funds invest in the universe of 40-45 stocks on an average. Some of them invest in 70-90 stocks too. The only exception is Goldman Sachs S&P CNX 500 Fund which invests in 500 stocks due to its mandate.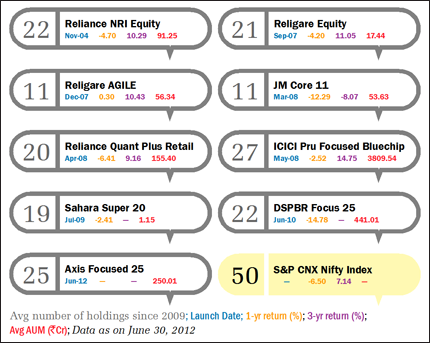 Barring some funds such as ICICI Prudential Focused Bluechip Equity and Reliance Quant Retail, all concentrated funds have lost two-third of their assets in the past three years. Despite this, one more such fund, Axis Focused 25 Fund, was launched recently and has already raised Rs 250 crore in its new fund offer (NFO).
Look at it this way. If you own 100 stocks with each representing 1 per cent of your portfolio, a 50 per cent decline in one stock would lower your portfolio by only 0.5 per cent. But, if you own just 50 stocks, the decline would be of 1 per cent. The difference is for all to see.
Now, imagine the implication of having stocks such as Unitech, Reliance Communications, Sun TV Network, Satyam Computer Services and LIC Housing Finance in a portfolio which invests in just 10-25 stocks. In this case, the intra-day fall will be more painful as a large quantum of assets is invested in individual stocks compared to highly-diversified funds.
The only fund among these 8 funds which has performed well is ICICI Prudential Focused Bluechip Equity. Rest all funds have struggled. For example, DSP BlackRock Focus 25 fund, which manages around Rs 441 crore, as on June 30, 2012, lost 14.77 per cent over the past one year while the S&P CNX Nifty lost only 6.5 per cent in the same period.
Diversification ensures better returns by protecting the investor against bad choices. So, dispensing with this trait may not be the right way to invest the money.