Should I invest in IndusInd Bank?
- Akshay
Promoted by the Hinduja group, IndusInd Bank, has successfully achieved a turnaround in its operations (in phase I) and is pursuing the next phase of its growth cycle. It holds a niche position in financing small road transport operators. Its strong presence in rural and semi-urban areas will help the bank grow in the used commercial vehicle market. However, this growth opportunity comes with a caveat as this segment is marked with higher delinquencies and thus could exert pressure on asset quality.
With the focus on profitability growth, the bank has been able ramp up its return ratios in a short span: return on equity (RoE) jumped around 12 percentage points over five years and return on asset inched 1.22 percentage points over the same period.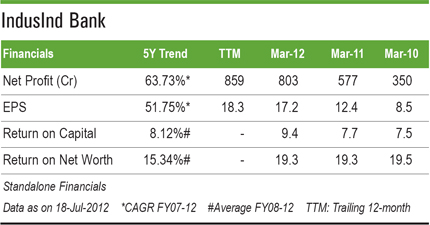 The stock's price-to-book value ratio (P/B) is currently trading at a discount of 20.6 per cent to its five year median P/B of 2.75. The stock has clearly outperformed the Bankex over the past five years and over the past two years, market preference towards retail asset financiers has led the bank, along with HDFC and Kotak bank, to outperform the index. The bank has a successful track record of growth and has raised capital at every stage at richer valuations to fund its expansion. Given the expanding fee income portfolio, credit cards, mortgage origination and government business, the revenue stream is expected to grow, bolstering its core profitability.