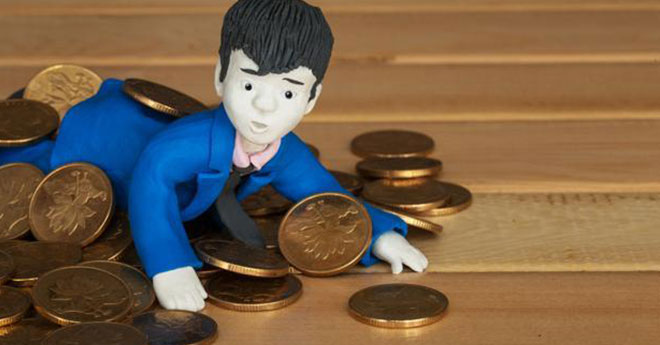 It is a brand new financial year and some of you must be gearing up to do things differently this year. But before you begin looking for the next best investment or the next flavour of the year, spend some time thinking about the money mistakes you make. I find that money mistakes come in many grades that move from the very basic to the more sophisticated. I'll talk about just three right now. Grade one money mistakes are entry level errors, grade two money mistakes are made by more sophisticated investors, and so on. For all the attention that 'getting rich' or 'investing to win' kind of titles get in the book space, I think they are jumping the gun. Most of us struggle with far more basic issues than making that one winning investment and working towards a jackpot. Identify the grade you're at in the money mistakes matrix.
Grade 1 Money Mistakes
A very basic error, it is the ground floor of money mistakes. It is to say: I don't have money to invest. I am too poor. I have no savings. Where is the money? I have no head for numbers. Too difficult for me. No time. Will do it soon. Will hand over money to my spouse, father, brother, good friend who will manage for me. I'm too young to worry. Now I'm too old, what's the point. These are all loser statements. Don't make them. I've run workshops on money that have had village level NGO workers earning a tiny salary to the mass affluent in big metros. They all had the same look: why am I in the room, I have no money to invest? If the peanut seller outside your office can save some money, so can you. Not having a surplus is easily fixed- you can earn more, spend less and rework your current borrowing and investing patterns. There is no other magic formula to starting a saving surplus in your monthly income rhythm. 1st graders can be identified by their don't care attitude towards money, which actually hides many insecurities and fears.
Grade 2 Money Mistakes
2nd graders are those who get off the ground floor and take some action but get entangled in the maze of old products and thoughts about where to invest. Real estate, gold, fixed deposits and traditional life insurance policies are their chosen destinations. Ask them why? Because that's what my dad did. It worked for my parents. Dad knows best when it comes to money. Seriously? In everything else you think that the older generation is so yesterday, but when it comes to money, you repeat their actions? This is true not just of the millennials but even older people in their 30s and 40s. Talk to anybody who has invested in the stalled Noida real estate projects and you hear the same story-we grew up thinking that real estate was the safest sure bet that will make us secure.
Other than being real estate heavy, 2nd graders can be identified by the mess in their insurance portfolios. By the age of 40, they will have at least five to seven policies. There is one case where a man had 52 policies in his portfolio and he was under-insured. These guys are doing something but they are doing it wrong. Investments are meant to solve financial problems. They are not bought because they are being sold smartly.
Grade 3 Money Mistakes
3rd graders are an interesting bunch. These people have made it through the dangerous waters of poor investment products and have zoomed in on mutual funds as the product category of choice for their money. But then they go overboard. They buy every fund that is recommended. They buy the flavour of the year. They buy what is sold rather than what they need. A 3rd grader has been found with over 60 mutual fund schemes.
Buying too many schemes is a mistake on two counts. One, managing them becomes difficult. Two, the benefit of diversification goes away after you have three or four schemes that have the same goal. Remember that you are buying a managed fund and paying a higher cost (in the form of an expense ratio) because you hope that the fund manager will beat the benchmark. If benchmark return is what you get, then you may as well buy the exchange traded funds that cost a fraction of the managed funds. Keep it simple and have no more than 10 schemes in your portfolio. Ten is the outer limit.
At every grade there is a tendency to suddenly leap into a promising investment. The Bitcoin mania is an example of just that; people who thought that mutual funds were too full of risk were swearing by the money multiplier investment called Bitcoin. It takes a lot of courage to stay on course and ignore the highs and the lows of investing. In the new financial year, I hope that you overcome these money mistakes. What should you do? The advice is boring and has stayed consistent over time. Managing your money is a habit and not a one-time dash to the finish line. It is a decision you take of not getting swayed by greed or fear. It is a promise to yourself that you will make a financial plan or work with a planner to help you make it. It is managing expectations from your investments-expecting money to double, or get 25% returns year after year is a recipe for disaster. People who make fewer mistakes are less hooked to watching the markets go up and down. A new year has begun, use it well. Press the reset button.
In arrangement with HT Syndication | MINT