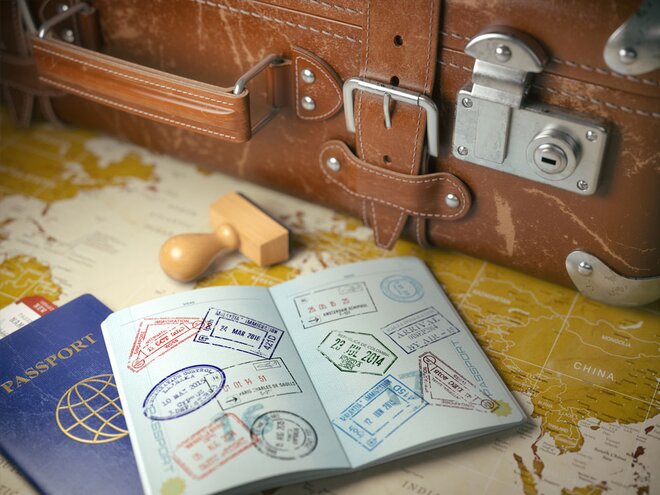 I just received my new passport, which makes me very nervous. I have always had problems with my passports and they continue to haunt me, beginning with the first one I got nearly 70 years ago.
It was the passport I went with on my first trip to England immediately after the war. I was among the first batch of Indian students to land in England after the war and there were doubts whether the passport was Indian or British. The doubts were cleared on a cold morning in London just after Christmas, when a burly policeman knocked at my landlady's door.
He took one look at my passport and told me to report to the nearest army centre as soon as possible. On further inquiries, I was told there was an army barracks in Hyde Park, just across the road from Harrods department store, which was not as famous then as it is now.
The major (or was it colonel?) took one look at me and asked me to surrender my passport. I was then asked to strip - a brand new experience for me. I was then told to line up with others in a cold hall reeking of phenol and sweat. After the medical examination, I appeared before the commanding officer expecting the worst.
"You have to report for duty next week", he said, without looking up, and asked me for my passport.
I had no idea what this was all about, until the penny dropped. I was being ordered to report for militancy duty as a conscript, though the passport said I was an Indian. I told him I was a student, and an Indian one at that.
"A student, eh?" he said and stamped the passport. I was told I was exempted from military duties and came out of the barracks a little shaken, but none the worse for wear. But, as usual, I had forgotten to pick up the passport.
Six months later, during the summer vacation, I was going to the Continent (Europe was then known only as Continent) on some kind of a study tour. When we crossed the English Channel, we reached Calais, a depressing little town full of French-speaking spivs selling fake dollars.
Just when we were about to take the train to Paris, I was stopped by a man in some kind of uniform with a de Gaulle-like flat-topped hat that had seen better days, smelling of garlic, and god knows what else. France had suffered a great deal during the war, particularly its coastal towns. Yet the French behaved as if they had done it all by themselves, and it was de Gaulle, not Churchill or Roosevelt, who had won the war.
"Your passport, monsieur", he said. I looked everywhere but just could not find it and told the man in the uniform so.
"Then, you have to come with me", he said. "Here we go again", I said to myself and meekly followed the man into a small office which had two tables, three chairs and a bog steel cupboard, overflowing with old passports. He took out a paper, squiggled something on it and stamped and initialed it.
"This will be your passport (he used some other name) while you are in Paris", he said.
It was kind of him, I told him. He could have me arrested and probably shot - the war had just ended and there were soldiers everywhere. He could have sent me back to London on the same boat, or handed me over to the army. You do not know what the French will do when you visit their country without a passport.
In Paris, I went to the British embassy - we were still not independent and did not have an embassy of our own. I requested for something more solid than the piece of paper I had been given. Instead, they just stamped the paper at two or three more places and let me go.
When I returned to London, I went straight to India House, and asked for a new passport.
"New passport?" asked the man in the consular office, as if passports were a precious commodity not to be passed around like peanuts. He fished in his cupboard and retrieved my old passport which apparently I had managed to misplace in his office a couple of weeks earlier.
I am now a holder of the tenth or eleventh passport, and it shall be my last one - unless I manage to lose it again!