India is emerging as one of the top destinations for Foreign Direct Investments (FDI) on the back of inflows having increased sharply over the past six months.
The increased flows have raised the possibility of reaching a level that is as high as $41 billion this year and thereby achieve parity with the previous highest logged in 2008.
A prime mover in this regard, as the global meltdown gives way to the recovery, has been the tremendous improvement in business confidence and greater ability and willingness to tolerate risk by investors.
This has had a positive competitive angle too. According to a Morgan Stanley report, India has been steadily increasing its rank compared to other emerging markets. The country's shares in global FDI flows have improved significantly to 2.4 per cent in 2008 from 1.3 per cent in 2007 and 0.3 per cent in 2000.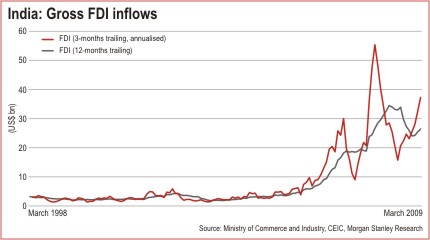 The trailing three-month sum of gross FDI inflows into India too has shot up to $9.3 billion (annualized rate of $ 37.3 billion) as of August 2009 from the trough of $3.9 billion (annualized rate of $ 15.8 billion) in December 2008 ,thus implying that it has recovered quickly after the tremendous improvements attained in global sentiments that has powered business investment.
Within Asia as well, over the last few years, India has steadily improved its position in attracting FDI investments as its share in FDI inflows in Asia has increased to 10.6 per cent in 2008 in comparison to 2.4 per cent in 2000.
From being ranked 36th in the world on FDI inflows in 2000, India improved its rank to 20 in 2007.
Now, India is third in global ranking after China and US for potential FDI investments during 2009-11. If one talks of specific sectors, though services sector remains the key attraction for foreign investors, over the last 2-3 years, investments in real estate, manufacturing and infrastructure sector have picked up.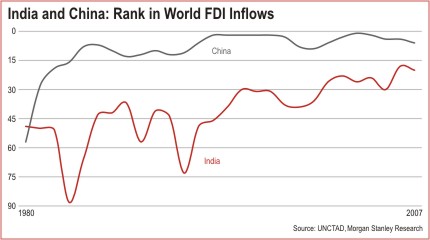 Although the share of services sector has been declining when compared to 2007, it still has the largest share of 29.4 per cent as of financial year 2009.
There are enough reasons to believe that FDI inflows should continue to pick up and the country would further improve its position in global FDI ranking.
Figuring from trends and looking to the future, India is continuing to expand as a major destination for services sector outsourcing. There would also be a steady increase in FDI focussed on growing domestic market opportunities. Apart from that, the positive trend of globalisation of capital markets will mean increased acquisition of shares by foreign companies ensuring higher FDI inflows.