A leader in providing specialized technology solutions and services for Geospatial Infor-mation Systems (GIS), defense and engineering sectors, unlike other IT firms, Rolta is a niche player. It offers high-end services to companies in infrastructure, oil & gas and defense sectors. Also, with a joint venture with the Thales Group, it augmented its offerings. The company manages to beat downturns due to 25 per cent of revenue flowing from government contracts.
It has an order book of around Rs 1,552 crore, targetted for completion in 12-to-18 months. In CY08 it made a capital expenditure of Rs 640 crore for both acquisition and setting up an SEZ. It will take some time for these synergies to be reflected in the bottomline, but for the near term period, the cost of acquisition will weigh down profits.
Due to new accounting norms, quarterly profit at end of March 2009 was almost double of March 2008. In Q1CY09, profit stands at Rs 133.1 crore, compared to Rs 65.7 crore of Q1CY08, but its profit before exceptional items fell to Rs 64.8 crore in the last quarter from Rs 76 crore of Q1CY08. With a historic trading level of 11 times its trailing earnings, the company is trading, at quite a discount, at PE of 5.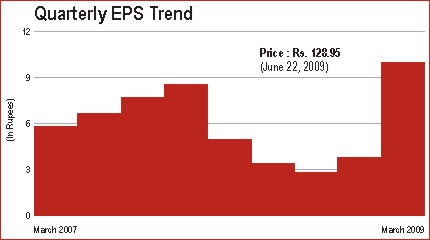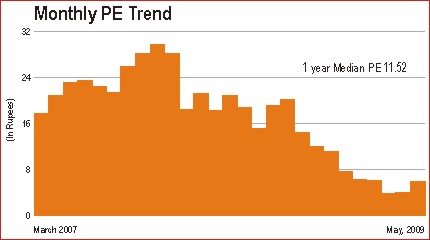 Back to cover story : 12 Stocks to Buy