The banking industry in India has become more like a see-saw with the Public Sector Banks (PSBs) on one side and the private ones on the other and each pushing and shoving for investors' attention. However, the performances of both are in complete contrast too, whether it is in good or bad times, so when one goes up, the other comes down and vice-versa.
What sets them apart is primarily their separate and distinct business models, making their operations function on a virtually contradictory manner. While the PSBs are completely risk-averse, the private banks are quite aggressive. The conservative approach of the former gives an advantage over the latter during downturns while the latter becomes the champion during good times.
Digital Divide

A big technology gap separates the two classes. While private banks still account for just a quarter of the market share, they are the ones responsible for changing the banking business in India. Their tech-driven processes gave them an advantage and stimulated both speed and volume of business for them till 2007, before the credit crisis broke. They were able to leverage technology for acquisition and expansion of customer base along with providing them with excellent banking services like ATMs, internet banking, mobile banking, and more. Technology was also used for data storage that helped them strengthen customer relationships and increase business by cross-selling products.
Banks like ICICI Bank and HDFC Bank didn't even exist when the reform process was initiated and it was only in the mid-90s that they came into the picture. But since then they have grown by leaps and bounds. But their ride came to a bumpy stretch at the outbreak of the credit crunch in 2008, when their aggressive and therefore, risky marketing strategies backfired making them book losses and higher NPAs.
This opportunity made public sector banks the winners, simply because  their conventional, unadventurous methods of banking saved them from some very risky lending options. As a result, they have emerged strong across all key indicators. They have not only reduced the lending rates, but have also managed to record higher average net profit and lower NPA levels than their private sector counterparts.
Performance Gap
The market capitalization of private banks in the BSE Bankex index was higher than that of the public ones during the period March 2007 to March 2008. But the public banks exceeded the private banks' capitalization in September 2008 and since then have been higher in each and every month.
The net profit of public banks that feature in the BSE Bankex index has risen by 46 per cent in March 2009 quarter as against March 2008 quarter while the net profit of private banks has increased by just 1.5 per cent during the same time period. Net Sales of public bankers grew by 26.12 per cent while that of private ones grew by a smaller14.7 per cent. The interest income of public banks has increased by a higher 30 per cent while that of private banks has risen by just 14.5 per cent.
The aggressive strategy of private banks led to higher net non-performing assets (NPA) which could not be restricted in wake of the downturn while their public counterparts somewhat succeeded in doing so. The net NPA of public banks has increased by just 20.42 per cent in March 2009 as compared to March 2008 while that of private banks has increased by 37.79 per cent.
The average earning per share of private banks has increased from Rs 7.15 in March 2008 to Rs 7.84 in March 2009 while that of public banks has increased from Rs 9.2 to Rs 14.45 during the same time period. In fact, only two banks from the BSE Bankex index have been able to increase their net profits and earnings per share every quarter since the last four quarters and they unsurprisingly are public banks, namely Bank of Baroda and IndusInd Bank.
India's largest private sector lender, ICICI Bank has reported a 35.32 per cent fall in its net profit in the quarter ended March 31, 2009 as against quarter ended March 31, 2008 while the largest public banker, State Bank of India, has posted a 45.62 per cent gain in its net profit during the same period. Another state-run bank, Oriental Bank of Commerce that had incurred a net loss Rs 99.44 crore in the quarter ended March 31, 2008 has posted a net profit of Rs 195.82 crore in the same quarter this year.
All these show how public sector banks have been able to outpace the private banks during the recent meltdown. Their disinclined approach towards risk-taking has brought them to the limelight while the private players have taken a hit, really hard.
As mentioned earlier, the seesaw has swung public banks on an upward trajectory. While public banks have the benefit of recapitalization being offered by the government for banks who's Capital to Risk-Weighted Assets Ratio (CRAR) falls below 12 per cent, it might take some time for the private banks to re-enter with the same aggression that they had before the crisis.
What puts private banks in a bind is that they have to keep their shareholders happy by increasing profitability while they also need to simultaneously prevent their key fundamentals like NPA, CAR from turning bad. On the other hand, shareholders of public banks are mostly content since their stocks are high dividend yielding ones. Also, the government's support to these banks in case their Capital Adequacy Ratio falls out of place is a perfect safety net. This is a win-win situation for shareholders of public banks while private banks still need to perform a delicate balancing act.
Banking involves risk-taking and either of the extremes is not good. Given that banking sector is the backbone of any economy, if the divided public and private sector banks were to moderate a little, both from the conservative and the aggressive end, then we are more likely to have a balanced banking sector to fuel economic growth.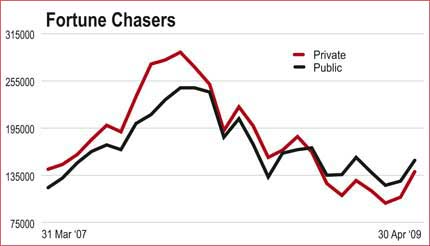 Check out
Snapshot ICICI Bank
Snapshot HDFC Bank