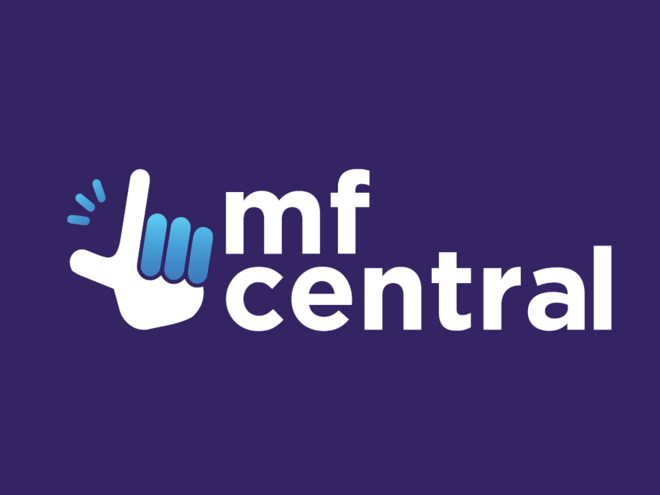 While investing in a mutual fund scheme has become a lot easier over the years, many investors still face difficulty in carrying out various non-financial transactions, such as updating nominee details, changing mobile numbers across funds, etc. But not anymore. Now with MFCentral, a new mutual fund platform, do all these activities and many more with ease. This new platform integrates all your investments into one single window, thereby enabling you to know various aspects of your investments - some of which you may not have known earlier.
In July 2021, SEBI asked registrar and transfer agents (RTAs) to develop a common industry-wide platform to make the experience of investing in mutual funds convenient for investors. The first phase of the platform went live on September 23. The second phase would allow people to perform the same tasks through the mobile app and some other features and the third phase will finally facilitate financial transactions.
It takes only five minutes to register on MFCentral. You only need your PAN and registered mobile number to set up an account. Here are the steps:

Visit the website, click on sign up; enter your PAN and mobile number, followed by OTP; and set your password and five security questions. That's it. Make sure that you remember the answers to the security questions.
Next time onwards, you can log in by clicking on sign in, entering your PAN and password/OTP and answering a security question already set by you.
What you immediately get is the option to get a consolidated view of all your mutual fund investments. You may already know this but you may not know much about the service requests.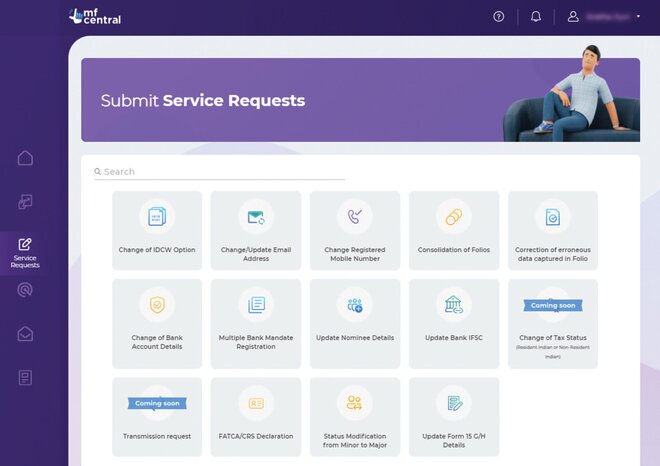 We tested some of the service requests (across about three-four different AMCs) that we think are pretty useful. At time of writing this, all the requests except for the status modification from minor to major were successfully processed and completed, highlighting the responsiveness of the interface. In our overall experience, we did not come across any lags or delays.
Here's a step-by-step guide on how some non-financial transactions can be completed in a matter of minutes.
Consolidation of folios
At times, it is quite baffling for investors to keep tabs on the number of folios in their portfolios. With MFCentral, you now can declutter and structure your investments.
a. Once you log in, click on the 'Service Request' option on the homepage and then on
b. 'Consolidation of Folios'. In the dropdown menu, select the fund house where you would want to consolidate the folios.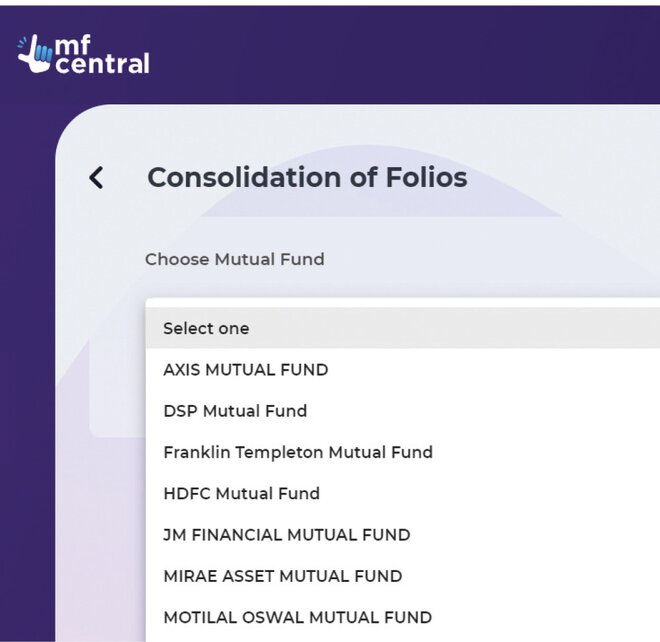 c. The window will give you an option to select the target (surviving) folio, i.e., the one you want to retain. But remember that your source and target folios should have the same set of holders, mode of holding, tax status and holding pattern.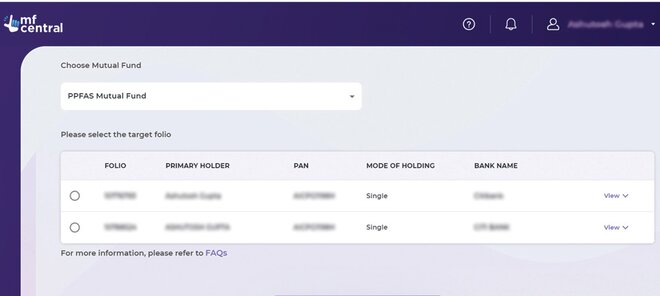 d. Next you select the source folio, aka the folio that is to be merged. Once you give your consent, you will receive an OTP. On verifying the same, your request will be successfully lodged.
e. The turnaround time varied for us across AMCs, ranging from 30 minutes to even a day.
Update nominee details
Registering a nominee makes it much easier for your loved ones to claim the money in your absence. This service request provides you with nominee details across all the folios, which can turn out to be a revelation, especially if you have long-term investments. One can actually check if those nominations are still fitting. It just requires a few clicks.
a. Select the 'Update Nominee Details' request and select the folio where you want to add/update the nominee.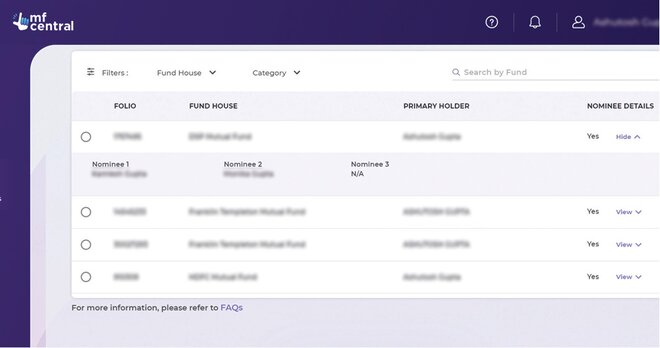 b. Once selected, you will land on a screen that shows your nominee details.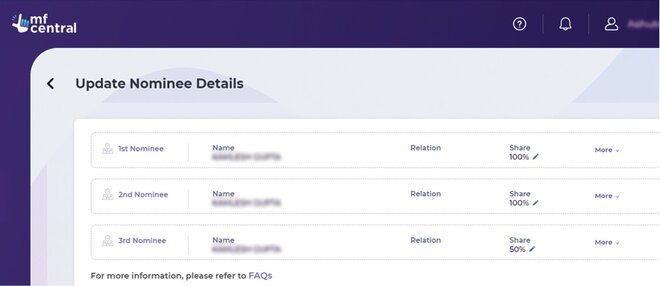 c. Accordingly, make the changes (update/delete). If you update the nominee, you will have to provide some basic details about the nominee. It is highly desirable to add details like the PAN of the nominee, even though it may be optional.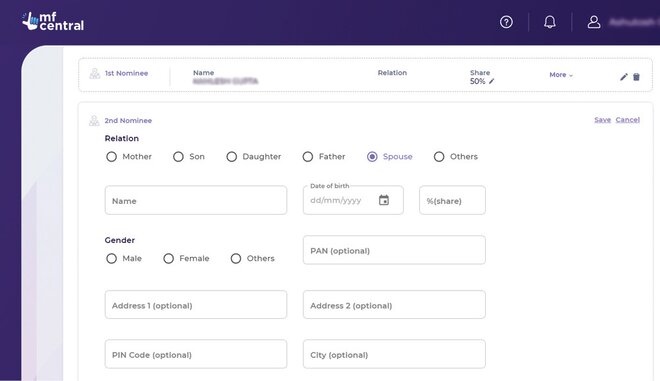 d. On submitting the request, you will receive an OTP on the registered number. On verifying the same, your request will be successfully lodged.
e. The turnaround time of our request was about 30-45 minutes. But your experience can be different, given that MFCentral is only a receiving station and the rest of the communication happens at the AMC level.
Assigning a nominee is such an important task that if you have not done it already, then do so right after reading this story.
Change registered mobile number
Since MFCentral authenticates login credentials through mobile-based OTP, a single mobile number across investments is important. Once you update the number, it gets updated across all folios. It's a simple process:
a. The portal offers you to submit a signed and scan-based request. You will have to upload a scanned copy of a document mentioning the new number, along with your signature.
b. Since it is a transaction based on the physical form, it took more time to get processed than a fully digitalised transaction like nominee update.
c. Once the number was updated, we received an email and an SMS confirmation from the AMC directly.
Change/update email address
Just like the change in mobile number request, you can change/update your email address across all the folios.
a. First, you will have to enter a fresh email ID. Then, you will need to verify the new email ID through OTP authentication.
b. Since the portal authenticates all service requests through OTP verification on the registered mobile number, you will have to go through mobile number OTP authentication in this case as well.
Status modification from minor to major
Using this request, a minor can apply for a change of status to major. ­­­But while applying for the change, the minor has to be KYC-compliant. In this phase, the change can be enabled by using the guardian's login details.
a. Click on this service request and select the folio where you want to modify the status of minor to major.
b. Once selected, you will have to fill up and upload a form for change in status from minor to major. You will have to submit a few documents - PAN, Aadhaar and a scanned copy of a cheque.
c. On submitting the request, you will receive an OTP on the registered number. On verifying the same, your request will be successfully lodged.
Besides these, you can do the following non-financial transactions on MFCentral:
Change of IDCW option: Income Distribution Capital and Withdrawal (IDCW) Option refers to the dividend-payout option in mutual funds. Using this service, you will be able to change from 'Payout to Reinvest' or 'Reinvest to Payout'. The window displays the eligible folios and you can select the folios where you want to change the option.
If you really ask us, both these options are undesirable. It is the growth option that is the best one. If you have investments in any of these options, switch out of that and move to the growth option.
Correction of erroneous data captured in folio: This one is for investors who used to fill in physical forms for every investment. This request gives you the option to validate and rectify any difference between data values like the holder's name, mobile number, date of birth, etc., that you had filled in your physical form and the value captured.
Change of bank account details: While this service request is applicable only to changes in primary bank account details, the 'Multiple Bank Mandate Registration' request helps investors add a new bank, delete an existing bank account or change the default bank account.
As of now, these two features are available only for portfolios having a value of less than Rs 10 lakh. MFCentral may review this restriction later.
Update bank IFSC: Only where the value is NULL can one update the bank IFSC. In the case of bank mergers, the investor doesn't have to bother to change the IFSC code, as the RTA will initiate this change once the new IFSC is updated in the RBI master.
Other service requests: 'FATCA/CRS Declaration' and 'Update Form 15 G/H Details' are the other requests available.
Track your status
Separately, the portal portal also provides a 'Track Status' window where you can view the fulfilment status of all the service requests placed. While the portal is pretty effective given the smooth execution of the transactions, the 'Track Status' is of little relevance. This request window is not descriptive enough, as it doesn't provide any details about the AMC. You can view the details only when you click on each request. So, we feel there is a scope for improvement in this section.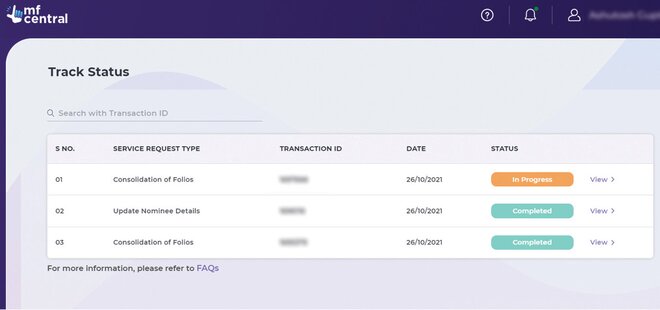 Conclusion
Overall, our initial impressions are quite positive. The MFCentral portal offers a clean and intuitive user interface and gets the job done. It greatly eases the tasks of doing such non-financial transactions, which were never that simple. Further, this platform is a big step for investors to enhance their overall investment experience.