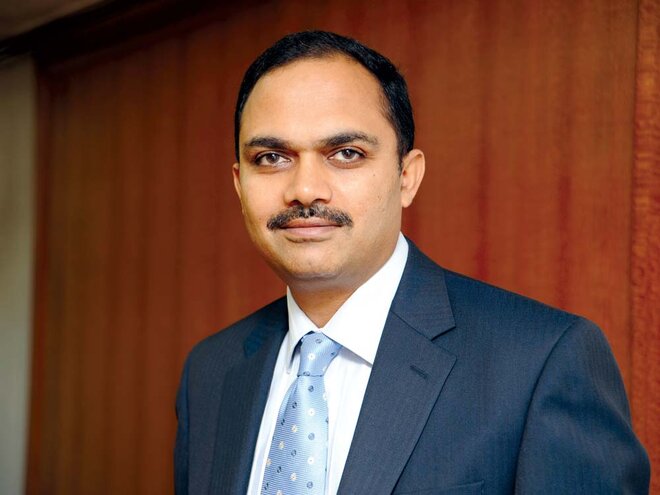 What are the challenges that you face while managing an AUM of over Rs 70,000 crore?
In my opinion, the issue of size has been misunderstood for some time now. The absolute size of funds is less relevant. What really matters is size relative to the size of the market and the size of the underlying companies. Seen in this way, no fund in India, especially large-cap funds, is of significant size compared to the overall market! India's equity market capitalisation is about Rs 14,000,000 crore. One per cent of this market is Rs 1,40,000 crore. Compared to this, the largest equity fund in the country, at nearly 25,000 crore, is less than 0.2 per cent of market capitalisation.
Globally, large funds are in fact between 0.5-1 per cent of market cap. The AUM of Rs 70,000 crore is across three funds and the equity component of the largest is less than 0.25 per cent of the market cap. Thus, in my judgement, size is less of a challenge in managing these funds, especially for a long-term-oriented strategy. Low portfolio turnover of these funds is indicative of the long-term-oriented investment strategy that we follow.
The 50 largest companies in India have a market value between Rs 50,000 and Rs 8,00,000 crore. Thus, a fund of Rs 25,000 crore to Rs 35,000 crore that invests in 30-50 companies is clearly not large relative to the underlying companies as well.
Your flagship schemes HDFC Top 100 and HDFC Equity seem to have made a comeback after a rough patch. What changes did you make?
During the past year, outperformance by our funds was led by overweight positions in corporate banks, industrials and energy. Underweight position in the consumer- discretionary space also aided performance.
I would once again like to highlight that the portfolio is constructed with a medium to long term view. The same is reflected in our low portfolio turnover and higher holding periods. Though there have been performance has been challenging, over the long term, this has been a rewarding approach.
HDFC Balanced Advantage forms a significant portion of the total equity AUM managed by you. How is this fund different from the regular aggressive hybrid fund? What type of investors should invest in it?
An aggressive hybrid fund invests around 65 to 85 per cent of its total assets in equity-related instruments and about 20 to 35 per cent of its assets in debt instruments. The funds in the balanced-advantage category, however, allocate investments in equity and debt instruments on a dynamic basis based on equity valuations, growth outlook, interest rates, etc. Since funds in both these categories invest in both equity and debt, there could be times when they could have a similar asset allocation but fundamentally these two are different categories.
Since, currently allocation to equities in this fund is above 75 per cent, it carries substantial equity risk and is suited for investors with a medium to long term view who are tolerant of volatility in returns and value.
What are the key attributes that you look in a stock before buying it?
We construct and manage portfolios based on respective scheme mandates and in accordance with regulations. The aim is to build a portfolio, representing a cross section of companies diversified across major industries, economic sectors, etc. We prefer growing companies with acceptable-quality management, good corporate governance, strong competitive position, etc., available at a reasonable valuation. The weights in the benchmark are also considered in portfolio construction.
How do you expect the market to be over the next one year? What should the equity investors do, who are getting unnerved because of the current situation?
Nifty 50 is trading near 19 times FY20 (estimated) and 15.8x FY21 (estimated) (Source: Kotak Institutional Research as on August 31, 2019). These are reasonable multiples, especially in view of an improving profit growth outlook. Thus, in our opinion, markets hold promise over the medium to long term. With the sharp decline in mid-cap and small-cap stocks over the past 15-18 months, going forward, significant divergence with large caps is not likely.
It is worth noting that the gap between 10-year G-sec and one-year forward Nifty 50 earnings yield has reduced significantly. This indicates that the market is attractively priced. In view of the above and expected recovery in earnings, there is merit in increasing allocation to equities in a phased manner or in staying invested as the case may be (for those with a medium to long term view and in line with individual risk appetite).