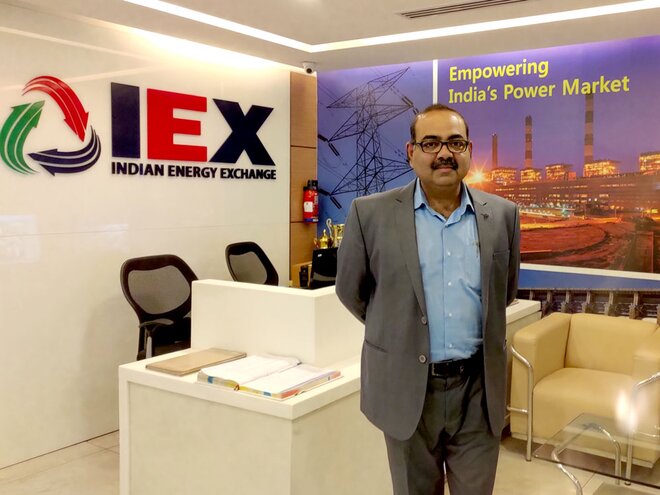 Vineet Harlalka, chief financial officer, company secretary and compliance officer at the Indian Energy Exchange Ltd (IEX) holds a bachelor's degree in commerce from the University of Delhi, and has been admitted as an associate of the Institute of Chartered Accountants of India and the Institute of Company Secretaries of India.
He has over 13 years of experience in the field of finance, taxation and treasury, secretarial and accounting practice and prior to joining IEX, he worked with New Holland Fiat (India) Pvt Ltd.
Here follows edited excerpts from an interview with Dhirendra Kumar and Ruchira Singh from Value Research:
What will make the spot electricity market grow in India?
It requires a push on two fronts - the first being the policy and regulatory front and other, increase in energy consumption. Electricity is a concurrent subject under the Indian federal structure, and every state can have its own regulations. Over the last few years, the government has been trying to introduce structural shift in the electricity sector through the amendment of The Electricity Act, 2003. The proposal is to separate content and carriage which will unleash 'consumerisation' of power and will allow greater competition with each one of us being able to choose our supplier.
Secondly, the Saubhagya schemes connecting all rural households have started bringing in tangible benefits. With the big push coming from the government on 24x7 supply of power, there is a chance to deepen the power market.
Regulatory and policy changes are indeed trickling in and we are in a time of transition. How is IEX preparing for the future?
The government is working proactively to usher in the next level of reforms in the electricity sector to encourage investments and efficiency. Various measures underway include, deepening of the power market including introduction of longer duration forward contracts on power exchanges, introduction of derivatives, review of power purchase sale mechanism, amendments in the National Tariff Policy and Electricity Act, 2003 and more.
For IEX, our core offering is and will always continue to be energy markets coupled with the second dimension, which is technology. In alignment with the needs of the market participants as well as market development, we plan to diversify our offerings horizontally into other areas in the energy sector, as well as vertically with introduction of several new and additional market segments on our platform.
In terms of horizontal diversification, leveraging on our strength of delivery-linked tradeable contracts, we will enter the gas market with IGX - Indian Gas Exchange. We have incorporated IGX as a wholly-owned subsidiary of Indian Energy Exchange. Our desire is to have a play in the entire energy basket of India either directly or through business acquisitions.
In terms of vertical diversification, we are on the verge of launching Real-Time Market (RTM) contract which should enable distribution companies to buy and sell electricity as close to 1 hour before delivery, Longer-Duration Contracts (LDC) to enable market participants buy supply for up to 365 days, Cross-Border Trade (CBT) with South Asian countries such as Nepal, Bangladesh and Bhutan to begin with.
There is also a plan to foray into renewables with Green Term-Ahead Market (GTAM), which is in alignment with rising demand for pure green energy. Besides, we are also focussed on introducing exchange-based ancillary market.
As regards technology-based opportunities, we are working on applications to facilitate smart power procurement and analytics.
When can we see the impact of the policy and regulatory changes on your revenue?
It is not possible to give a definite view on how policy and regulatory changes will reflect on our revenues. We are committed to the pursuit of introducing new products and market segments, greater technology advancements and applications, operational excellence in an endeavour to meet the dynamically varying requirements of the energy marketplace and the market participants.
How are you placed against the upcoming competition from the power exchange being set up by BSE and ICICI?
We certainly welcome competition. With more players coming, there will be a stronger pitch to deepen the market, which will foster market growth and expansion. For example we can see in a commodity exchange, as a practice, the product and contracts traded on one exchange are unique to contracts on another exchange. For instance, Multi Commodity Exchange of India Ltd has its unique products, National Commodities and Derivatives Exchange Ltd has its own.
Likewise, in electricity, the exchanges can get volumes and market share only when they have liquidity as well as their unique products. Having built the liquidity over the past decade at our exchange, it wouldn't be easy for competition to attract liquidity from existing products.
For the full interview, video and related coverage, subscribe to: https://www.valueresearchstocks.com/