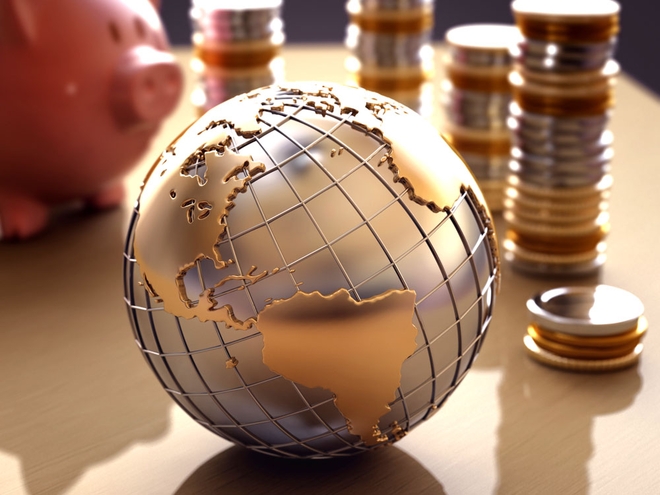 The Sensex hit its all-time high today. Concerns over a slowing economy seem to be diminishing. Foreign portfolio investors (FPIs) and foreign institutional investors (FIIs), which were net sellers until recent times, are making a comeback. Buoyed by various steps taken by the government, including a reduction in corporate tax rates, FPIs/FIIs are regaining their confidence in the Indian market. Besides, the imminent US-China trade deal and a sustained low-interest-rate environment across the world are creating a favourable environment for them to invest in India.
In the first story of our three-part series published yesterday, we analysed large-cap stocks wherein FPIs/FIIs increased their stake the most in the last three months (July-September 2019). In the second part, we looked at the mid-cap space. To arrive at a ballpark figure for the total investment made, we multiplied the change in the number of shares held by such investors and the average three-month price for stocks. The following are some insights into the top three companies and a list of top ten companies that have received most investments from FPIs/FIIs.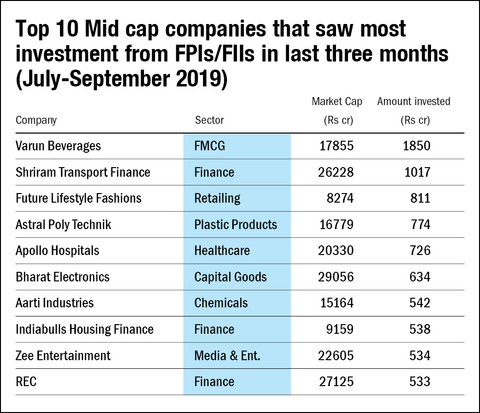 Varun Beverages: Part of the RJ Corp group, it is involved in manufacturing, bottling and distributing carbonated soft drinks and non-carbonated beverages, which are sold in India and a few other countries under the trademark owned by PepsiCo. The company enjoys a 27-year-old association with PepsiCo, while ~80 per cent of Pepsi India's revenues come from Varun. The company has spread its operations in six countries on the back of 36 manufacturing facilities, with six plants located outside India.
Varun Beverages operates under three business segments; a) Carbonated soft drinks (76 per cent of the total sales volume in 2018): It comprises brands like Pepsi, Mountain Dew and others. b) juices (six per cent): Tropicana range of juices and c) packaged drinking water (18 per cent): Aquafina, Aquavess.
The global beverage industry is an oligopoly - essentially dominated by two companies; Pepsi and Coca-Cola. These companies have franchised their trademarks to companies like Varun Beverages to manufacture and distribute their products, while they focus on marketing and product development. This is a boon as well as a bane for companies like Varun Beverages. Since Varun Beverages gets a stable business partner in Pepsi, its business growth hinges on the future of Pepsi's brands. Therefore, cost control and operational efficiency are two important considerations for Varun.
The company follows a January-December financial year. In the last three years till June 2019, sales increased by 12 per cent, while bottomline by more than 80 per cent. Following its IPO in 2016, the company retired part of its outstanding debt, resulting in debt to equity coming down to 1.3x in December 2016 from 3.1x in December 2015. The reduction in debt, along with an improvement in operations which resulted in higher margins, led to a rise in net profit and ROE (15.8 per cent in Dec 2018 as compared to 5 per cent in Dec 2016). The stock currently trades at a PE of 43x, compared to its three-year median of 54.7x.
Shriram Transport Finance: This non-banking finance company focuses on financing for pre-owned commercial vehicles (CVs). It lends under three business segments; 1) New CV financing (11 per cent of FY19 AUM), 2) Used CV financing (83 per cent) and 3) Others, comprising construction equipment, passenger vehicle, tractor financing (six per cent).
The company provides finance mainly for heavy CVs (46 per cent of June 2019 AUM), medium and light CVs (22.5 per cent), passenger vehicles (22.6 per cent) and others. Shriram Transport has an extensive network of 1,585 branch offices spread across the country with 27,000 employees.
Amid the NBFC crisis, the company, as of FY19, had a healthy borrowing mix of long-term funding (87.2 per cent of total borrowing) which included sources of long-term capital like banks and institutions. In fact, the company raised the maximum permissible $750 million through the external commercial borrowing route in the last year. Also, as of March 2019, the company did not have any asset-liability mismatch, which meant it was able to match its assets and liabilities better.
The company is targeting the second-hand trucks market for financing, which is still an under-penetrated market. Around 55-60 per cent of this market is occupied by private financiers/money lenders etc which charge high rates. This market is expected to benefit from stricter rules in major cities against higher tonnage vehicles, stricter emission norms and a ban of over 15-year-old vehicles and penetration in rural areas.
In terms of financials, the company's net interest margin, an indicator of profitability generated through lending, increased from 7.2 per cent in FY17 to 7.4 per cent in FY19, while raising its loan book by 12.8 per cent to more than one lakh crore in FY19. In recent years, non-performing assets have shot up for the company because of the enforcement of the early recognition of bad loans to 90 days past due, leading to a Gross NPA 8.3 per cent in FY19. Despite this, it maintained a healthy coverage ratio with provisions for non-performing assets of ~70 per cent in FY19. The stock currently trades at a price to book (P/B) of 1.5x as against its five-year median P/B of 2.1x.
Future Lifestyle Fashions: Part of the Future Group, this fashion retailer owns and markets its fashion brands, along with partnership brands, through in-house retail formats, comprising Central, Brand Factory, exclusive brand outlets (EBOs) and multi-brand outlets (MBOs). The company targets premium customers through Central (~50 per cent of FY19 revenue), while value customers are sought through Brand Factory (~37 per cent).
The business operates under three brands; a) own brands (~28 per cent of FY19 revenue): It comprises popular brands like Lee Cooper, All, John Miller, Indigo Nation and others. b) licensed brands (10.6 per cent): This includes brands like Cover Story, Ancestry, Turtle, Clarks and others. c) third-party brands (61 per cent).
Over the years, the company has focussed on increasing the number of Central and Brand Factory stores as compared to EBOs, translating into 346 retail stores, including 47 Central stores and 97 Brand Factory stores, across 90 cities.
Currently valued at Rs 3.6 lakh crore, the apparel market is expected to grow by 8.1 per cent and reach up to Rs 7.9 lakh crore by 2028. Government relaxation for local sourcing norms for single-brand retailers, a burgeoning middle class, changing lifestyle and favourable demographics are some of the tailwinds for the industry. However, immense competition from e-commerce firms, the entry of bigger foreign players and a slowdown in the economy are some concerns.
In the last three years until June 2019, the company increased its sales and profit by ~19 per cent and 46.6 per cent, respectively, on the back of improving margins. However, same sales growth, which depicts the growth coming from stores which are in business for a year or more, has been falling from 17.7 per cent FY17 to 8.7 per cent FY19. In the last one year, the stock has given a return of 14 per cent and currently trades at a PE of 58x, which is below its five-year median PE of 74x.
Disclosure: The intent of the article is not to recommend any specific stocks. If you wish to invest in any of the above-mentioned securities, please do thorough research.