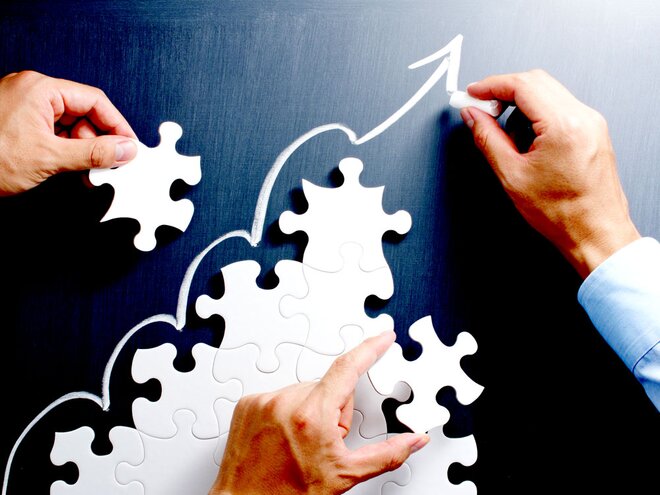 If you have ever seen a Formula-1 racing, then you know that it is not actually a one-way race. While racing, drivers tend to overtake each other and for this, they, at times, go across the curves. During the race, the tyres of these cars generate an extreme amount of heat and hence, drivers need to make a pit stop and change the tyres.
The business landscape is not different either. A company rides high on the growth trajectory for long - it ramps up sales and builds its market dominance. And then, competition creeps in and the company needs to make its pit stop, devise its future strategy, introduce new products and finally, get its growth gears moving once again.
This time, we have shifted our focus on such companies in the mid-cap space. Sales of these companies have increased by more than 20 per cent over the last three years. Given the fact that growth cannot come at the expense of a leveraged balance sheet and it has to create value for shareholders, we have zeroed in on the companies having debt to equity of less than one and a three-year average return on equity (ROE) of more than 20 per cent. Also, the past high growth rate of a company does not justify the money spent on it. Hence, we have ensured that price earnings to growth is less than one. And finally, we have arrived at these companies:

Filters applied :
1. Debt to equity< 1
2. 3-year average Return on Equity> 20 per cent
3. 3-year revenue growth> 20 per cent
4. Price earning to growth: 0 to 1
Crompton Greaves Consumer Electricals: Involved in manufacturing and marketing of a wide range of consumer products, including fans, lighting, pumps and appliances, it operates under two segments: electric consumer durable (69 per cent of the total revenue in FY19) comprising products like fans, pumps and appliances and lighting products (31 per cent of the revenue) comprising luminaries and light sources. It works through a mix of in-house and outsourcing manufacturing facilities, with a strong presence in both online and offline channels.
Its electrical durable business segment reported a profit margin (before tax and finance costs) of 19 per cent, while that of its lighting products segment stood at 8 per cent as of March 2019. In the fan segment, the company enjoys its market leadership with around 24-25 per cent market share. In FY18, it launched a new range of premium decorative fans.
On the other hand, when it comes to its lighting division, the company has recently received two LED street lighting projects in Orissa, which would be around 10 per cent of the annual lighting business. Besides, the launch of antibacterial bulbs, which aims to kill 85 per cent germs within four hours of use, is expected to provide the company with an edge in the commoditised LED market. Interestingly, these bulbs were launched at a premium of about 15 per cent to the base light.
The company's go-to-market strategy focuses on increasing reach and distribution of its products, thereby boosting revenues. This strategy has already been implemented in about 25 to 30 per cent of the western region and is expected to cover the remaining regions in the coming twelve to eighteen months. The government's growing interest in infrastructure spending and revival of the construction sector are some major tailwinds for the company. Nevertheless, high product concentration fans, pumps and lighting, intensifying competition by new entrants and slow-paced domestic growth are major headwinds.
Since March 2017, its sales have grown by six per cent, while its profits have improved by roughly 20 per cent year-on-year as of March 2019. Its debt to equity was reduced to 0.3 times during the same period, while it has maintained a return on equity of more than 30 per cent in the last three years. The stock price currently trades at a PE of 37.6x as compared to a three-year median PE of 47.4x.

Minda Industries: Headquartered in Manesar (Haryana), it is a diversified manufacturer and supplier of auto ancillary products. In India, it is a leading supplier of switches, lighting systems and alloy wheels and the second largest supplier of horns globally. In FY19, switches, lamps and horns contributed roughly 72 per cent to its total revenue. As of March 2019, the company derived almost 84 per cent of its revenue from the domestic market, while the division between four-wheelers (51 per cent) and two-wheelers (49 per cent) stood almost comparable to each other.

The company has had a history of acquiring technical expertise by growing through joint ventures (in 2018 agreement with TTE, Taiwan for ADAS, SENSATA tech, the USA for high tech sensors for BS VI application) and acquisitions (in 2016: Rinder, Spain for LED lights; 2013: Clarton, Spain for horns). At present, Minda is all set to leverage the changing automobile safety and environmental regulations in India and also venturing into products that are up to the value chain, including infotainment systems, airbags, advanced driver-assistance systems (ADAS), carbon canisters and sensors and controllers.
For more than three years, it has been consolidating its various businesses, leaving a significant impact on its top and bottom line. As of March 2019, its three-year sales and PAT growth stood at 33 per cent and 37 per cent, respectively. During the same time, the operating margins and RoE improved consistently.
Its latest business segment is Light Metal Technology, comprising alloy wheels and aluminium dry-casting business. This segment contributed around 15 per cent to its revenue in FY19. In February 2019, the company announced the merger of Harita Seating System, involved in manufacturing and sales of driver and bus passenger seats, with itself in a share-swap deal. This deal is expected to help the company diversify its product portfolio.
Although it is setting up an R&D facility in Pune, it still relies heavily on joint ventures and inorganic growth for technical expertise. Besides, rising insurance premiums, coupled with subdued auto sales and its overdependence on main customer Maruti (contributed roughly 50 per cent to its passenger vehicle sales in FY19), are some concerns.
The incumbent auto companies are facing the challenge of electrification; however, MILs' products are relatively shielded from this change. The company currently trades at a PE of 30.1x as against a five-year median PE of 25.2x.

Natco Pharma: The company has made its name in manufacturing complex drugs that its peer companies generally avoid. Having specialisation in manufacturing cancer and hepatitis C drugs, it partners with other firms to sell its products in the US, thereby avoiding marketing and litigation costs and focusing on production. The majority of its revenues are derived from India (46 per cent) and the US (40 per cent).
The company operates majorly under two business segments: Formulations, (~70 per cent of the total revenue in FY19) including domestic and international and API (~14 per cent). In the US, Natco launches a big drug once in a couple of years, leading to rising revenues and profits before competitors come in and drive down the price. It has a pipeline of 43 products filed with the USFDA, with an addressable market size of $13 billion.
Nevertheless, slower-than-expected sales of Tamiflu and a slow market share gain for its generic Copaxone have recently sent its stock price southwards. On the other hand, in March 2019, its sales witnessed a decline of around 0.8 per cent, while its operating profit fell by 23 per cent. Further, its current focus on the next big generic launch is leading to an increase in its research and development costs, which may also keep its future profitability in check. However, the company's entry in new markets of Brazil, Canada and China will reduce its dependency on the US and India. In the next three years, it is also planning to double its revenues in India.
Led by dynamic, 40-year-old Rajeev Nannapaneni, the company's average three-year return on equity stood at 26 per cent and return on capital came in at 31 per cent as of March 2019. In the last five years, its stock has returned an annualised return of 28 per cent and currently, trades at a PE of 15.3x as compared to a five-year median PE of 40.7x.
Disclosure: The intent of the article is not to recommend any specific stocks. If you wish to invest in any of the above-mentioned securities, please do thorough research.