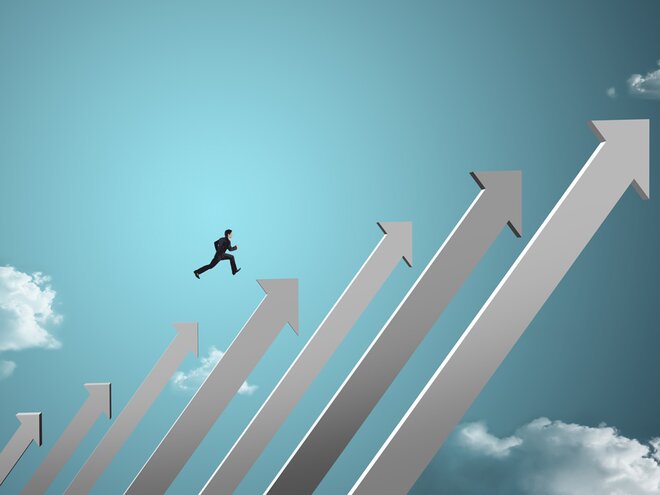 High growth earnings have always been a crucial factor for investors when it comes to selecting companies. However, they should pay equal heed to an acceleration in the rate of earnings growth year on year. An acceleration in earnings growth refers to an incremental rate of growth on a yearly basis. For instance, a company's growth rate in the previous year stood at 10 per cent, while this year, it is pegged at 13 per cent. Hence, there is an acceleration of 3 per cent year-on-year. But if the growth rate in the previous year was 20 per cent and this year, it is again 20 per cent, then there is zero acceleration in the company's earnings growth.
Year 1
Year 2
Year 3
Year 4
A
0.2
0.25
0.3
0.21
B
0.1
0.13
0.17
0.22
Here you can see that B's rate of earnings growth is accelerating as compared to that of A year on year. Hence B's price to earnings ratio shall expand as compared to that of A. This may further lead to a superior return, given the fact that a company having an acceleration in earnings growth rate shall perform better than a company having no acceleration even with a higher base.
Nevertheless, at times, an acceleration in the rate of earnings growth may be misleading, too. If earnings are cyclical in nature, then there may be an acceleration catching the peak in a few years. But from there on, there is a higher possibility of this growth decelerating. In addition, an acceleration in earnings growth to a very high rate may not sustain for long and the price- earnings ratio may contract if there is a decrease in growth rate.
Here, we have delved deeper into the companies that noticed an acceleration in their growth rate of TTM earnings in four out of the last five years. Subsequently, their price earnings ratio declined during this period. Currently, these companies are trading below their median PE of the past five years. So, if there is a further acceleration, then there may be an expansion of price to earnings, which may lead to a better return. But as said, it is subject to the risks mentioned above and may not sustain for long.
Incorporated in 1965, NRB Bearings Limited is the largest manufacturer of needle and cylindrical roller bearings in India. Backed by its eight manufacturing facilities located in India and Thailand, the company produces needle rolling bearings, conventional cylindrical roller bearings and lightweight drawn cup bearings.
NRB's large clientele consists of leading OEMs (original equipment manufacturers) such as Bajaj Auto, Maruti Suzuki, Tata Motors, Ashok Leyland, Hero Motocorp. Over the years, the company has strengthened its foothold in all segments of the automobile industry, namely two-wheelers, four-wheelers and commercial vehicles, with a market share of 70 per cent.
This is mainly because of the nature of the product it manufactures. Since needle rolling bearings are a customised product, the company always works in tandem with its clients across the product lifecycle - right from conceptualising to providing anti-friction solutions.
NRB bearings has also diversified by strengthening its export portfolio with big players like Renault, Volvo, Daimler trucks, etc. Export contributed 20 per cent to its total revenue in FY18.

In terms of its financials, the company's TTM earnings have been growing at a 5-year CAGR of 24 per cent. Debt, on the other hand, has been scaled down from its levels in FY15. Operating and net margins (TTM), too, have been improving year on year. Adding to these factors, the company offered a return on equity of 27 per cent in FY18 and a return on capital employed of 25 per cent.
At a PE of 15 times, its stock is trading below its median PE and is in line with its peers.

Nocil Ltd.
Founded in 1961, Nocil Ltd. is the largest rubber chemical manufacturer in India, commanding a 45 per cent share in the domestic market and 5 per cent in the global market. Its portfolio includes accelerators, antidegradants, antioxidants and pre-/post-vulcanisation products. Rubber chemicals are mainly used to manufacture tyres, tubes and latex goods.

To maximise growth opportunities, the company has designated a total capex of Rs 425 crore of which Rs 170 crore has already been spent. The remaining capex is expected to be utilised by FY20 post which, the company's total production capacity is bound to double. This, in turn, would benefit the company, as it will be able to procure raw materials from other countries instead of China.

Nocil has recently started exporting to the US and is all set to benefit from the ongoing trade war between the US and China. Currently, export accounts for 30 per cent of its total revenue. However, the company is highly correlated with the growth of the tyre industry (65 per cent usage of total rubber chemicals). Hence, any slowdown in the industry can adversely affect the demand for its product. Besides, any relaxation in Chinese pollution norms can shift the demand back to China. Most importantly, a slowdown in the domestic auto sector and uncertainty regarding anti-dumping duties have left an impact on the company's slightly muted Q3 FY19 results and on the stock, subsequently.
In terms of financials, the company has been net debt free for the past two financial years. Furthermore, TTM earnings have grown at a 5-year CAGR of 40 per cent. The company has also generated positive free cash flows over the past five years and has been increasing its profit margins steadily during the same period. The stock is currently trading at a PE of 11.78 times, which is well below its peers.

Disclosure: The companies mentioned above are not our recommendations. If you intend to invest in any of them, do thorough research.