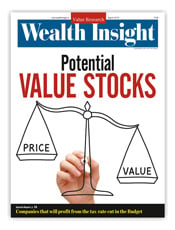 Despite the recent weakness, the markets are still expensive. However, there are still some pockets of value available. The cover story of the issue takes you through our shortlist of stocks which, despite the markets still being expensive, offer good value to investors. Learn which are today's 'Potential Value Stocks', and kickstart your investing.
Here's everything else that is there in the issue.
First Page: Dhirendra Kumar identifies stocks that are worthy of investment and the ones to stay away from in order to become a successful investor
Special Report: Snapshot of the budget as well as companies that will benefit from the corporate tax cut
Interview: Sonam Udasi Fund Manager, Tata Mutual Fund points out some common mistakes made while investing
Market Compass: Mutual funds and insurance companies have upped or lowered their stakes in the following companies
Straight Talk: Anand Tandon suggests that banking frauds combined with overvaluation have historically been a recipe for significant market falls
Offbeat: Sanjeev Pandiya says that banking fraud is an indicator of the fragility of the Indian financial system
Analyst's Diary:

Long live long-term investing: The case for long-term investing is unscathed even after the introduction of the new LTCG tax on equity
Comparing Budget esitimates and reality
Chasing mutual funds blindly is a losing strategy

Value Research Online: Use the LTCG tab in the My Portfolio section of Value Research site to calculate your long-term capital gains tax on your equity investments
Companies with moats: Our watchlist of companies which are near monopolies and have high chances of delivering consistent returns
Stock Screen: Read about these investment ideas that you can use now:

Quality stocks available cheap
Attractive blue chips
High dividend-yield stocks
Discount to book value
Reasonably priced growth stocks

Stock Analyst's Choice: Our regular scorecard of the stocks we have been recommending since 2011 and their performance.
Click here to buy a digital subscription (downloadable PDF + online reader) and start reading instantly. You can also pay extra and receive a printed version.