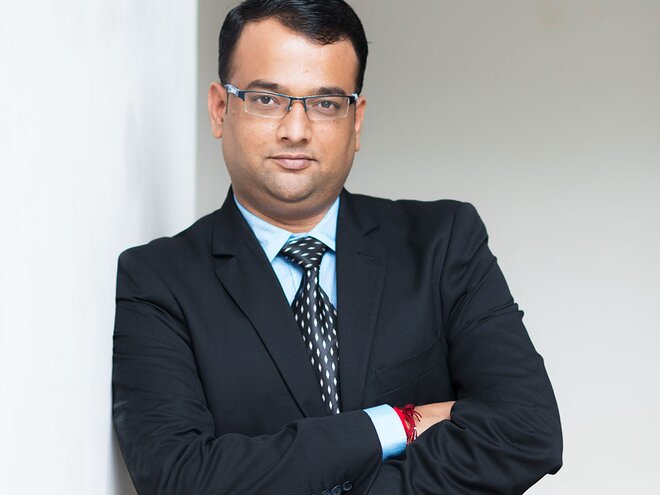 As the mutual fund regulator becomes more stringent with new product approvals, fund-houses are doing some out-of-the-box thinking in a bid to launch new products. Edelweiss Maiden Opportunities Fund - Series 1 is the new offering from the Edelweiss Asset Management stable. This three year closed-end equity fund, is open for subscription from February 2, 2018 and will close on February 16, 2018. This product is focussed on IPOs and newly listed companies only. Bhavesh Jain, Fund Manager, Equity- Edelweiss AMC talks about how IPOs will be selected for investments, what is the exit strategy and the plans to protect downside with Kumar Shankar Roy.
What is Edelweiss Maiden Opportunities Fund - Series 1?
At Edelweiss AMC, the aim is to come up with truly innovative ideas that doesn't exist today and bridge the gap between what investors want and what the industry has to offer. This fund is first-of-its-kind in the industry that intends to follow a disciplined approach while investing in recent and upcoming listings. The aim is to make investing in such maiden ideas accessible and simpler for retail investors.
How does the fund define recently listed companies and upcoming listings?
The idea is to participate in the great quality and unique companies that have been listed in the last three years and that will list in the next three years. This will be a multi-cap portfolio with about 30 stocks in it and it is going to be fairly sector agnostic. The recently listed companies encompass companies which got listed in last two to three years and upcoming listing will include companies that will be listed during the tenure of the fund.
Will you buy only 'maiden' opportunities when it comes to IPOs or recently listed stocks for the portfolio?
The initial fund structure would be split in ratio of 80:15:5 in currently listed IPOs , new upcoming IPOs and Option Puts. In the absence of any new promising opportunity in upcoming IPOs the fund will be invested in index futures.
How will the fund manager select IPOs and recently listed stocks? Tell us about the process
We follow a process driven approach before investing in recently listed companies It helps in better selection of quality companies and systematic exit management while maximising overall returns.
The process is depicted in the chart below: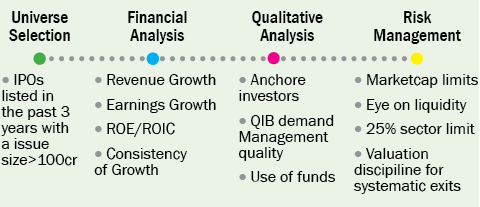 For upcoming IPOs, the stock selection will be based on careful diligence on both the quantitative as well as qualitative aspects of the issues.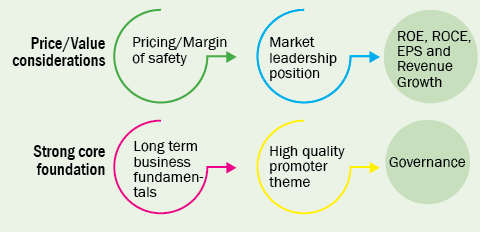 Have you done any internal analysis about IPO investing? What are the main takeaways from it?
We expect higher capital to be raised this year (2018), as compared to last year via IPOs. If not, we expect 2018 to be at par with 2017 in terms of capital in value and volume. This year we expect IPO activity in the range of Rs 70,000 to Rs 75,000 crore with an upward bias if the markets continue to be supportive. The trend towards larger IPOs will continue, and we expect broader industry participation than we witnessed last year, as new sectors come to the market.
What kind of stocks will never enter this portfolio?
There won't be any filler portfolio apart from our defined universe. The fund will be adding companies that have gone public or will go public from new industries or new sectors that are not represented in the present benchmark indices and are hence under-represented in both mutual fund portfolios and in client portfolios.
This means, mainstream companies, irrespective of how attractive they appear in the current scenario, will not be a part of our fund.
How does heightened IPO activity provide a good investment opportunity?
In the last two years, new sectors have been introduced in the midst of an active IPO market which oversaw Rs 1 lakh crore being raised, hence, presenting multiple maiden investment opportunities for investors. With a large number of private equity investors poised to exit, IPO market is expected to remain buoyant and investors can benefit from it by following a structured investment approach.
How will the fund ensure downside protection ?
The fund endeavours to protect downside risk by hedging through long dated put options. The put strategy will help the portfolio protect the downside, if the market falls from the current levels till the maturity of the fund.
Why do you think traditional diversified mutual funds give limited exposure to IPOs ?
Since the fund will invest in recently listed stocks and will be sector agnostic in its approach, the sectoral exposure will be very different from traditional mutual funds. No diversified mutual fund will have such unique sectoral exposure.
To go back to some recent examples, Apex Frozen Foods which gave 350 per cent returns since its listing was subscribed by only 4 funds. A hit IPO like D-Mart was subscribed by only 59 out of 800 equity funds with an average holding of less than 1 per cent. Therefore, a dedicated fund investing in recent IPOs can provide better access and thereby maximise investors' gains.
What is special about the next 3 year time period since fund tenure coincides with this time?
Positive earnings momentum is what drives the companies to the IPO market. The companies with good earnings visibility over the next couple of years perform well during this period, irrespective of the market cycle we are into.
The IPO theme does well during the bull market. Currently markets are at new highs but we are still far away from the peak and we expect some healthy returns in the next 3 years. Further, the activity in 2018 could see a rush as companies may decide to advance their IPOs in light of the general elections in 2019.
We are using put options, which endevours to protect our downside risk, so that it optimizes our hedging costs over the next three years.
Why is the fund benchmarked against Nifty 500 Total Return Index when there is a S&P BSE IPO index?
When it comes to S&P BSE IPO index, the companies that have completed one year from their IPO listing are removed from the index. As our Edelweiss Maiden Opportunities Fund - Series 1 takes a longer term view, we believe Nifty 500 Total Return Index will be the right benchmark to compare with. Since the fund will invest in stocks across market caps, the benchmark is Nifty 500. Going forward, It will be a better match because the latter has no qualitative filters.
What will be special about your structured approach to optimise post listing gains?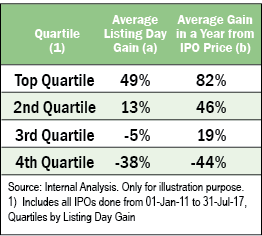 A structured approach is always needed to "time the exit" so that investors do not miss on post listing opportunities while chasing listing gains. Our process driven approach will help in the selection of quality companies and systematic exit management while maximising overall returns. The company analysis will be based on selecting companies with fundamentally strong building blocks. Further, high discipline is followed to maintain a high margin of safety in pricing in order to ensure that value creation in company translates into investor returns.
Tell us about whether you will take cash calls and when?
Being a closed-end structure, our fund is fully invested during most of the period. While we may take tactical calls and park the money in money market instruments while applying for the IPOs. We have decided not to take any cash calls.
What happens if no good IPOs or stocks make it to your portfolio in say the next 6 months? What will be your strategy then?
To give you some sense, 80 IPOs got listed in the last three years while there are around 40 IPOs in pipeline just for the calendar year 2018. It means we will have probably one every week or in a week and a half and there will be ample opportunities in the coming months. So even after that, if there are no good investing opportunities, the money could be indexed in nifty futures to avoid any opportunity lost.
Under what conditions will you sell a stock in this portfolio and what will be the holding period?
There is no pre-specified holding period. Our stocks will follow a structured diligence on both qualitative as well as quantitative aspects of the issue based on which we will take exit calls. Further, if we find any other maiden opportunities coming up in the near future, the portfolio might be re-aligned by adding stocks that are expected to perform well in the future and remove stocks that are fully valued.
How many stocks will there be in the portfolio and how will you assign weight ?
It would be in the vicinity of 30. Portfolio will be constructed by analysing companies by using a process driven approach. The stock weights will be in the range of 1 per cent to 4 per cent at the time of entry depending upon the quality of business, valuations and cyclicity of the sector.