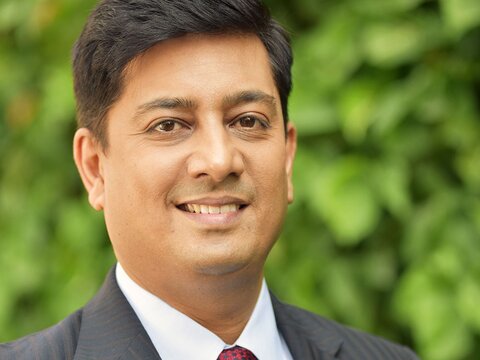 As new investors enter the mutual fund mart with heightened expectations, given the superb historical returns, the job of fund managers has undoubtedly become tougher. For Harsha Upadhyaya, who heads the equity desk at Kotak Mahindra AMC as CIO - Equity, overseeing more than Rs 46,000 crore, trying to manoeuver his funds is similar to scoring goals when he played hockey in his university days.
Harsha, who manages Kotak Select Focus, Kotak Opportunities and Kotak Tax Saver, is very cautious about investing as equity valuations currently are historically above average. His portfolios consist of stocks with better earnings potential and lower valuations as compared to the others.
In an interview with Kumar Shankar Roy, Harsha answers questions regarding the funds he manages and his criteria for picking stocks. He shares his views on Moody's recent ugradation of ratings of India and explains the rationale for him being bullish on financials, cement, oil and gas and automobile sectors.
Conventional performance measurement happens with just returns.
What is your assessment of the performance of equity mutual funds?
While the investing landscape is fast changing, investors still focus on point-to-point returns of funds, which is undesirable. Investors should ideally focus on consistency of fund performance over long periods and over different market cycles. Along with this, one should also scrutinise portfolio risk, which could come from concentration risk, liquidity risk or any other factors. The credibility and track record of the fund house, the stability and experience of the fund-management team, coherent portfolio construction, investment discipline - these are some other factors which are also equally crucial in selecting a fund.
There is an apprehension amongst investors that very soon we are going to witness a repeat of 2007-2008 scenario. What is your take on valuations and what kind of actions are you taking for your funds to shield against any hard landing?
While the current overall equity valuations are historically above average, they are well below the peak valuations seen in early 2008. At present the economy is not overheated as it was a decade ago. Corporate profitability is at a trough rather than peak, so there is scope for significant improvement when it gains momentum. While the situation merits caution, it doesn't imply that we are close to a long-term peak in the equity markets. If our investment thesis works, we should be able to outperform the benchmark even going forward due to better earnings potential of our portfolios.
What do you make of the Moody's India rating upgrade and S&P retaining its rating?
We believe that the rating upgrade was long overdue. At least one of the agencies has upgraded it now and hopefully others will also follow suit in the times to come. When that happens there could be a meaningful change in foreign investors' perception of India, such as sovereign funds, pension funds etc., and this may lead to an increase in the overall foreign investment flows into the country. A rating upgrade also means lower cost of capital for foreign-currency borrowers.
Kotak Select Focus Fund's exposure to giant companies is lower than that of the benchmark and also the large-cap fund category. What is the reason?
The investment philosophy of Kotak Select Focus is built on the premise that different sectors of the economy perform varyingly over different periods of economic cycle. The fund's focus is to invest in select sectors that are likely to outperform the broader market at various points of time. Once the sectors are selected through top-down analysis, the individual investment ideas within those sectors are picked up through a bottom-up approach. The fund's investment mandate also provides flexibility to move across market capitalisation. As we try to pick the best investment opportunities in each selected sector, the portfolio may have varying allocation to market-capitalisation segments as compared to the benchmark.
The fund generally focuses on a few sectors (four to nine) at a time. Which are the ones today and what are the reasons behind this call?
We are positive on the banking and financials sector. A large proportion of the banking and financials sector weight in our portfolios is in retail focused private banks and NBFCs, where asset-quality issues are minimal and credit growth is also relatively quite strong. This part of our sector exposure is largely insulated from asset-quality stress. Apart from these sub-sectors, we also have significant exposure to the insurance segment, which in our opinion, will be one of the high growth businesses in the country going forward. Also, with expectations of PSU bank recapitalisation, we should witness faster NPA resolution and cleaner balance sheets in the PSU bank space as well, which also bodes well for their performance.
We are also bullish on the cement sector on domestic side since we have seen hardly any new capacities being added in recent times. While there is excess capacity today, players sitting on excess capacities will benefit the most when demand increases. There is a lot of activity on the infra side due to government initiatives such as focus on affordable housing and new infrastructure development. These initiatives will drive growth in the cement sector over the medium to long term. Not many new capacities are coming up so the existing players will benefit significantly when the demand increases.
The oil and gas sector is another focus area. Its earnings growth is very decent. We have seen long-term reforms being introduced in this sector, like subsidy removal. Oil-marketing companies are more market linked now in terms of growth and profitability. We continue to remain positive on oil-marketing companies. Besides, there is a lot of focus on cleaner and greener fuels everywhere in the world, including India. So, we are very positive on gas utilities. These companies have been steady performers, with strong cash flow generation and high return ratios. Incumbents have a large competitive advantage. Also, there are supportive government policies as gas happens to be a clean fuel.
We also carry significant exposure to the auto sector. In the past couple of years, urban economy was driving the demand for automobiles. At the moment, we are witnessing spurt in rural demand, too. Not to miss out on either growth story our portfolio consists of both urban and rural demand oriented automobile stocks.
What is the current strategy for Kotak Opportunities Fund?
We follow 'growth at reasonable price' (GARP) investment style. The fund follows a multi-cap approach, with at least 65 per cent assets invested in large-cap stocks. The fund adopts a pure bottom-up stock-selection approach, with no sectoral constraints. We seek to limit the overall equity risk by constructing a diversified portfolio of up to 60 stocks.
What are the essential attributes for stocks to qualify for Kotak Opportunities Fund portfolio?
We try to look for businesses that have proven business models, which are scalable in nature, where capital efficiency is high and which have reasonable competitive edge in their respective areas of business. We also keenly look at at the management track record and its quality. The final filter is valuation in every case. Typically, we look for compounding characteristics of earnings growth at reasonable valuations and build the portfolio around that strategy.
What is your advice to investors?
Prudent asset allocation and long-term focus are very critical for all investors. We advise new investors to enter equity market in a disciplined and staggered manner, preferably through the SIP route, with long-term investment horizon in mind. It is not advisable to chase market momentum even with the upward movement in the market.