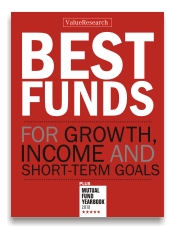 Here it is, in an all-new avatar, Value Research's most comprehensive guide to choosing the best funds to build your investment portfolio. This is a mutual fund year book that will help you to decide on the funds that suit you most to fulfil your income, growth and short term goals.
Best Funds is a one stop solution for making the perfect choice of funds. Here, we teach you the basics of fund investing and building a portfolio, we offer you a list of funds which provide great returns. Also, there is a comprehensive fund scorecard with details on all mutual funds.
Our aim is to make you an informed investor. Best Funds will help you become a better investor and a smarter one at that!
The annual offer from the Value Research stable equips you with the necessary skills to build a portfolio, maintain it, and churn it whenever necessary.
A set of hand-picked funds analysed by Value Research analysts to build your investment portfolio.
Select funds based on your risk tolerance and investment goal.
Verify the performance of your existing funds and of new funds that you may wish to invest in.
Learn to build a winning portfolio depending on your financial goals
Tune different portfolio for different financial goals.
See how to monitor and analyse the progress made by your investments.
Click here to subscribe to the printed version, or buy a digital subscription (PDF+online reader) instantly. You can also buy a digital copy of this issue without subscribing.