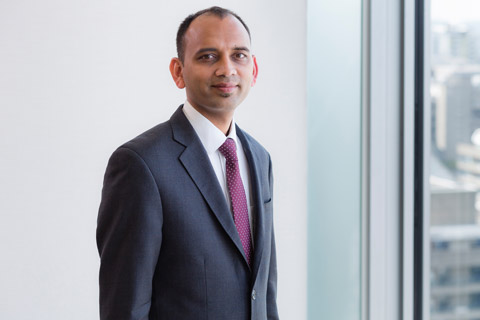 As a senior investment manager at the globally-renowned Pictet Asset Management, Prashant Kothari is among the handful of investment-management professionals who, after building a street cred in India, have branched out into the global scene. Kothari, now responsible for Indian equities in the Emerging Market equity team at Pictet, used to earlier work at ICICI Prudential AMC, where he managed some key equity funds. A product of IIT Mumbai and IIM Ahmedabad, Kothari likes to keep it simple when it comes to investing. "It's about figuring out which exceptions you are willing to ignore and which ones not," he tells Kumar Shankar in an exclusive interview. A big advocate of concentrated positions, Kothari feels big positions help generate sizeable amounts of alpha. Read on to find out his own SWOT analysis, why he doesn't like cement, telecom and energy; and the reasons behind his contrarian bet on IndiGo.
Can you start off by telling us about how and why you entered the world of investment management?
I joined ICICI Prudential AMC after my MBA from IIM Ahmedabad in 2003. I found equity markets to be a good place to apply my skills around logical thinking and numeracy.
How has your investment philosophy evolved over the years?
The best thing about investments is that it's a continuously evolving space. I was very naive when I entered investment management and made my fair share of mistakes. While one can learn from other people's mistakes, our personal ones teaches us more.
My experience have taught me to appreciate the softer aspects of the business much more. There is a beautiful quote of Einstein to support this. He said that not everything that counts can be counted, and not everything that can be counted counts. The world of investments is a perfect example of this observation.
When you look at valuation, do you project earnings over a one year period or longer than that?
Valuation is as much a science as an art. I try to approach it with rationality and reason. We need to consider some things like long term cash flows of a company before considering to buy it. In some ways, it is a conjecture because we cannot be completely certain how things are going to pan out in the future. At the same time it is an important factor to consider while making investments. So, as I said earlier investing very much an art as we make our best informed guesses here.
Markets and many stocks are often appropriately priced from a near term perspective. Do you keep playing the waiting game, knowing fully well that the opportunity may slip away?
One of Warren Buffett's doctrine of investing is that it is better to buy a wonderful business at a reasonable valuation than a bad business at a cheap valuation. I try to follow this while also looking for opportunities when profitable businesses become cheap.
Can you give us some examples of you contrarian positions on good businesses facing temporary problems and your justification about buying them?
Last year we bought IndiGo stocks. Currently, it is the most efficient low cost carrier in India with a very strong management team. Till a decade ago when I travelled a distance of around 1,000 km, it was mostly an overnight journey via trains and buses. In the current scenario where the penetration of aviation services is very low in India this business has enormous potential to grow.
We bought the stocks after a correction of 40 per cent from its peak. We didn't really know when the price war would be over, so there wasn't much point in forecasting the following year's earnings. But we were confident of a few things, Indigo being the cost leader will be the last survivor, the business is hugely cash generative and the stock was looking cheap and hence a wonderful opportunity for us.
We want to understand more about your valuation framework. What are its cornerstones or bulwarks?
In a way it is very simple, we focus on growth, returns and cash flows. In reality, it is relatively complex as we need to make the right assumptions to forecast correctly. The maths is easy to learn and anyone armed with basic knowledge of finance can do it, but the art becomes better with experience.
Investing in equity can be a fairly complex process. Have there been occasions when your investment strategy did not yield the desired outcome? Why did it happen?
This has happened several times and there is a couple of reasons for this. When markets behave irrationally or the future does not pan out as we expect it to then our investments do not give the desired results. It is however very important to learn from our mistakes and make wiser investments in the future.
You have a great track record in terms of concentrated portfolios of around 25 to 30 names. What is your approach in terms of portfolio construction?
I have a simple approach. I try to understand businesses thoroughly, monitor them well and take positions only if there is a good risk reward outlook. This automatically leads to a concentrated portfolio. You can't generate much alpha from a 50 basis points (bps) position even if it doubles.
Do you avoid cyclical stocks, given the risks?
I approach cyclical stocks differently to manage the risks. Firstly, I assess if a business will make enough returns on its cost of capital over a business cycle. Secondly, I try to understand which part of the cycle it is in. Thirdly, I generally avoid mid-cap cyclicals because it is too hard to get both the cycle and liquidity right at the time of entry and exit.
Most of the time mispricing of a stock on the basis of whims and fancies of a large body of unconnected investors is an opportunity for an asset manager. What role does your conviction play in these scenarios?
I thank those whims and fancies as they create volatility and excellent mispricing opportunities. I try to remain calm during turbulent times.
If you were to do a SWOT analysis of yourself as an asset manager, what would be the strengths, weaknesses, opportunities and threats?
Strength: Analytical mind and judgement
Weakness: Fixation of quality over growth as market often rewards growth irrationally
Opportunity: The expanding set of investible universe in India with more listings
Threat: Investor expectations are mostly related to short term gains which do not always sustain in the long term.

How do you manage investor expectations? Is it through communication?
Yes, communication is the best way to set expectations right so that our clients know under what circumstances our strategies will succeed. We also need to be humble and accept mistakes when we make them rather than portray ourselves as infallible.
What is the process that you follow in terms of narrowing down your investible stock universe? Also, please tell us about the kind of companies that never enter your portfolio?
We like good quality businesses which earn returns on their cost of capital through a business cycle and are run by competent management and is committed to corporate governance. Companies which don't pass this test don't enter our portfolio. Having said that, I must admit that we are realistic about the world - no company is perfect. It's about figuring out which exceptions you are willing to ignore and which ones not.
What is your Indian equity market outlook?
We are quite optimistic about the long term. On the macro front it is very encouraging with low fiscal and current account deficits, low inflation and strong reform oriented government. However, the policy reforms and the economic stability is yet to reflect on the aggregate earnings of the companies. We worry more about bottom up ideas, rather than top down ones.
Take us through your portfolio allocations and underweight and overweight positions.
We are overweight on private financials - those structural winners that are taking market share away from inefficient public sector entities. We do not have any preference for telecom because we do not see them making returns over cost of capital in the foreseeable future. We do not have any cement stock as they are commodity stocks trading like consumer companies. We do not prefer energy stocks either since they are low quality businesses with governance issues and government interference.
What is your take on large-cap, mid-cap and small-cap valuations in terms of Indian stocks today?
On an aggregate basis, large caps look better and small caps look worse. But aggregates often hide more than what they reveal. There are great opportunities in the mid cap and small cap baskets for discerning investors. One needs to be disciplined and avoid being swayed by the market mood.
What do you think is your edge?
There are times when the market tends to sway one's conviction but I have a philosophy for investments and apply it in a disciplined and consistent manner. I try not to give in to popular trends but hold my own. The strength of my conviction sees me through both good and turbulent times.