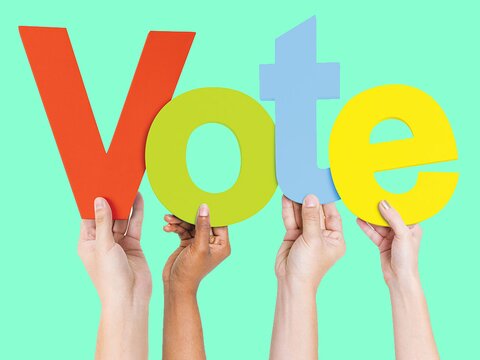 In the independent India, until Narendra Modi arrived, no politician from outside Hindi cow belt (with the notable exception of P V Narsimha Rao) had been the prime minister for a full term. There is an obvious reason for this - Hindi-speaking Indian states account for 226 of 543 (42 per cent) seats in the Lok Sabha. Therefore, a politician who is able to build a voter base in the Hindi cow belt has a much higher probability of being the PM than a leader from any other region.
Indeed, North India's primacy in Indian politics dates back to Ashoka's campaign in 260 BC to bring India under one flag. Later, the Mughals under Akbar, Jahangir, Shahjahan and Aurangzeb and then the British ruled all of India from their capital cities in the North. The reverse has never happened - none of the dominant South Indian kings has ruled territory north of present day Madhya Pradesh. Until Narendra Modi arrived, the thumb rule in Indian politics had been that whoever ruled the Gangetic flood plains had a good chance of ruling all of India.
Absence of a political giant in North India
Modi's dominance of Indian politics has been made possible, in part, due to the absence of a power-house politician (across parties) from the Hindi speaking belt. J L Nehru, Indira Gandhi and Rajiv Gandhi - each of the members of this dynasty were until their death, by far, the most commanding figures in North Indian politics and that gave them the keys to all of India. Rajiv's assassination in 1991 opened the door to the rise of the BJP led by two leaders who were popular in the Hindi speaking belt - Atal Bihari Vajpayee and Lal Krishna Advani. The BJP (or NDA's) loss in the 2004 general election then created a decade in which regional North Indian leaders like Mulayam Singh Yadav and Nitish Kumar tried to give vent to their national aspirations but Sonia Gandhi just about managed to cling onto power.
Now with Mulayam, Sonia and Lalu Prasad Yadav ageing and with their progeny yet to find their political feet, for the first time since Independence, we have the strange situation that there is no North Indian political giant setting the agenda in Indian politics. Why is this?
It is far too simplistic to say that Narendra Modi's domineering style of leadership has taken the wind out of the sails of North Indian politicians. High political office is a potent motivator in a corrupt, quasi-feudal society like India and it is not realistic to believe that Modi's magnetism alone has checked the ambitions of so many regional politicians. I think something else has happened.
In the 1990s and the noughties, with the Congress' popularity flagging, North Indian politicians from all parties created voter bases on the basis of caste and/or religion. For 20 years (roughly from the Babri Masjid riots in 1992 to the 2G spectrum scam in 2010), this worked reasonably well - a leader would hoover up, say, the Jat vote in a constituency and thus corner 15-20 per cent of the votes in that race. He would then get a smattering of votes from other castes and thus with 25 per cent of the votes, he would win the seat in a fragmented first-past-the-post race. Starting with the UP assembly elections of 2013 (where the SP crushed the BSP and the Congress), it became evident that this construct no longer worked. What we are repeatedly seeing in North Indian elections now (regardless of whether these are assembly or general elections) is that cornering the votes of one or two communities is no longer sufficient to win the race (see the table).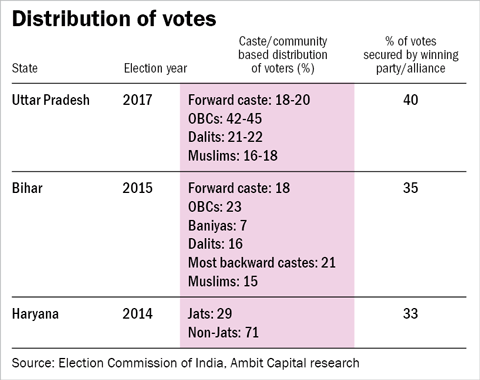 The results of the recent elections suggest that the older construct - that of dominant regional parties controlled by a strong single caste/community-based leader - is on the retreat. These regional parties used to cling onto a specific voter base (based on caste, community, etc.) and thrive. Now, however, support from a single vote bank is not going to help win elections anymore.
Implications of the absence of the political giant in North India
North India has been for at least a decade now a laggard in creating jobs and economic prosperity. An average person in northern India earns a per capita income of $1,183 (which is less than that earned by an average citizen of Pakistan or Bangladesh), whilst an average person in South India earns a per capita income of $2,014. Moreover, the youth employment rate is much higher in South India (56 per cent) than in North India (47 per cent).
Furthermore, even on the demographic front, the North has shown very little improvement over the past 20 years. The female-male ratio continues to deteriorate in the North. The gender ratio for northern India is 901 females per 1,000 males as compared to 994 females per 1,000 males for South India and the fertility rate simply refuses to fall as much in the North as it has fallen in the South and in the West of the country. The fertility rate in North India is 2.4 compared to 1.8 for South India. With scant job creation and low-quality education, North India's youth are heading into a future where they have few jobs and few women to contend with.
With the political situation in the North being in flux (given the absence of a dominant political leader who can wield authority across a belt which contains 540 million people), social unrest is on the rise across North India, as evidenced by both a rise in what is known as routine crime in India (robbery, rape and civic violence as seen in the farmers' agitation in Madhya Pradesh earlier this year and in Haryana last year) and hate crime. As per a report in IndiaSpend, "Muslims were the target of 51 per cent of violence centred on bovine issues over nearly eight years (2010 to 2017) and comprised 86 per cent of 28 Indians killed in 63 incidents." In the coming decade, the odds are in favour of these three dynamics - a weak economy, retrograde social milieu and lack of political leadership - ravaging the North.
Saurabh Mukherjea is CEO - Institutional Equities at Ambit Capital and the author of The Unusual Billionaires and Gurus of Chaos.