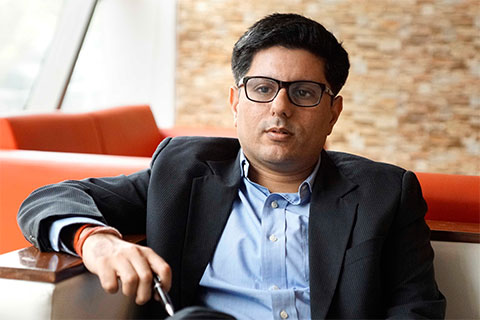 All funds start small. With consistent performance and robust inflows, they get big. The Indian mutual fund industry is replete with such instances. What matters is having a time-tested investment philosophy. Kumar Shankar Roy met up with Prashasta Seth, CEO, IIFL Asset Management Ltd. to understand about the IIFL India Growth Fund and the core beliefs of the fund. Started in October 2014, the Rs 418-crore multi-cap scheme, has done reasonably well in the past one year, beating its category average. Seth, who has been with IIFL since 2008 and has been instrumental in setting up and growing the equity desk at IIFL Investment Managers, explains why the fund avoids small-caps, prefers a concentrated portfolio and how beaten down sectors like technology and healthcare still are a no-no.
Edited excerpts:
There are a huge number equity funds in the industry. What really makes IIFL India Growth Fund different from so many others?
IIFL India Growth Fund is positioned as a multi-cap sector agnostic concentrated portfolio that aims to outperform the benchmark and generate substantial Internal Rate of Return (IRR) for investors over the long term. It is different from all peer funds in being one of the most concentrated portfolios of less than 20 stocks in the fund. The focus of the fund is to generate absolute returns and our portfolio is not conditioned vis-a-vis the benchmark. If we like a certain stock or sector, our weightage for the same would be very different from the weightage that stock would have in the benchmark.
Do you believe in chasing growth aggressively, or look for growth at reasonable valuations?
We as a fund house believe in value investing and that is the core of our investment philosophy. We do not want to chase growth at any value but are more comfortable in picking up steady growing companies at reasonable valuations that provide some margin of safety for our investors and also allows investors to participate on the upside.
Why do you avoid small caps for your portfolio?
In current market conditions, we believe there is huge valuation mismatch between large-caps, mid-caps and small-caps. We find large-caps much more attractively priced as compared to small-caps. Also, the earnings growth visibility is relatively much more consistent in large-caps than in small-caps. We are not closed to small-caps and are open to buying attractively priced small-caps if available. However, the current market conditions do not throw us many such opportunities so we have given this segment the skip.
What are the challenges of having a fund with a short track record?
The biggest challenge of having a fund with less than 3 years track record is showcasing past performance. Most investors large and small want to see consistency in performance and may be across cycles and that's why at least a 3-year performance track record is important. When there are big boys out there with over 10 years track record, we have our task extra difficult in convincing investors about us and how our product offering is different from the others. However, we think that with a 3-year track record, differentiated strategy and our strong performance, we should be able to convince investors to give us an opportunity to generate returns from them.
Your portfolio of 20 odd stocks shows high conviction. But are these concentrated bets justifying your conviction?
We add any stock in our portfolio only when we are convinced about holding on to the stock over the long term without losing any sleep over its short-term volatility. We believe, concentrated portfolio has its own advantages and disadvantages. If our rationale of selecting the particular company is proved right over time, then it adds strong alpha to the portfolio as the stock has sizeable weightage. On the other hand if our thesis goes wrong then we also get punished to that extent. So far we have had reasonable success with our performance with our concentrated bets. Some of our consistently concentrated holding like HDFC Bank and Bajaj Finance have generated strong returns for the investors.
How do you assign weights to stocks in your portfolio? What is the process behind doing so?
We have a very dynamic process of assigning weights to stocks. When we start adding a new stock to the portfolio depending on the market cap and the liquidity available, we assign a value of between 2.5% and 5% to start with and then add on as we get more convinced on the stock. We normally do not keep anything less than 2.5% in portfolio as there would not be any alpha added to the portfolio if we do not have significant exposure to the particular company in portfolio. On the upside, we limit ourselves to not having more than 9-10% of a single stock in the portfolio. This is the limit we go for stocks where we believe there is significant margin of safety and there is a good earnings visibility.
Since the fund's inception, tell us about the ups and downs. What have been the major lessons?
Though we have a short time period of the fund, which is slightly less than 3 years, yet we have had a great learning experience with regard to investor expectations and the pros and cons of having a differentiated concentrated portfolio versus the well-diversified portfolio of our peer funds. The key learning would be that investors appreciate a portfolio which has a) favourable risk-reward pay off, b) less volatility and c) ability to ride the ups and downs of the market with ease. The same also reflects in our portfolio, which has a beta less than 1 and is relatively less volatile than the market.
Take us through the sectors in your current portfolio and your reasons for betting on them?
We are bullish on the Financial services sector and are very Overweight on it. We have close to 50% of the portfolio exposed to Banking & Financial services sector. We believe this sector has a major upside as Indian economy gets more organized and financial penetration increases in the country with more people getting under the ambit of formal financial services. Also, the increased penetration of financial savings instruments vis-a-vis the traditional physical assets would be a major game changer in times ahead. We also think that better run private sector banks will continue to gain market share from PSU banks and thus these banks will have a very strong earnings visibility. We remain bullish on domestic consumer discretionary sector to play on the rising disposable income in the hands of its large middle class both in urban and rural India.
What is your view on technology and healthcare sectors?
We had some exposure to Healthcare and Technology sector as we found the companies in the sector extremely value buys on account of various external factors, which led to sharp sell-off in both these sectors. However, of late we feel both these sectors have some structural issues, which would take more than a couple of quarters to improve. If one has a contrarian view and is willing to bet on value buys for the next 2-3 years, then both these sectors could provide reasonable upside. However, we would want to see better signs of earnings visibility to add these sectors aggressively to the portfolio.
Is there any tactical miss you regret (for instance, not owning a stock or not owning enough of it)?
We were slightly defensive in our portfolios post the demonization impact as we felt that the earnings would take a bit of time of recover. We felt that the markets will be apprehensive based on the earnings cut we are likely to see. However, we later realized that the markets are willing to ignore the short term concerns given the fact that steps like these are likely to be beneficial for the economy structurally over the long run.
Do you take cash calls? If so, please tell us about the framework behind it?
We normally do not take any aggressive cash calls and prefer to remain invested to the extent of 90-95%. However, if market conditions deteriorate and the situation so warrants, we are open to keep cash levels in the portfolio to take advantage of any opportunities on the downside.