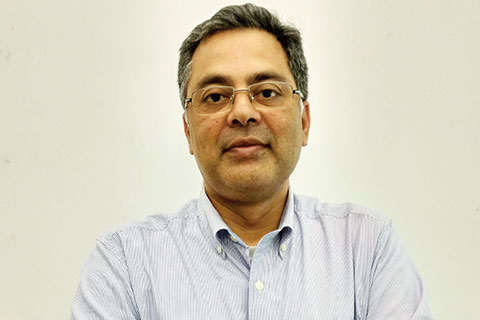 It's been about a year that Anoop Bhaskar has joined IDFC AMC as head of equities. Bhaskar, who was with UTI Mutual Fund previously, is considered as one of the finest fund managers in the Rs 18 lakh-crore industry because of his sharp insights and ability to spot trends ahead of the pack. In an interview with Kumar Shankar Roy, the veteran fund manager talks about his work so far at IDFC AMC, his turnaround strategy for IDFC Premier Equity Fund and how investors must stay away from 'analysis paralysis'.
Every AMC has its own way of working. How have you adapted yourself to IDFC AMC?
Every organisation is unique in terms of size, culture, focus and style. Hence, one needs to be careful about implanting past experiences. The objective, however, remains the same: to register consistent, benchmark-beating performance for investors while managing risk and liquidity.
What is the investable universe that you track here and how do you select stocks?
Every fund has a clearly defined investment style and framework. We have a fund-level investment universe of stocks covered by analysts. New additions are made to the investment universe from time to time.
At a general level, while selecting a stock in the investment universe, we focus on the following criterions: promoter shareholding; cash generation from operating profit; profitability of operations - past as well forecasted; and leverage. In addition, there are sector-specific ratios and variables.
Many fund managers follow the respective index closely. What is your approach?
This is fund specific. Generally, for funds which are mid- and small-cap oriented, the convergence with their respective mid- and small-cap indices may be lesser. However, for a diversified large and large/mid-cap-oriented fund, with at least 65-70 per cent allocation in large caps, the overlap with the indices - BSE 100/BSE 200 - may be higher. The simple rationale is the availability of eligible stocks. As per our definition of large caps, large caps are the stocks with a market cap exceeding $2.5 billion; only 120-130 odd stocks qualify on this criteria. Thus, building any large-cap portfolio of 45-50 stocks would result in a higher coverage from within the large-cap index. On the other hand, the potential universe of mid caps is over 250-300 stocks. Hence, the overlap would be much lower.
IDFC Premier Equity Fund has underperformed its category over three months, one year and three years. What is your strategy to turn around the fund?
The fund has improved its ranking in the recent three-month period, though it lags behind over one-year and three-year periods. There are several factors which have impacted our performance. As a benchmark-agnostic fund, the fund's sector weightages are at a sharp variance from its peers as well as the benchmark. At a generic level, the fund has historically been underweight deep cyclicals, like PSU banks and commodities. This has exposed the fund to underperformance in the past as well as during calendar year 2016. Two other factors have impacted the fund performance: the slower-than-expected approval of GST, which impacted the fund's overweight on the logistics sector, and small caps. The small-cap exposure of the fund, which has been a key driver of the fund's performance in the past, was beset by company-specific issues, which impacted the near-term performance of the companies in the portfolio. Our regular interaction with managements of these companies gives us assurance that in most of them, the issues are getting resolved and the revival in their performance is expected in the coming quarters.
In addition, the fund continues to have a bias for growth-oriented companies. However, over the last year, the growth of the portfolio companies has slowed down considerably. With the economy recovering, we believe these companies should start reporting improvement in performance in the coming quarters.
What are the major differences between IDFC Premier Equity Fund and IDFC Sterling Equity Fund? Also, portfolio wise, how have you positioned the funds?
IDFC Premier Equity is a multi-cap fund with a mid/small-cap bias. The fund's investment framework is well defined - buying high-quality/turnaround companies with strong growth potential. The fund aims to identify companies which have a niche in terms of their product offering or catering to emerging yet high-growth segments/sectors. It also identifies sectoral themes. For instance, currently they are logistics and consumer premiumisation.
IDFC Sterling, on the other hand, is a pure mid- and small-cap fund. It focuses on companies that are challengers to the leaders in various sectors. In terms of market cap, its focus segment ranges from Rs 2,500 crore to Rs 15,000 crore, with the current median market cap of Rs 8,000 crore. The small-cap exposure is limited to 35 per cent of the portfolio.
What is the road ahead for the markets in the calendar year 2017? What are the key risks and the factors that can trigger an upside from here?
The markets are positioned at an interesting level. They are awaiting a solid rebound in earnings growth after four flat years. Historically, earnings growth has rebounded strongly whenever nominal GDP growth rate has stayed above 10 per cent level for two consecutive years. With WPI touching 4 per cent level, hopes of nominal GDP crossing 10 per cent for the second successive year are high. This should translate into double-digit earnings growth, with higher visibility in the second half of the current fiscal.
However, the US markets appear to be flagging after a strong run-up post the election of President Trump. If the much awaited income-tax cuts do not satisfy the expectations of investors, then it could foment a correction in US markets, which could be felt across the globe as well. However, favourable election results in France and Germany could act as a buffer to any global shocks. Correction, as and when it occurs, could be sharp and swift rather than long-drawn.
Where are you finding value in today's market?
We are finding value selectively across segments. Oil and gas remains a sector where valuations are comfortable, though elevated relative to their recent past.
Across equity funds you manage now, are there any tactical misses in your portfolio?
We believe that the urbanisation theme will bring about a strong long-term structural shift, which will serve investors profitably over the long term. During the demonetisation period, several leading stocks across various segments had corrected. Unfortunately, we got into analysis paralysis and missed most of them.
However, given the structural change this theme will unfold, we are hopeful of getting a good entry point in the future.