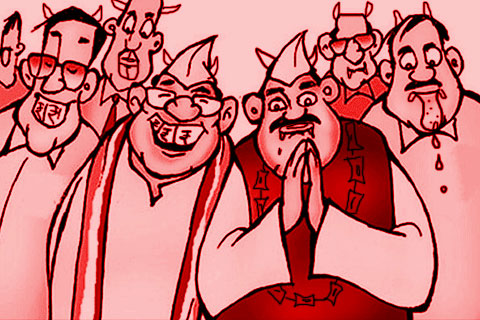 In 2014, a point of view arose amongst Indian investors that the Indian voter was changing. Apparently, the voter had discarded his millennia-old obsession with caste, creed and language, and was now beginning to focus more on governance and economic development. Therefore, according to the media articles which fed this line of thinking, the Indian voter was now more inclined to elect (or re-elect) governance and reform-oriented politicians like Nitish Kumar in Bihar, Raman Singh in Chhattisgarh, Shivraj Singh Chouhan in MP and, of course, Narendra Modi in New Delhi.
...But recent evidence suggests that caste and feudal loyalties still dominate
Had we been a little bit more focused on facts, we would have noticed that in the May 2014 general elections more candidates implicated in criminal proceedings became MPs than in any other general election in the Indian history. Three years on from that memorable spring of 2014, there is little evidence to suggest that the Indian voter actually cares about governance or economic performance any more than he has done in the past several decades.
It is hard to argue that the Bihar and Jharkhand assembly elections of October-November 2015 and November-December 2014, respectively, enhanced the cause of good governance. In Bihar, the incumbent Nitish Kumar was able to retain power by entering into an alliance with Lalu Prasad Yadav's RJD, a party not known to have economic development in its core agenda. In Jharkhand, the BJP was able to come to power in an alliance with the All Jharkhand Students Union (AJSU). The AJSU's key demand was special status for Jharkhand, i.e., more fiscal largesse from the Centre directed at Jharkhand.
The saga of what has transpired in Tamil Nadu over the past six months - the incumbent chief minister died whilst awaiting trial in the Supreme Court and then her political heir was convicted by the Supreme Court but that did not stop her regent from taking charge of the state - suggests that in this key South Indian state the age-old construct holds.
The roster of candidates in the recent Punjab and UP assembly elections shows that the percentage of candidates with criminal records is similar across all the key parties. To quote from the February 14th issue of The Business Standard, "There are a total of 826 candidates in the fray in the third phase [of the UP assembly elections], out of whom affidavits of 813 candidates were analysed by election watchdog Association for Democratic Reforms (ADR). Of these, 110 candidates have declared criminal cases against them, while 82 have serious criminal cases against them, the ADR analysis showed...Interestingly, the percentage of Bharatiya Janata Party (BJP) candidates with criminal cases (31 per cent) and serious criminal cases (22 per cent) is higher than that of the Samajwadi Party (SP) candidates in the same categories - 22 per cent and 15 per cent, respectively..."
Data such as this begs the question, "Does the voter really have a choice in these polls even as all the parties are virtually identical when it comes to the quality of these candidates?"
In his recent book, When Crime Pays: Money and Muscle in Indian Politics, Milan Vaishnav has gone a step further by highlighting that the probability of a candidate winning an election in India is materially higher if he has a criminal track record. Why might this be? Vaishnav explains that voters want to support politicians who are expert rent seekers so that these politicians can then share the spoils with his supporters. A criminal track record is perhaps the most effective way of signaling one's rent-seeking credentials.
To quote Vaishnav, "Money helps grease the wheels, but voters too have a rational incentive to back politicians with criminal reputations. In places where the rule of law is weak and social divisions are rife, politicians can use their criminality as a signal of their ability to do whatever it takes to protect the interests of their community - from dispensing justice and guaranteeing security to providing a social safety net. What the Indian state has been unable to provide, strongmen have promised to deliver in spades. What this means in practice is that voters are not necessarily blind to the predilections of the political class; many voters vote for politicians because, rather than in spite, of their criminal reputations."
So what happens next?
Before you become too despondent, it is worth noting that political evolution in the USA and the UK (even when they had more homogeneous voter bases in the 19th and 20th centuries) does not suggest that there is a linear evolutionary process towards political cleanliness or governance-oriented politics. In fact, if you watch the Oscar-winning movie from 2012 Lincoln, you will see that honest Abe shamelessly goes to the residences of legislators in order to arm-twist and incentivise them to vote in favour of the bill ending slavery. The movie is based on a book by Doris Kearns Goodwin called Team of Rivals: The Political Genius of Abraham Lincoln.
Furthermore, it is not even clear that corrupt politicians actually hold back economic development.
Japan, for instance, had a famously corrupt political system, even as it became a miracle economy in the forty years following World War II. Even as the Japanese government was falling and being recreated through horse trading each year, the country's per capita income rose from US$479 (current US$) in 1960 to US$20,356 (current US$) in 1987, a CAGR of 15 per cent per annum.
Across the last 40 years, India itself is a testimony to the fact that political corruption does not necessarily hold back economic growth. The 1990s was the decade when India's economic growth took off and that was also the decade in which criminals entered Indian politics en masse. In the noughties, the GDP growth actually accelerated as India's first (and only) capex boom took place aided by the crony capitalist nexus. Ironically, after the searing investigative reports of the Comptroller & Auditor General in 2010 and 2011, both GDP growth and capex growth have conked off as crony capitalists have been put on the back foot.
Even within India, it is not evident that corruption impedes economic growth. The fastest growth in per capita income, alongside the improvement in social indicators like literacy, infant mortality and poverty reduction, has taken place in South Indian states (Tamil Nadu, Andhra Pradesh and Karnataka) alongside politics which has increasingly become criminalised. According to the Association of Democratic Reforms, in Andhra Pradesh, the percentage of elected MPs with criminal cases surged from 26 per cent in 2009 Lok Sabha election to 48 per cent in the 2014 Lok Sabha election. While the percentage for Karnataka remained constant at 32 per cent in 2009 and 2014, the percentage for Tamil Nadu with criminal cases declined from 26 per cent in 2009 to 18 per cent in 2014.
As Milan Vaishnav says, "Over time many Indian voters - faced with a state unable to service their needs - have looked to those who can. Viewed in this light, politicians with criminal records are not symptomatic of a failure of the democratic process. Instead, malfeasant politicians and popular accountability can in fact be compatible..."
Joining the dots of the arguments made above, if economic growth does not appear to be negatively correlated with corruption in the polity and if corruption is a by-product of the shortcomings of the Indian state (i.e., its failure to provide law and order, infrastructure, education, jobs, etc.), then we can expect to see greater corruption alongside healthy GDP growth in the years to come! Development and progress, in India and elsewhere, happens in ways which are obvious only in retrospect.
Saurabh Mukherjea is CEO - Institutional Equities at Ambit Capital and the author of 'The Unusual Billionaires' and 'Gurus of Chaos'.