Honda Motorcycle and Scooter India Ltd has upstaged Bajaj Auto Ltd to become the second largest motorcycle company in April, placing it within striking distance Hero MotoCorp Ltd, India's largest two-wheeler company.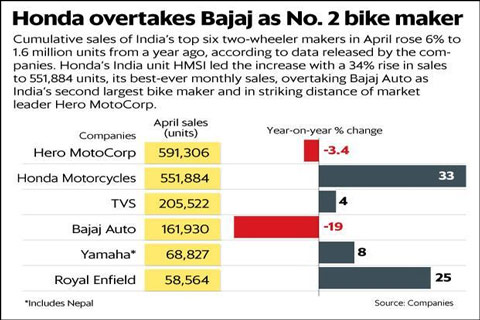 "We're happy that for the first time, we've become the No 2 motorcycle maker, overtaking Bajaj Auto by a wide margin (over 21,330 units). This was possible after our overall sales jumped 34% in April. Our bikes volume rose 22% to 183,266 units from 150,711 a year ago," HMSI senior VP for sales and marketing YS Guleria told PTI on Wednesday.
As against this, Bajaj Auto saw its domestic sales plunge 19% to 161,930 units in April from 200,433 units. With this, the Japanese company leads the Pune-based Bajaj by a wide margin of 21,336 units, while it has narrowed the margin with Hero to just 12,377 units, making it within a striking distance of the market leader.
The Japanese major began fiscal 2018 on a high note with a 34% spike in sales taking its volumes to a record high of 578,929 units, making it the best-ever monthly sales for the company. While Hero MotorCorp saw its sales decline by 3.5% to 591,306 units in the month.
The volume jump was led by a massive 40% rise in its flagship scooter Activa which crossed for the first time 3.5 lakh monthly sales at 368,618, which also is a record for the company. When asked weather HMSI is hopeful of maintaining the lead over Bajaj going forward, Guleria parried a direct answer saying, "our present capacity allows us to sell only 1.5-1.8 lakh bikes a month and I am confident of fully utilising that capacity.
"Having began fiscal 2018 year on a high, we're looking forward to meet the target set for the year - 20% volume growth at 6 million units over 5 million units in fiscal 2017".
When asked if Honda will continue to narrow the gap with Hero and overtake it sooner than later to be the largest two-wheeler company, Guleria again avoided a direct answer.
"We are limited by our capacity now which is at 5.8 million per annum while Hero has about 7.8 million installed capacity. I can say anything about such an eventuality only after we open our new assembly line (11th one) in Karnataka in July. From August-September we will be able to sell more. "Currently my focus is on meeting the huge demand for scooters as the waiting period has shot up to over 30,000 units now. We can't also add an another shift as all the 10 assembly lines are running at full capacity with two shifts for long now".
Guleria said the bike volumes were driven by the 125 cc Shine, which contributes close to 55% of the volume. The over a decade-old Shine with its two variants has been its warhorse for long now. He also said the company is hopeful of crossing the 5.5 million cumulative sales of the Shine this month.
The record April sales has pushed up the HMSI's market share to over 33%, up 2.5 percentage points from the March pie. Its exports soared close to 60% in the month to 27,045 units.