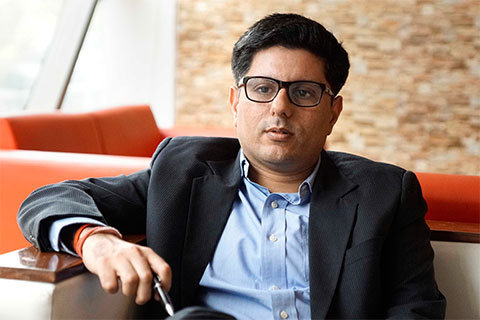 What has resulted in the outperformance of your fund over the last one year?
Our investment philosophy of taking concentrated bets in high-conviction sectors and companies has resulted in our fund outperforming last year. During the year, we were overweight on financials with specific focus on NBFCs and smaller regional banks. Our view was that these segments would see better earnings growth as compared to bigger banks. This strategy paid off well. Bajaj Finance, Bajaj Finserv, Muthoot Finance and Federal Bank were the major alpha creators in our portfolio during the year.
How do you select stocks for your fund?
We mix bottom-up approach, along with a top-down philosophy. We identify themes that are likely to play out during the medium term and look for companies within them, which would benefit over the medium to long term. Within sectors, we look for companies, which outperform industry peers by a wide margin on various earnings parameters and return ratios. A detailed filter analysis, both qualitative and quantitative, is done for all the companies before they are considered for investment. Earnings visibility and sound management quality are among the key parameters we consider.

When do you decide to exit a stock?
There is no hard and fast rule for exiting a company, which we have bought in our fund for the long term. We have been holding some companies in various portfolios for over five years because they have been meeting our strict investment criteria consistently over the years. We review our portfolio companies every quarter. In case any of the companies fails to meet our investment parameters repeatedly due to various intrinsic or extrinsic factors, it would be excluded from our portfolio.
Valuation is another aspect. If the valuation moves above three standard deviations from its historical average, we become wary and evaluate booking gains in the counter.
How do you determine allocation across large, mid and small caps?
We typically focus on high-quality large caps and mid caps and avoid small caps. Our belief is that on a relative-valuation basis and liquidity, large caps and mid caps are better placed than small caps. We believe there is an immense opportunity available among large and mid caps in India. We might look at good quality small caps if some interesting opportunity comes up.
Isn't your portfolio too concentrated?
We firmly believe in having higher weightage allocation towards companies where we have high conviction. We see no reason in making a portfolio of 40-50 companies, which may be a sign of lack of conviction in what we are buying. We see no reason why high-conviction ideas should not see higher weightage allocation in a portfolio. Also, the smaller size of our fund gives us the comfort and flexibility to implement this view.
What can investors expect from your fund going ahead?
We, as a fund house, would continue to implement our investment philosophy of portfolio concentration in companies and sectors. We believe 2017 could be a testing time for all equity investors, considering that we have entered the year with lot of uncertainties on the domestic macroeconomic front post demonetisation. Nevertheless, it would be a stock picker's market and we could get sound companies at attractive valuations during the year. Consumption-oriented companies could see some opportunities, considering many of them have been beaten down in the last couple of months. Banking is another sector, which could provide opportunities in select stocks.