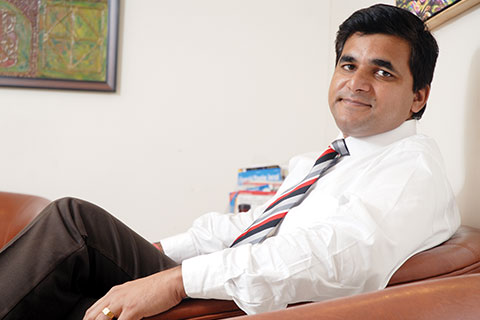 While debt fund exchange traded funds or ETFs are a big thing outside India, we haven't seen many such products here. Do you think fixed income ETFs have a good potential in India and why?
Debt ETFs could be efficiently used by the institutional category for asset allocation and portfolio balancing purposes. Retail investors, who have an understanding of the underlying risk return framework of any particular ETF strategy, could also use it in a limited sense to modulate their asset allocation. But for the larger audience simple open / closed ended debt schemes are the way forward as it offers them an efficient solution for their savings and investment requirements, allows them to benefit through returns generated in debt capital markets, without requiring the degree of sophistication in understanding and the agility in decision making and execution that typically is necessary for someone using ETFs as a core investment solution. Hence, we believe there is space for both, there are unique but distinct requirements that both of them fulfill for various category of investors.
Do you think the usage of difficult to understand jargons are partly responsible for the confusion and lack of interest among retail investors when it comes to debt funds?
It's a fact that like in equity markets, in debt markets also there are many investment options and strategies, types of instruments and varying degrees of potential risks and returns. While that can't be wished away, it is also true that the broader categories of risk returns strategies are not more than 4 or 5. Within these categories, one could have one or two variants at most.
One approach could be similar nomenclature of similar schemes across mutual funds. Second, specific risk and return drivers could form part of the scheme nomenclature to make it easier to understand.
How do you think Asset Management Companies (AMCs) can reach out to more people outside the institutions? What kind of boost do you estimate debt funds can expect if a portion of inflows to bank deposits starts enduringly getting channeled into the industry?
While it's a fact that debt mutual fund schemes have seen meaningful participation by the non-institutional investors in the last 3 - 5 years, most of it has been from the HNI (High Net worth Individual) and Mass Affluent category. For more meaningful penetration into the larger retail segment, the key drivers will be simplicity in terms of products, and constant and effective communication on product positioning.
We can see significant improvement in terms of retail participation if we can associate various MF product categories (Liquid, Short Term, Duration, Accrual) to specific and tangible savings and investment goals of the investor, and successfully communicate the same in a simple yet effective manner. We firmly believe that MFs will see disproportionate rise in their share of total financial savings in the years ahead because the product offering in superior in all aspects including costs, liquidity and potential returns. The key remains communication and delivery.
Which type of debt funds should investors put in money now - for the short term, the medium term and the long term? Are historical returns from debt funds also now part of history given the present low rate regime, or there could be positive surprises in store?
For investors with a time horizon of 3-6 months, they should primarily allocate into Ultra Short term funds.

For investors with a time horizon of 9 to 18 months, they could invest into Short term Funds and Accrual / Credit Funds.
For investors with longer time horizons, they need to allocate between accrual / credit and dynamic / duration funds. In the current context, they can have relatively higher allocation into accrual funds (60% -70%), but some meaningful allocation should continue in dynamic bond funds since the broader rate trends are still downwards.

There have been some innovation around debt products. But is lack of knowledge and awareness the only major reasons why debt products have still not made a major mark in the minds of retail investors? What is the solution?
The focus has to be to keep the products simple, the positioning clear and the communication effective. Linking various product positioning to specific savings / investment requirements is the way forward. For example, using liquid and Ultra short term funds for temporary parking of surpluses and / or short term deployment, using products in the accrual space for providing stable and regular income streams, using duration products to capture directional movement in rates as well as providing long term investment options etc.
The basic savings / investment requirements can be broken down into 4 to 5 categories and hence product and positioning should be in line with that without getting into too much fine tuning, especially when one is communicating with a larger client base.
What kind of prospect do you think demonetization has opened for fixed income? How viable are the post-demonetization inflows coming into banks and debt funds?
Demonetization has the following implications from a debt market perspective:
a) System Liquidity: The immediate and visible benefit will be a significant improvement in system liquidity. While there has been a significant increase in system liquidity because of deposits post demonetization, a reasonable part of it will move outside the system as withdrawal limits are increased. Still there will be some permanence to this improvement in banking system liquidity due to increasing compliance and by design. Better system liquidity has a direct impact on real economy interest rates. The sharp fall in MCLR (Marginal Cost of fund based Lending Rate) rates of banks is proof of that.
b) Government Finances: Notwithstanding the debate on one time windfall gains or the lack of it due to demonetization, the move towards greater compliance, more transactions being routed through the banking system, will lead to tax buoyancy, higher tax to GDP (Gross Domestic Product), more efficient allocation of capital and an overall improvement in government finances and hence in the fiscal deficit numbers. Fiscal deficit has been the lead indicator for broader macro stability in the Indian context and hence, this is very positive from a long term perspective.
A combination of sustainably good system liquidity and better fiscal health will create a positive environment for fixed income in the near term as well as long term. Hence we remain constructive on the implications of this move in terms of the performance of various categories of debt schemes going forward.
What opportunity does it bring up for retail investors vis-a-vis other fixed income? Banks have already started cutting deposit rates....
Market linked Fixed income products offer returns through accruals as well as potential capital gains. In a declining rate environment investors will benefit on both counts. Mutual funds are able to deliver market related returns to the investors with reasonably low cost intermediation. Given Reliance Mutual Fund's strengths in terms of research and reach, our ability to invest in debt securities offering attractive risk - return tradeoffs and specific product offerings for specific savings / investment mandates, we are confident of delivering better alternatives to investors both in terms of potential returns as well as liquidity.
Do you feel RBI may not aggressively lower repo rate going forward?
We are factoring in a cumulative rate cut of 50 bps in the next 3 - 6 months and a good underlying liquidity scenario. The risks to our forecast could emanate from global market developments and higher degree of forex volatility. While the domestic macros support a benign rate environment, and the broader direction of rates is lower, the timing and extent of rate cuts will be impacted by the factors mentioned before.
From a retail investor perspective it's more important to come into the right product category, especially in the context of his investment time horizon rather than the timing of specific events. This is even more relevant given that the broader environment in India remains constructive of lower and stable rates.
How prepared is India for higher oil prices and higher US interest rates? What would be the effect on fixed income from these two potential changes?
Both these factors are prima facie negative from a macro and rate perspective. But we also believe there is significant insulation in the Indian context, especially in the current macro-economic environment.
In terms of Oil prices the challenge will be in terms of CAD (Current Account Deficit) and potential second round impact on CPI (Consumer Price Index), but since domestic prices are market linked, government's fiscal health will not get impacted meaningfully.

Again as long as oil prices remain in a range and don't significantly shoot up from here, there is reasonable space available to absorb this impact without disturbing the broader macro balances.

A rise in US yields has more impact through the forex channel since Indian debt markets have very less direct FPI (Foreign Portfolio Investor) participation. Higher US yields will impact FPI flows due to change in relative attractiveness of US assets.

However from an interest rate perspective, the key for India rates is India Macro, especially in the context of long bond yields. A healthy stable macro environment in India will keep India bond yields well anchored.

In the last 2 years while we have seen some rise in US yields and significant disruption both in terms of rates and forex in some large EMs (Emerging Markets), India has looked and behaved much better, both in terms of currency stability and also in terms of a declining trend in rates. We don't see any reason for this to change as long as we continue to maintain / improve on our macro parameters such as Fiscal Deficit, Inflation and CAD.