Fund manager Shreyash Devalkar gives his views on BNP Paribas Midcap Fund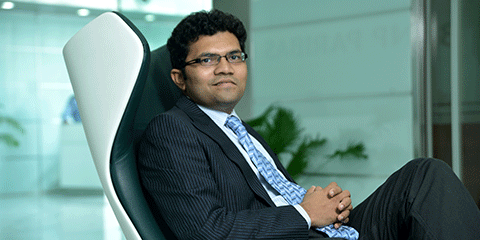 What is your investment universe?
We believe that, 'it is companies that create wealth, not markets'. The companies are thoroughly researched internally by our experienced research team with an aim of ensuring that only the most suitable companies make it to our portfolio. Our investment philosophy of focusing on BMV (Business - Management - Valuations) framework for selection of companies in portfolio, has helped in consistent performance. Various investment ideas are filtered through our BMV (Business - Management - Valuations) framework of company selection before adding it to investment universe. The Business fundamentals are analyzed based on different parameters like secular trends, uniqueness of business model, moat of business etc. Management's execution capability is key in delivering sustained returns within the realm of industry dynamics and corporate governance are important parameters. Growth At Reasonable Price (GARP) is the philosophy that is followed while assessing valuations. Thus companies which are filtered through our BMV philosophy comprise part of investment universe
What attributes should a stock have for it to become a part of your portfolio?
In mid cap, we look at leaders in emerging segment, while challenger and consolidator in a large sector, such companies are expected to outperform the large cap peer. We tend to focus on leaders in the smaller sectors which are growing fast, the growth of such companies is always superior. The challengers in large sector (e.g. NBFC) operate in a niche areas and end up growing faster than the leaders in that sector. Finally the survivors in the sectors which are consolidating, witnesses improvement in profitability. Broadly we follow these themes to identify mid cap companies.
What kind of stocks never enter your portfolio?
As highlighted earlier, the company without strong business in terms of Moat and lacking growth, are avoided. Growth is of utmost importance to us. Currently we find superior growth in certain sectors like Private sector banks, NBFC, Textiles, companies benefiting from increased spend in Road, Railways, PSUs and defense sectors. We are underweight on PSU banks, IT services, metal/mining sectors.
What will you attribute the relatively superior performance of your fund to in recent years?
Our investment team is highly experienced with expertise in various sectors, which helps in consistently identifying best Investment Ideas across sectors. Our investment philosophy of consistently focusing on BMV (Business, Management, Valuation) framework for company selection has helped. In addition, focus on identifying growth companies, resulted in building strong growth portfolio and is a key contributor in our aim to deliver consistent performance.
Is there any tactical miss you regret (for instance, not owning a stock or not owning enough of it)?
We always strive to follow our investment process as highlighted earlier, in its true spirit. Hence, we do not regret not owning stocks which have gone up, which do not fit in our investment philosophy. While in case of any stock which we are holding is not performing, we continuously focus on the continuity of moat and growth of the company and would continue to own as long as it fits in our philosophy.