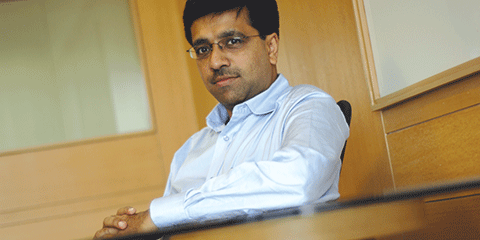 There are only a few investment experts who have managed to navigate two funds through thick and thin over long periods of time. SBI Mutual Fund's Jayesh Shroff has done exactly that. His stewardship of SBI Magnum Multiplier Fund and SBI Magnum Taxgain has resulted in a solid outcome for investors. In a free-flowing interview with Kumar Shankar Roy, Shroff explains how the philosophy of 'change at margin' works for Magnum Multiplier Fund. For retail-oriented Taxgain scheme, the fund manager focuses on 'consistency' of returns over stardom.
SBI Magnum Multiplier Fund is essentially a diversified equity fund: close to 60 per cent of its holdings are in giant and large-cap stocks. Is this a conscious decision?
Magnum Multiplier Fund is a diversified equity fund, which invests in stocks across market capitalisation. We consciously run the fund with approximately 65 per cent in large-cap stocks and 35 per cent in mid- and small-cap stocks. We have been successfully and consistently running this strategy over the last many years.
Has the fund's philosophy and your investment strategy changed over the past decade? If so, how and why?
The fund invests in stocks and sectors based on the philosophy of 'change at margin'. It buys into stocks and sectors based on big change in any of the following parameters:
1. Acceleration in rate of growth
2. Big change in margins
3. Improvement in management
4. Cases where the company is through with the investment phase
We have been following this philosophy and strategy consistently over the last few years.
How big a role have tactical allocation, investment strategy and your thinking individually played in the fund's returns?
I think the fund's philosophy has played a very big role in generating superlative returns for this fund. The fund's philosophy requires us to invest over a longer period of time and therefore we usually invest from a structural perspective and do not take large tactical calls. The performance of the fund is a result of our philosophy, long-term horizon, inputs from the research team and the fund manager's thought process.
Among companies with disproportionate share in the market, companies with high-quality management and companies exhibiting big change, which one would you prefer?
Ideally, we would want all the three parameters to be present in the companies that we invest in. Most of our investments will have these three characteristics at the time of our investment.
What are the no-go stocks or sectors for your fund?
Definitely, poor quality of management is a no-go for us. Apart from that, the fund also does not take large tactical calls and therefore avoids trading plays like metals.
You have a PSU energy company among your top three holdings, while there is a private-sector energy company as the tenth-largest holding. What makes you so bullish about PSU energy, since most energy reforms are thought to be over?
Firstly, we do not distinguish our investments based on PSU or non-PSU stock. For us, any large change in any operating parameter is good enough to at least evaluate the investment opportunity. Thus, we have invested in the PSU oil company you are referring to based on our assessment of a large benefit arising from a change in subsidy structure and a fall in crude price. We will scale up our investment based on the facts and figures present at any given point in time.
For SBI Magnum Multiplier, you seem to have avoided any large telecom bets. Is this because the telecom space is expected to see immense competition in the days to come?
Our call on telecom was simple. We bet on data over voice and therefore invested in a company that is one of the large data carriers and providers in the world.
The next set of questions is structured around SBI Magnum Taxgain. When we look at the fund's one-, three-, five-, seven-and ten-year performance, it has beaten the benchmark comfortably. What has stopped the fund from being the best performer across all these time periods?
Taxgain, being an ELSS, is largely a retail product. Therefore, we have consciously decided that we would want to provide consistent returns in the fund. We have chosen consistency over stardom. We take long-term structural calls in the fund, with a view to curtail volatility of performance in the fund.
Financials, energy, technology and engineering are your top bets. How much has the sectoral-overweight approach helped the fund in its performance?
I follow both top-down and bottom-up approaches to investment. Therefore, we do take conscious sectoral calls in the fund. The sectoral overweight/underweight has also played a role in generating alpha for the funds.
Does the large size of the fund - you are approaching ₹5,000 crore - pose any risk?
The size of the fund has been large since quite some time and we have been successfully managing the same. Also, this is primarily a large-cap-biased fund and therefore size has not hammered our performance.
SBI Magnum Taxgain has kept its turnover consistently low compared to the peers. Is this linked to the 'value' nature of your ELSS fund?
As mentioned earlier, we invest based on long-term structural nature of business so as to give consistent returns in the fund. We do not take large trading calls and therefore the turnover in the fund is low. The good part is that we have been able to generate this performance with a low turnover ratio.
What is the fund's philosophy and investment strategy? Have you changed or tweaked it over the years?
The philosophy of the fund is to invest in good and stable businesses with very good visibility of sustaining the current business momentum. We have consistently followed this philosophy over a long period of time.
Lastly, do you take tactical allocation calls? Tell us about some hits and misses.
We invest in stocks and sectors based on the structural nature of business. And, therefore, it is not in our philosophy to take large tactical or trading calls. The best thing about investing in equity markets is that you are always on the learning curve whatever your experience maybe. So we have a long list of hits and misses. Most stocks that have large exposure in the fund are our hits. In misses, some consumer-discretionary stocks are the ones that we have missed.