Many believe that as Indian companies become more multinational-like, the appeal of MNC stocks is likely to decrease. Mahesh Patil, Co-CIO at Birla Sun Life AMC, however, differs. Kumar Shankar Roy finds out why he thinks so.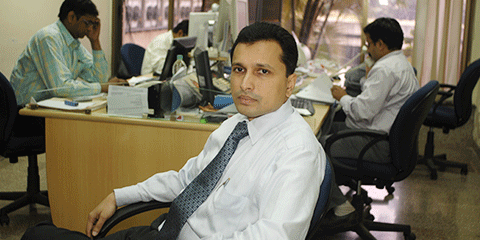 There was a time when the stocks of multinational companies (MNCs) were the darlings of investors. Strong corporate governance, great earnings and rock-solid share performance helped these stocks carve out a niche for themselves. Today, the situation is slightly different. Indian companies have come of age. The ICICIs, Birlas, Tatas , HDFCs, L&Ts and Reliances have become 'desi MNCs' with excellent track records. Multinational companies, meanwhile, trade at premium valuations, with growth rates converging in some cases. In a free-wheeling interview with Kumar Shankar Roy, Mahesh Patil, Co-CIO, Birla Sun Life Asset Management Company, says that MNCs are an "all-season theme" even today. With their vast experience across geographies and market cycles, Patil is of the view that these companies are perhaps best geared to manage the changing market and growth cycles. Edited excerpts.
MNC stocks, for a long time, enjoyed a premium on account of superior corporate governance. But today there are many home-grown companies that are equally or better governed. Will MNC stocks continue to get the same premium as before, since growth rates are beginning to converge?
MNC stocks have always commanded higher multiples than their domestic counterparts not only because of their superior governance standards but also due to various other factors, like superior technology/brand, better allocation of capital, focused nature of business, higher return ratios and scarcity premium. In the past few years, we have observed that even home-grown companies which have raised their bar of governance have seen rerating of their valuation multiples as markets are becoming more discerning. However, there still exist multiple factors, like global presence, ability to deliver newer solutions to an ever-evolving market, continuous investment in R&D and access to captive markets at global scale which continue to give an edge to MNC stocks.
MNC stocks have no doubt seen valuations move up in the past few years as most of them have also exhibited superior and sustainable growth within their sectors. We believe they can continue to grow earnings faster even in the future, considering the strong competitive advantage they enjoy. So while the premiums may not expand further, MNC stocks will continue to command premium as most quality stocks do and the future returns will more or less track the underlying earnings growth.
Your MNC fund's major presence in defensive sectors, such as pharma and FMCG, helped the fund navigate the volatile markets of 2011, 2013 and 2015. Cyclicals helped in the 2014 rally. How have you positioned yourself to deal with markets in 2016 and beyond?
Birla Sun Life MNC Fund follows a diversified approach with allocation across various sectors. The fund is invested in sectors like consumer discretionary, financial services, auto and auto ancillary, travel and tourism, industrials, logistics and pharma. These sectors are expected to benefit from increased domestic consumer spending and also a significant ramp-up in government spending. We believe that in the next couple of years domestic factors will be the key drivers of market growth. Birla Sun life MNC Fund is well positioned for that. Global factors are hinting at a stabilisation in the short-term. However, we remain neutral on the global growth as a factor.
Pockets of pharma stocks look pretty reasonable as compared to where they were two-three years ago. What is your view on them?
The MNC pharma sector has been a consistent wealth creator over the last decade. Last two years have been challenging for many companies due to regulatory issues in the domestic market first due to NLEM-led [National List of Essential Medicines] price cuts and second due to the recent suo-motu ban on fixed-dosage combinations by the government. It is more pertinent to understand that Indian healthcare spend to GDP, at 4 per cent, is one of the lowest in the world, and with increasing per-capita income, healthcare is one of the key areas which have tremendous growth potential over the next two decades. MNC companies, with their innovative product basket in areas of preventive healthcare, like vaccines, and chronic diseases, like diabetes and respiratory [disorders], are at the forefront of capturing this big opportunity. With the recent correction in stock prices, we believe these stocks provide a good entry point for long-term investors.
Is the MNC theme still relevant today for an investor? If so, why?
MNC is an all-season theme. Our MNC universe includes companies which are global in nature and are present across geographies, including other emerging economies. They have a wide range of products and the experience to launch solution-based products at the right time in the economic cycle. Most of the companies in this universe are not cyclical in nature and are good investments across market cycles, with key attributes like superior return ratios, efficient usage of capital and focused approach on increasing market share over market cycles. We believe that MNCs, with their vast experience across geographies and market cycles, are perhaps best geared to manage the changing market and growth cycles and hence are a sustainable theme for investors.
What is your buying and selling strategy with MNC stocks.
The fund primarily follows a bottom-up style of investing. We try to pick companies which are expected to deliver consistent growth over the medium to long term. While investing in a new stock, we look at various factors like management strength, company's product range, consumer/customer feedback, market size/share, free cash flows, corporate governance and, finally, valuation. The fund manager, along with the research team, works towards identifying high-quality global companies which have a sizeable opportunity in the Indian market and in this process builds a portfolio of such companies which have superior return ratios and strong balance sheets.
The selling strategy is driven by a variety of factors. Distorted valuations, business disruption, change in business strategy, intense competition squeezing margins and corporate actions are some of the factors that could trigger stock sell.
Lastly, given the high valuation of MNC stocks, there is always the fear that these shares may not offer downside protection if the market corrects. Your fund is more aggressive than peers'. What has been your experience during market downturns?
Most of the companies in our portfolio are cash-surplus companies rather leveraged ones. They earn interest rather than pay interest in difficult times, and they hardly need to dilute equity for sustaining their growth. Since their return ratios are high, they actually gain market share during tough times due to the strength of their balance sheets. Hence, we have observed that MNC companies do relatively better than the market during significant market corrections.
The MNC fund has displayed consistency across market cycles. The fund has outperformed the benchmark not only during up markets but also during bear markets by minimising the downside. That is why we call this a fund for all seasons. Over a ten-year period, BSL MNC Fund has rewarded its investors with superlative returns. At the same time, the fund has been subjected to moderate amount of volatility, thereby delivering superior risk-adjusted returns.
This interview appeared in the June 2016 Issue of Mutual Fund Insight.