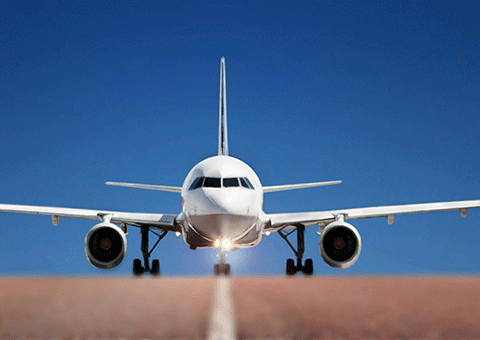 The Indian aviation industry has come upon good times. Passenger growth is up and so is load factor - both requisites for higher profitability. Low crude prices have also benefited the industry.
Passenger growth for March came in at 25% over the corresponding period of the previous year. It also came on the back of an equally strong growth of 23% and 24% in the previous two months. On average, growth is higher than that in any of the last two years. The graphic below shows passenger growth over the last two years.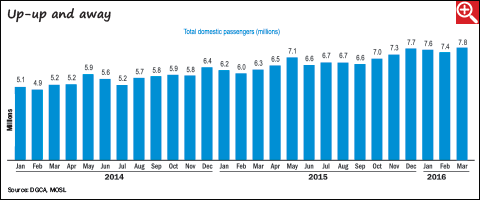 FY16 saw a load factor of 83% compared to 79.1% in the previous year. However there was a marginal decline of about 1% among major airlines in March compared to the previous month. Air India and Jet Airways were the two standouts with load factors declining around 4% basis points for both in March.
Who's the top gainer?
Indigo continues to be the country's largest passenger airline, with a market share of 38.6 per cent. For more than 15 months now, Indigo's market share has been close to or higher than a third of all passenger traffic in the country. The carrier's current market share is now inching towards its all-time highest market share of 39 per cent.
Jet Airways, the country's second-largest airline trails far behind Indigo, with a market share of 20 per cent, followed by Air India, with a market share of 14 per cent. The graphic below illustrates how market shares of the main players have moved.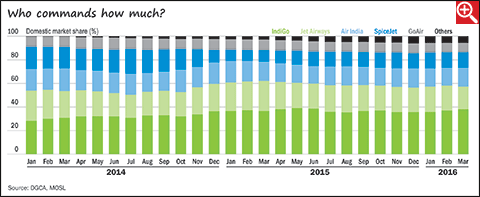 The Indigo stock was battered on the exchange on weak Q3 numbers. The airline covered lost ground with better Q4 numbers. For the full year FY16, Indigo reported sales growth of 16 per cent with an earnings per share growth of 52.5 per cent.
A big factor as to why the Indigo stock was beaten down post-Q3 results was the delay in the delivery of fuel-saving A320Neos. Indigo has guided that it will add 20 A320Neo and 9 A320s in this financial year. The market remains wary. The stock is still down 30 per cent from its 52-week highs. Though the stock could remain under pressure till the delivery of the new aircraft, now would be a good time to pick it up given the market's lack of enthusiasm.
Lower crude a boon for the sector
Jet fuel constitutes close to half of an airline's operating costs. Fuel costs declined 30 per cent in FY16. From forming 50 per cent of sales between FY12-14, fuel costs are down to 30 per cent of sales as of FY16. With crude inching up to $50 per barrel - some of the gains that crude at $41 brought, have thinned out. Airlines like Indigo lapped up the fall in crude. Fuel costs for Q4FY16 for instance were down by around 30 per cent while fares were reduced by around 15 per cent only - meaning that Indigo did not pass on the entire fall in crude prices to customers. All-in-all, 2016 looks to be a promising year for the industry.