Chandresh Nigam tells Aarati Krishnan about his key learnings from the stock market crash of the mid-nineties and his brief stint with the hedge fund industry.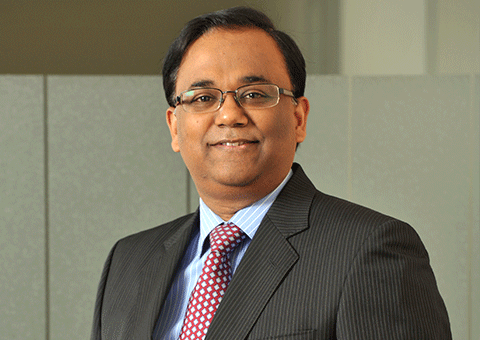 There has been a sea change in Chandresh Nigam in the last 20 years. The first time I met him, he and Prashant Jain (of HDFC Mutual Fund) were up-and-coming fund managers at 20th Century Mutual Fund. I came away impressed with the market savvy of the two twenty-somethings, who functioned out of a tiny office on Wodehouse Road, Colaba.
When I caught up with him again recently, he remembered that the years that followed our meeting, from 1995 to 1997, turned out to be the most turbulent ones in his career! The much fancied IPOs of the early nineties took a nasty beating, as the markets crashed. And it wasn't even the losses but the lack of exit options on some of those stocks that put many fund managers out of business.
Take risk seriously
I ask Chandresh about how he managed to steer Axis Mutual Fund into the big league so quickly in the hyper-competitive mutual-fund industry. He goes back to the subject that he is most passionate about - risk management.
He says that it is Axis Mutual Fund's ability to manage healthy returns in volatile markets which has found such traction with investors. His learning during the crash of the nineties that helped him shape the fund's strategy. "To me, the crash highlighted the importance of holding onto common sense and not just going with the flow in the markets. We began to take a much harder look at the business models of the companies we were exposed to and strictly avoided weaker models."
But how do you manage risk for a fund house as a whole? Chandresh says that it is his brief stint at the hedge-fund industry that really opened his eyes.
"In the hedge-fund industry, investors are sophisticated. If you told an investor that the market last year was up 15 per cent and you made 25 per cent, pat will come the question - 'at what risk level?' So if your portfolio had a beta of 1.5 and high mid-cap exposures, he would ask, 'what's the big deal?'"
So when he moved back into the mutual-fund industry in 2009 as CIO of Axis Mutual Fund, Chandresh decided that there was no point to outperforming indices 'in a vacuum'. You needed to deliver returns with low volatility.
Risk filters
Axis Mutual Fund, he explains, puts every potential stock through five risk filters before it can make it to the portfolio. "You filter the business for quality, you pay the right price, you ensure liquidity and control volatility. Contrary to the adage that high risk will automatically bring you high returns, studies have shown that, in the long term, low volatility leads to better returns," he states. The fifth risk Axis avoids is event risk. "No matter what research you do, there could be an external event which could suddenly change the prospects. To respond to them, you need to be as close to the businesses as possible," he explains.
While many mutual funds talk of quality stocks, Chandresh claims that Axis is the only fund house which pays so much attention to liquidity risk.
"If a position goes wrong, the first thing you need is liquidity to correct it. At Axis, each scheme has a liquidity target that measures how long it will take to cash out on the portfolio."
Humility
But more than the number-crunching and the screeners, Chandresh believes that risk control requires a "culture of humility" in the organisation. "You need to accept that even if you've done great homework on your stocks, things can go wrong." He also believes that it is no use having risk management as a post-mortem role. "At Axis, risk management resides within the equity and debt teams. It's no use for a risk manager to take a look at your portfolio after you have constructed it to say it is risky!" he quips.
He also reiterates that delivering consistent outperformance of benchmarks is the target for fund managers at Axis Mutual Fund, rather than being in the top decile or top quartile. "As an institution, we are saying to a potential investor 'You stay with us over five years and we will make you a reasonable return'. I think there are too many organisations where there is pressure on the fund manager to be in the top decile etc., so that the inflows come in. But we have tried to build Axis very differently."
Winner takes all
Axis' strategy of buying quality stocks and staying put has worked very well in the sideways market of the last five years. But what if the economy shifts into fifth gear?
Chandresh says that the economic recovery will remain gradual. "A slow-paced recovery is never good for the broad market. It will be good for select businesses. We are not going to have a rising tide which will lift all boats. So our strategy of investing in high-quality businesses will continue to work." But there has already been some shift in Axis portfolios from investing in high-quality secular businesses to cyclical businesses.
His take is that globally, with deflation and low growth, fewer companies will do well. "This is already visible globally. For many products and services, demand growth has slowed significantly. In India, we may have demand growth of 5-6 per cent volume-wise. So it comes to competitive strength and pricing power."
Axis Mutual Fund did a study which showed that the top five companies in the US contributed 80 per cent to the overall increase in market cap. It is the Amazons, Netflixes, Googles and Facebooks that are leading market wealth. This has to do with disruptive business models and a winner-takes-all scenario, concludes Chandresh.
Pigs get slaughtered
Everyone talks about safety in a bear market. But when a bull run starts, everyone starts to look for the hottest small caps, I provoke him.
"Everyone may do it, but we won't," says Chandresh unperturbed. He asserts that Axis Mutual Fund will never go bargain-hunting below the top 300 stocks by market cap.
"I have found one thing that works both at the investor and at the fund level - you need to fight sentiment. You should persist with a strategy. If you keep changing your strategy every three months just because the market direction has changed, that's a sureshot recipe for disaster. In markets, bulls make money, bears make money, but pigs get slaughtered," he says.
Risky debt
Given that he is so risk-averse (or conscious, should we say?), what does he think of the riskiness of debt funds? Credit funds are running into problems with their bonds and duration calls haven't worked well either, I comment.
He admits readily to this. "On long-term gilts, yes, we have been disappointed and the market yields have only begun to correct in the last couple of months. We need to evaluate if debt funds which always remain long have a viable strategy for long-term wealth creation. A dynamic-bond structure may deliver this better, if the fund manager is right 50-60 per cent of the time," he says.
Balanced finances
So what does he do with his own money? What's the asset allocation, I query. Chandresh says he mimics a 'multi-asset' approach. "I use only equities and fixed income with very little real estate. All my investments are through Axis funds."
I ask him about his favourite Axis fund and he goes all diplomatic on me, saying "All four of our equity funds are equally good," adding "If it were my dad asking for advice, I would recommend an equity fund with lock-in because the lock-in gives fund managers the flexibility to take long-term calls for buying good businesses with good risk control. If it were my young cousin, maybe more mid-cap funds," he adds.
On fixed income, Chandresh shoots for real returns over inflation of 100 to 150 basis points. "I don't think fixed income is about wealth building. There is equity for that."
Any portfolio tips he would like to share from his 20-year stint managing high-performing portfolios?
"Your portfolio should ideally have your best stock ideas. Therefore, one strategy which I have found useful is to always evaluate your portfolio as if you are building it from scratch. Usually, when you look at an existing portfolio there is a tendency to justify previous buys and sells. Instead, it is good to work out on paper how your portfolio would look if you were constructing it today. You can compare it to your existing portfolio to see what changes are required."
He adds that you should churn your portfolio only in three situations. One, if your initial hypothesis on a company is wrong. Two, the stock has appreciated and does not seem to hold further potential. Three, you find a new stock or business that is exciting. "But this process requires a constant generation of new ideas. That's why at Axis Mutual Fund, we love to describe ourselves as an ideas factory!"
Unwound
So what does Chandresh do to unwind from work? "I am always unwound. I have found that doing the same things over and over again is stressful. Just expanding your horizons helps handle stress. If you can diffuse your work across many areas, it becomes more enjoyable," he adds. He asserts that he loves his work and so doesn't get stressed.
What are his hobbies? Hindustani classical music is one and lately, he has started learning it, from merely listening to it. He's also a 'mountain' person when it comes to holidays. "I love to walk in the mountains, especially places that aren't in the tourist circuit."
Is he a fitness fanatic? "I am a frequent visitor to the gym and have taken yoga classes over the last five to six years. While I spend enough time on fitness, it doesn't show. It may not show visually," he jokes. Well, investors in the Axis schemes may not care as long the portfolios remain fighting fit!
This interview appeared in the May 2016 Issue of Mutual Fund Insight.