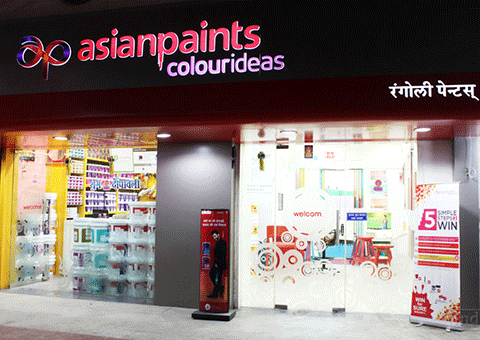 Asian Paints ended the last quarter of FY 2016 with good numbers. Despite a rough year in the international market the company managed an annual revenue growth of 9.5% and earnings growth of 23.8%. The company's raw material costs which are dominated by oil and solvents declined by 2%. It also cut its prices by 2% but protected its top line through volume growth.
Asian Paints remains the leader in its core market - decorative paints due to its ability to adapt to changing consumer preferences. It's capacity to innovate is a key strength which was on display this year through its entry into the waterproofing market. The foray also had a good impact on its results. It has recently teamed up with Henkel, a German company to take on Pidilite in the adhesive market using its distribution channel to sell Henkel's 'Loctite' brand. The adhesive market has a size of 8000 crore and is currently dominated by Pidilite Industries with a 70% market share. The success or failure of this venture will be a good test of the company's future in low ticket size fast moving products.
The company's acquisitions of late have disappointed. It took a relatively small write down of 65 crores in a kitchen fittings subsidiary this year but is vulnerable to future losses on account of its acquisitions. The profitability of its home improvement division is also a key variable to watch. However, on a fundamental level, the company's earnings predictability and quality have justified its premium valuation and that doesn't look like it's going to change.