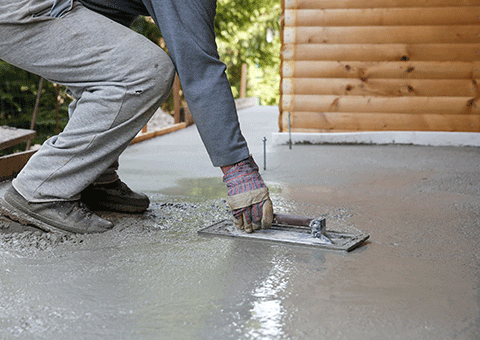 From their lows in 2008, stock prices of leading Indian cement companies have rallied from three to eight times. Most of them trade at or near all-time highs - bar the blip we have witnessed since the beginning of calendar 2016. Over the same time frame, operating margins and return ratios have worsened significantly: most now at decadal lows (see Figure 1). Is the market right in forecasting a change in fortune for the cement sector?

Capacity utilisation - turning up?
As Table 1 reveals, the cement industry in India has gone through huge capacity addition, growing 150 per cent over the past ten years, while demand has just about doubled. Consequently, capacity utilisation that was a robust 90 per cent in 2006-08 has fallen to below 70 per cent. In fact, over FY13-15, cement prices barely increased 1 per cent per annum - not even keeping pace with costs - leading to erosion in margins and returns.

Industry insiders are, however, bullish over long-term prospects. Capacity addition is slowing as margin pressures, high leverage and reduced availability of limestone - a key raw material - make further expansion less viable and difficult to fund. Corporate announcements of capacity increase have slowed considerably, with indications that FY16 will see less than 3 per cent capacity addition.
On the other hand, demand growth, which has been an anaemic 4.5 per cent per annum over the past several years, now looks like picking up. January 2016 saw a pick-up of almost 9 per cent YoY. Going forward, the industry estimates that demand growth will likely align with the trend rates of 6 to 8 per cent per annum.
Growth in demand will, for now, be driven by government's focus on building roads, irrigation projects, and mass housing. Later in the cycle, private demand is likely to pick up as economy revives.
Pricing - key to profits
Profitability of cement companies is based on a number of factors - cost of freight, power, coal, etc. However, the one item that critically determines EBIDTA margins is output price (see Figure 2).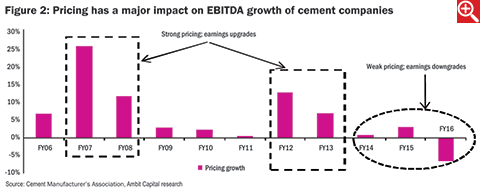 All through FY07, as cement prices firmed on the back of 93 per cent capacity utilisation, EBIDTA forecasts were revised upwards. The same forecasts were revised downwards all through FY16 as utilisation declined below 70 per cent.
In a commoditised market like cement where demand lags supply, increasing prices is possible only when 'informal cartels' exist. The Competition Commission of India has attempted to probe the existence of cartelised pricing in cement markets but has not been able to demonstrate it in a manner that will withstand judicial scrutiny. Despite this, it is clear that, wherever possible, the industry makes all attempts to keep prices high. This is helped by geographies with a few, dominant suppliers. Unfortunately for producers, the last decade saw smaller regional players growing market share. This trend seems to be reversing now with the purchase of Reliance Cement by Birla Corp and JP Associates' cement capacity by Ultratech. For now, in almost all markets, except those of central India, small players make up at least 30 per cent of production capacity, making 'pricing discipline' difficult to maintain.
The glass half-full
Going forward, capacity utilisation can increase as incremental demand outstrips growth in supply, while recent merger and acquisitions will lead to industry consolidation with a consequent cement-price increase. This will allow higher margins and RoCE.
It must be kept in mind that while new capacity addition has fallen off, operating efficiencies often add considerable capacity. A key upside trigger will be higher-than-forecast demand growth.
Despite this caution, cement seems to be at the beginning of an up-cycle. The cycle may well extend for several years, since a lack of availability of new limestone mines hampers fresh capacity addition by new players. Investors with an appetite for long-term investments may benefit from including cement stocks in their portfolios.
Anand Tandon is an independent analyst.
This column appeared in the April 2016 Issue of Wealth Insight.