We are here to buy good companies. But more importantly our job is to buy good stocks, says Sunil Singhania, CIO - Equity, Reliance Mutual Fund.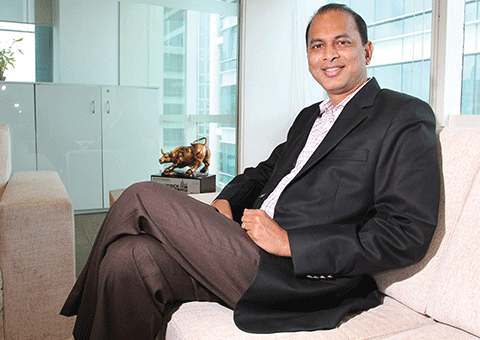 I felt rather guilty as I trooped into the Mumbai office of Sunil Singhania of Reliance Mutual Fund at 2 pm on February 11, 2016. I realised, with the benefit of hindsight, that I had picked a terrible day for having a leisurely chat with the equities head of one of India's largest mutual funds.
A bloodbath was unfolding on Dalal Steet and by the time we got talking, the Sensex had already crashed over 800 points. To add to the tension, Sunil was hoping to catch a train at 4 pm. All this turned me into a nervous wreck, but Sunil remained calm and composed through the interview.
'Uneventful'
He took my question on his investing career with barely a glance at his desktop. Sunil Singhania is one of those rare professionals who have been managing money in the Indian markets for over two decades. He qualified as a chartered accountant when he was just 20, in 1988. After five years of practice, he joined Pashupati Advani, a well-known name in stock broking. In 2003, he decided to move to Reliance Mutual Fund.
"It has been a very uneventful career," says Sunil with a smile. Uneventful? Hardly! What about all those many bear phases the Indian market has put investors through in these 25 years, I comment to Sunil, asking him what he thinks of the ongoing market mayhem. He says that the intensity of the fall is surprising, but the excessive negativity in the market is overdone.
Wealth transfer
He also has a solid numerical argument for why he is positive about India - the wealth transfer from the oil-price fall.
"For the last thirty years, as oil soared, wealth was transferred from oil-consuming countries to oil-producing ones. Now the reverse is happening. Annually, the oil market is 35 billion barrels. At an average saving of $70 a barrel, this amounts to $2.5 trillion in wealth transfer that will now happen in favour of oil-consuming countries. This will play off beautifully over the next two-three years and India will save a $100 billion a year. Now because it is the government which has retained a lot of the gains, the transmission is taking time," he argues. He also points out that while FIIs have been pulling out $1 billion every month from August 2015, we have saved $7 billion a month on the oil-import bill.
Banking woes
What about the banking sector, which is 30 per cent of the market by weight and is sinking under NPA woes?
"We have a scenario where, very rightly, the RBI and the finance ministry want to clean up the banking system. When you start to clean up anything, a lot of dirt is bound to emerge."
So how will this end? "The end-game is that the government will have to capitalise these banks or merge weak banks with the stronger ones. This year, the government has capital constraints. But next year, oil savings can be spent for recapitalising banks," he predicts.
He also thinks that the markets are factoring in a worst-case scenario on NPAs. "Today, when they talk of highly leveraged coprorates, people assume that the entire loan is going to be written off. That is not going to happen. If a group has ₹70,000 crore of loans, it will have some assets that can be monetised. Even a very bearish person should not expect more than 50 per cent of the loans to be written off," he points out.
Sunil ends with a pitch for investing during the fall, "Whenever the Indian market has corrected more than 20 per cent, except in 2009, the returns for the next one year as well as two years have been phenomenal. So this is a good time to invest."
Free style
I ask him if Reliance Mutual Fund has a preference for short-term trades and investing in small-cap stocks, which is what market perception seems to be.
He denies this with conviction. "I don't know where that perception comes from. Our holding periods on stocks would be the longest among our peer group. We have a portfolio of funds across the market-cap range. Each fund sticks very strictly to its mandate and we don't move into mid caps or small caps in an opportunistic way. We don't even use cash calls," he asserts.
So where does Sunil stand on the ongoing battle among fund managers on 'quality stocks versus cyclicals'? Funds which have placed big bets on economic recovery haven't done well.
Sunil says he hates to box himself into any one style because that leads to missed opportunities.
"We are not overly fixated on any one style. Growth at a reasonable price is theoretically the best option, but you don't always get it," he says. Reliance, he says, tracks over 450 stocks actively and over 1,200 passively. This is one of the largest investment universes in India and this keeps portfolio managers on top of opportunities.
He is cynical of buying quality or growth at any price though. "When you buy stocks, you need to have expectations of making returns. It's no good buying stocks that look good in your portfolio, but don't deliver upside. Instead, you are better off holding debt, where you get 7-8 per cent per annum!"
Would he buy commodity stocks, which some fund managers avoid like plague? "We are open to buying any company in any sector," Sunil replies with a smile. "We are here to buy good companies. But more importantly our job is to buy good stocks. The best company may not make for the best stock if it trades at a 100 P/E. There are many commodity companies today which are trading at the value of the cash on their balance sheets and they are still profitable," he explains.
Zebras and lions
So what's his take on the belief that only consumer stocks create long-term wealth in India? He refutes it.
"In this correction, we have seen consumer stocks also fall a lot. If you are growing at 5 per cent a year, you cannot justify a 50 P/E. In the near term, yes, liquidity can distort prices. But you must move away from that near-term lure.
Getting quite passionate about the subject, he asks, "Have you read Zebra in Lion Country? Read it!" he orders.
Sunil explains that it is written by Ralph Wanger, a small-cap mogul in America who founded the Columbus Wanger Fund. "Wanger's view is that zebras always move in herds. Everyone wants to be in the centre of the herd so that when the lion attacks you will be safe. But that is only perception. Because there is so much rush at the centre, these zebras get to eat the worst grass. The zebras at the side actually get the best grass. So when the lion attacks, it is the strong zebras on the side which are able to run faster and escape!" The 'defensive stocks' in his view are the zebras in the centre.
He also has a logic for why everyone loves defensive stocks in this market. "In a risk-off scenario, people want to get into companies where the news flow is not negative. So they buy multinationals or consumer companies, where you won't have negative news flow."
Personal money
Where does Sunil's personal money go? Most of the equity portion is parked in Reliance funds. But he does love to unearth direct stock ideas and invest in them, subject to the strict disclosure regime though.
"In my personal account, I buy very, very small companies that I intend to hold for ten years or more," he says, qualifying that "in a year I may buy one or two stocks that don't qualify to be bought by an institutional investor. The balance sheet has to be clean and the company should be able to grow faster than the market."
The compliance norms are stringent. He does not buy any stock that currently figures or could figure in the fund portfolios. Plus, "If I buy a stock, I cannot sell it for six months. I need to take prior permission to buy it. We get permission only if the stock has not been bought or sold by any of our funds in the last many months."
Given his passion for equities, does he like debt? "A big chunk is in equities but I have added to debt in recent years because I am not 25 anymore!" he says tongue-in-cheek. "I have 60 per cent or so in equities, about 10 per cent in real estate and the balance in fixed income."
As he loves meeting companies, what does he think of all the armchair analysis that goes on nowadays? "I always tell my analysts, you have to decide whether you are an analyst or a reporter. The analyst's job is not to just take the management's statements and rewrite them in a fancy language. It is to go out and meet buyers, suppliers, customers and make his own assessment. In bull markets you get a perception that you are very smart. So you cut short your process."
Sunil jokes, "In bear markets, you start with a 100-page equity research report. Then as markets pick up, you shorten it to 25 pages. In bull markets, you have four-page reports. Finally, you have just a four line recommendation. There was a time six months ago, when there were many four-line reports. That meant trouble for the market."
That's why "Investors also need to understand the importance of a money manager who has seen two-three cycles. If you have seen only a bull market you only know how to buy, not when to sell."
Unplugged
So how does he relax? Sunil loves travelling. He plays the guitar too. "I am a Bollywood fan and watch a lot of movies. I liked Bajirao Mastani, and Wazir was pretty decent."
Did he watch Baahubali, I ask naively. "That is soooo old. Why are you asking now?" retorts Sunil, reminding me how out-of-date I am on Bollywood.
Always lean and upbeat person, Sunil has an excellent fitness regime. "I play cricket and I even own a team at the Goregaon Sports Club. We had an IPL-style cricket tournament. My team was a runner up. I am not as active now as in my younger days," he says.
He shows me a photo on his phone from the match where he's decked out in some funky headgear! I catch him checking his watch for the first time during the chat and ask him where he's headed to. "I'm from Rajasthan and visit the Ganesha temple at Ranthambore whenever I can," he says.
As we wind up the interview at 2.45 pm, the market's ready to down its curtains on a dreadful trading session. But Sunil calmly checks the ticker, gives a few instructions and packs his bags for his train journey.
His actions tell me loud and clear the difference between a seasoned fund manager and a novice who has seen only one market cycle!
This interview appeared in the April 2016 Issue of Mutual Fund Insight.