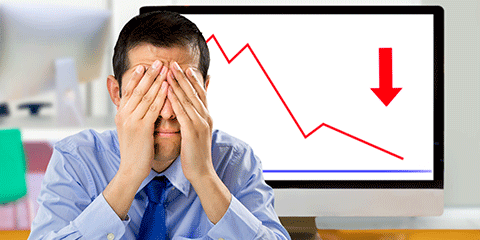 After Modi's election win in 2013, most equity fund managers predicted a secular bull market in Indian stocks - a prediction that is yet to come good. But it is not just equity managers who got it wrong. Debt fund managers have seen their forecasts go awry too.
Going by one-year returns on different categories of debt funds, long term gilt funds with a 4.8 per cent return (as of March 15) are the worst performers, while liquid funds with a 7.8 per cent return are among the best. While all short term debt categories have done quite well in the last one year, all the long term categories have delivered a poor show.
Contrary moves
This is the exact opposite of what managers thought will happen a year ago. In 2015, most debt fund managers were confident that RBI would cut its policy rates by another 75-100 basis points over the next one year, in line with falling inflation rates. They were therefore confident that, by buying long-dated government securities and bonds and extending the portfolio duration on their long-term gilt and debt funds, they could make a killing as interest rates fell. As rates fell, bond and gilt prices were expected to deliver double-digit gains on long term gilt/debt funds. The fall in interest rates was supposed to hurt returns from short term debt and liquid funds.
In hindsight, debt managers have proved right on just one aspect of this prediction. The RBI has stuck to their script and cut its policy rates by 75 basis points in the last one year, as inflation rates (CPI) have remained sub-6 per cent.
But surprisingly, interest rates in the money market have simply refused to follow RBI moves! Between last March and now, the yield on the 10-year government security has only seen a minor dip, from 7.8 per cent to 7.6 per cent (as of March 15th). In fact, had you looked at the yield pre-budget, it had moved up, at 7.87 per cent.
It is this strange behaviour of market interest rates that has dented the returns for long-term gilt and debt funds. Rising market rates have meant that g-sec prices and bond prices in the secondary markets have fallen in the last one year, thus reducing their NAV returns.
Over-supply problems
But if RBI was cutting its policy rates, why did market interest rates behave in this crazy fashion? It has a lot to do with the forces of demand and supply in the bond market. No matter what RBI did, bond and g-sec prices continued to fall simply because there was too much supply and too little demand for them, in the market.
The demand for g-secs and long-term bonds, we all know, comes from three key sources in India - banks (which are required to park 21.5 per cent of their deposits in g-secs due to SLR requirements), insurance companies/pension funds and foreign portfolio investors (FIIs). Now, banks witnessed a sharp slowdown in both credit growth and deposit flows in the last couple of years due to the downturn. This has curbed their appetite for g-sec buying. Insurance companies saw about a 15 per cent growth in new business premiums and continued to buy bonds.
But the worsening debt situation of the heavily indebted corporate groups, deep margin cuts for commodity giants and the worsening bad loan situation for banks did make most investors very wary of investing in corporate bonds.
It was the FIIs though, who went from net purchases of ₹1.66 lakh crore worth of Indian bonds in 2014-15 to pulling out ₹5,452 crore on a net basis in 2015-16, who really turned the tide. Many factors ranging from the Fed commencing its rate hikes, to currency worries plaguing emerging markets, to worries about over-supply in the Indian markets, prompted this exodus.
While the demand was drying up, the supply of g-secs and bonds was rising through last year. The Central government borrowed more to meet its spending needs and distressed corporates were also expected to raise new debt, to deleverage their balance sheets. As too many issuers were trying to raise new money while lenders were in a cautious mood, bond prices fell, reducing debt fund returns.
Liquidity matters
In effect, the situation in the Indian bond market this past year has been quite similar to what Indian equities keep experiencing from time to time. We often find investors taking a bullish view on the Sensex based on fundamental factors - India's macros, improving corporate earnings and so on. But unless FIIs or domestic investors actually step in to buy shares, how can the Sensex respond?
Therefore, whether long term gilt funds and bond funds will deliver in the next one year will depend as much on liquidity as on fundamental factors such as RBI rate cuts and inflation rates.
On this front, there has been positive news lately. By sticking to its deficit target for 2015-16, and scaling down its borrowing programme for 2016-17 by 3.5 per cent, the Centre has done what it can to reduce the excess supply of g-secs in the bond markets.
But weighed against this, analysts expect the State governments to be bigger borrowers this year, upping their bond issues by 20 per cent. There's also the looming fear that ₹3 lakh crore worth of bonds to clean up the distressed state electricity boards could hit the market over the next two years on account of the UDAY scheme (Some argue that this number is highly overstated).
FIIs therefore would continue to the wild card. If they choose to return to Indian bond markets in a big way in 2016-17, they could pave the way for a bond and g-sec rally. If they stay away, the rally could be deferred yet again.
In short, there's a great deal of uncertainty that still remains for investors in long term debt and g-sec funds in the short term. But then, just like with equities, liquidity cannot completely ignore fundamentals for very long. If the fiscal deficit remains low, the Indian economy picks up and the corporate debt clean-up begins yielding results, investors - both local and global are bound to be attracted to the Indian bond market once again. After all, it still offers an island of high yield in a scenario where many global economies are in zero or negative rate territory.
But it is the timing of such a shift that is difficult to predict. For now, tracking RBI or inflation rates may not be enough for debt investors. Keeping an eye on liquidity would be equally important.