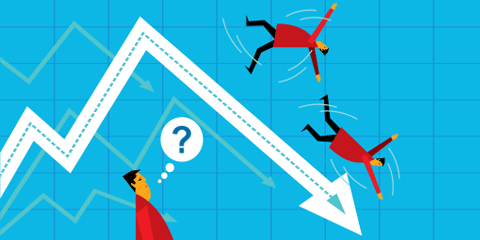 Sun Pharma, India's largest pharmaceutical company, has been the market's favourite pharma stock. For five consecutive years, it outperformed the markets and its sector index. In the last five years, it has rewarded shareholders with gains of around 250 per cent. During the same period, the Sensex moved up 26 per cent, while the comparative healthcare index returned 145 per cent.
This year has been a different story. Sun is down 6 per cent. It has lagged behind the healthcare index by 18 percentage points and the Sensex by 14 percentage points. What has gone wrong? We look at why Sun has lost favour with the markets and when it could see a reversal.
Halol import alert Sun's Halol plant was downgraded by the US Food and Drug Administration (USFDA) to OAI (official action indicated). An OAI is a precursor to a warning letter, which if left unaddressed can lead to an import ban. Until Sun clears the necessary requirements, the FDA will not approve products from Halol. Analysts are not too concerned though.
Sun has transferred new ANDA approvals away from Halol for a year now. The generic of Gleevec, a money-maker for Sun and expected to launch in February next year, has already been shifted to a plant outside India. The Halol impact is likely to be minimal. Analysts at Deutsche Bank Securities estimate that Sun could suffer an impact of of 0.5 per cent in FY17 and 4.3 per cent in FY18 on its earnings per share if the Halol issue is delayed.
Taro under competitive stress Another concern is the flagging performance of Sun's Israel-based subsidiary, Taro Pharmaceuticals. Increased competition in its product categories has seen revenue growth slowing down. Taro brings in 19 per cent and 41 per cent of Sun's revenue and EBITDA (FY15). This, say Deutsche Bank analysts, could go down to 11 per cent and 25 per cent, respectively, by FY18. Taro is looking around for acquisitions in the US and expects recent price hikes to alleviate the situation.
Ranbaxy integration issue Sun took a hit in Q2 on account of one-time charges arising out of Ranbaxy integration issues. Despite the write-down, the management has indicated that it is ahead of its expected timeline. Ranbaxy, once integrated, will offer synergies of $300 million by FY18 (Kotak estimates).
Tax rate concerns Sun has a history of low-tax payout. It has been one of the most efficient tax planners, with a tax rate of 20 per cent. The management has guided a lower tax rate post the Ranbaxy acquisition on account of carry-forward losses, but the impending GST implementation that seeks to do away with exemptions for a flat rate of 25 per cent threatens Sun's bottom line. Though it's not clear at the moment how exemptions will be treated in the post GST regime, it is expected to result in a hit of 12.8 per cent for Sun's FY18 earnings per share, according to Bank of America Merrill Lynch.
Outlook and valuations
Sun's problems appear temporary. Whatever the outcome at Halol, its impact on earnings will be minimal. Ranbaxy integration issues will get resolved one day. A fall in contribution from Taro is expected to be made up by synergies from Ranbaxy. Sun has cash of around $2 billion as of September 2015 and is still raring to go after acquisitions. What these current problems have done is lower the premium that Sun commanded in the markets. Sun has historically traded at a premium of around 20 per cent to its peers. Today, you can pick up the stock 10-15 per cent cheaper. Sun has fallen close to 40 per cent from its 52-week highs of ₹1,200 a share. It is no longer a favourite. This is a cause for celebration for long-term investors. Load up.