He's no Bollywood star. But run through wealth management or personal finance blogs and you will quickly realise that Aashish Somaiyaa, Chief Executive Officer of Motilal Oswal AMC, has a fan following in the financial cyberspace that rivals that of movie stars.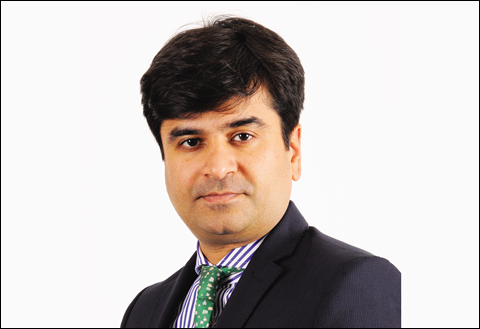 The 39-year old CEO is extremely articulate, tends to call a spade a spade and seems to have a boundless store of energy, not only to engage with advisors in a variety of online forums but also to meet up with investors across the country through a frenetic travel schedule.
I was reminded of the 'energy' part when, after unsuccessfully trying to meet for many days, we finally settled on a telephonic interview at 8 am one winter morning. As I made the call in a groggy state, I found Aashish alert, awake and full of bright ideas. We both chomped down our breakfasts as we chatted.
Different strategy
I first taxed him with his fund house's very limited product portfolio. Given that most other fund houses are on an NFO spree, why is Motilal Oswal content with just four active funds (MOSt Focused 25, Midcap 30, Multicap 35 and Long Term)?
"All of us in the industry have a CA or an MBA and studied Michael Porter," he said, getting straight to the point. "Let's not forget what he said. He asked us to identify a core competence and to stick to it. But many fund houses in India don't have a specialisation. They operate like supermarkets, offering growth and value funds, domestic and international funds, fixed income and equities - all under the same roof."
"At Motilal Oswal, our core competence is equities. Our investment philosophy is to buy right and sit tight. We only invest in quality stocks that we pick for the longevity of their businesses. Then how can we run 20 different funds?"
After starting out with an ETF-only portfolio, why did MOSt move into active funds? He candidly admits that the pure-ETF strategy didn't take off as expected. This prompted the fund house to re-think its strategy.
Sudden death
We move to the industry fad for closed-ended funds, which Aashish doesn't like. "Closed-ended funds operate on a sudden death concept. You tell people: Invest for three years or five years, then I will give you your money back. How do you know if the portfolio will deliver in exactly three years? We don't subscribe to it. All our funds are open-ended and no-load. We don't pay a single paisa upfront commission."
With AMFI trying to cap upfront commissions at 1 per cent, this is a hot topic and I latch on to it. With a trail-fee-only model, how do you compete with AMCs which are offering upfront commissions of 5 to 6 per cent, I ask.
Trail is better
Coming from a distribution background (prior to joining Motilal, Aashish headed retail sales and distribution at ICICI Prudential Mutual Fund), he has surprisingly strong views against upfront commissions.
"What we are selling to clients is the idea that if you invest in equities for 10 or 15 years, you will create wealth. We say that if you bought ₹10,000 worth of Wipro stock ten years ago, it is now worth several crores. So why does nobody in the industry practise this? From the customer's point of view, the returns from equity funds are back-ended. Therefore, as a manufacturer, my management fee should be back-ended too. And the same holds true for distributors," he says.
He also makes a convincing case for why trail fees are actually better for advisors.
If you think the equity fund will compound at 25 per cent for three years and the fund has an expense ratio of 3 per cent, the AMC retains 1.5 per cent and pays the advisor 1.5 per cent every year. If the fund creates wealth, the advisor benefits right alongside the investor.
"Instead, with closed-ended schemes, you are telling the advisor chalo ek kaam karte hain. You take 5 per cent and go out. The client is locked in. I am assured of my 3 per cent fee for three years." The only guy who doesn't know what may happen is the customer. If the product doesn't deliver, the advisor gets blamed for mis-selling.
Aashish thinks that convincing retail investors to think long-term about equities is a change that has to happen gradually. "When I started my career in distribution, there were RBI relief bonds offering a 12 per cent return. So, we have a generation of people who are used to 10-12 per cent risk-free returns. My mom, who is now in the mid-60s, feels cheated if you give her 8 per cent fixed income." But habits change with generations and Aashish feels it is only a matter of time before investors accept higher risk for higher returns.
His money
We turn away from contentious topics to Aashish's personal investments. Did he make any mistakes? Aashish admits to a common one - dabbling in too many funds.
"At one time, I was doing SIPs in six equity funds. I soon realised that I was effectively buying into 300 stocks. After removing duplication, I was buying the BSE 200 - that's 90 per cent of the market! Then how could I beat the market?" That's when he decided to keep it simple. He has since pruned his portfolio to just two SIPs - one in a large-cap fund and one in a mid-cap fund.
What is his favourite debt option? He doesn't have any, says Aashish, quickly adding that this is 'not a good idea' for others to follow.
He has a good reason for this. Having invested heavily in property, he has quite a few EMI commitments to meet. "I have a home at Bandra. Having lived with my father for so many years, I felt it was my responsibility to buy my mom a home." He has also bought a small apartment, a three-hour drive from Mumbai, for weekend stays. With all these adding up to substantial EMIs, Aashish feels the need to plough all his surpluses into equities to help create wealth. His bonuses go into equities too.
For emergencies, he has two-three months' pay stashed away in a liquid fund. In case of a big emergency, he can always fall back on his older equity investments, he reckons.
Veteran CEOs in the industry seem to lead very frugal lives. Does Aashish, who is still on the right side of 40, like to splurge, I ask tongue-in-cheek? Yes, on gadgets, good clothes and fitness, he says without any hesitation.
"If there's a new iPhone, I like to buy it. I wouldn't call myself flamboyant, but being in the public eye, I care about how I dress and present myself." Aashish employs a personal fitness coach to advise him on his workouts and diets too. "Let us say I am speaking to 500 people. If I climb up the steps panting and puffing, it will appear to people that I am not taking good care of myself. Then how will people trust me to take care of their money?"
But isn't Mumbai short of open spaces to work out? The young manager says he visits Juhu beach every morning, where he runs or jogs the entire stretch from Versova to Khar. He also does cardios and weight training. When he travels, which is about 12 days a month, he skips weight training but watches his diet and does cardios. For fun, he and his wife eat out a lot too, trying out different cuisines in and around Bandra.
Is he into investing in wine, whisky and art, like many other young turks? No, says Aashish, saying that he is convinced that equities are the only place to be in. "As Buffet said, equity is the only procreating asset. I feel that in most other assets, including art or wine, there is the greater fool theory at work. Your only hope of making money is that if you bought it at ₹100, someone will buy it from you at ₹200. Everything depends on supply and demand," which he doesn't trust.
We've already spent an hour chatting and it's time for Aashish to dash off to work. I wrap up with a final question. Already a CEO at 39, will he hang up his boots early? He says he hopes and prays that five years from now, he will be doing exactly what he is doing now.
"If done right, this is supposed to be a boring business. The basic rules don't change - you buy high-ROE businesses, you buy them at the right price and you just sit tight."
Aashish may be sitting tight on his personal investments, but it is clear that, when it comes to his profession, he's not happy just sitting around.
This interview appeared in the May 2015 Issue of Mutual Fund Insight.