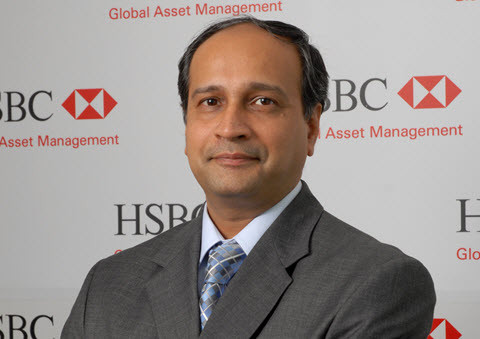 Tushar Pradhan, CIO, HSBC Global Asset Management, India shares with Chirag Madia on how a change in investment approach, resulted in HSBC Midcap Equity's out performance.
What do you attribute for HSBC Midcap Equity to be the top performer in the mid and small cap category?
I would like to reflect on how the fund has performed in different market cycles and what we have changed in terms of strategy. This fund was launched in 2005 and it has seen a somewhat volatile performance over this time. Earlier whenever midcaps performed well, this fund performed very well. But when midcaps faltered, the fund performance suffered vis-à-vis its peers. In 2012, we decided to tweak the strategy which endeavoured to cushion the downfall but gave good returns in the rising markets.
In the past, the portfolio was mostly invested in companies at the lower end of the capitalisation spectrum. But as we all are very well aware in economic downturns, smaller companies are unable to sustain such conditions and have a tendency to become severely distressed. So we decided that we will increase the average market capitalisation of companies in which we invest and started investing in larger sized mid-cap companies having market capitalisation of more than ₹5,000 crore. Secondly, we moved closer towards the index weights on a sectoral basis. So now the overall orientation towards the markets is much improved and we have observed significantly less volatile outcomes.
These changes in the portfolio have resulted in powerful returns. There was barely anything which we did differently and it was quite a simple process. As I said, we started adopting this strategy in 2012 and 2013 was a year to re-build. So when markets went up, this fund started performing better. By buying bigger companies in the midcap area and having proper sectoral allocation to its index, the risk has been controlled and we expect to cushion the downside on the way down. And as for the fund performance when midcaps do well, the performance is there for you to see.
What strategy do you adopt while managing HSBC Midcap Equity?
We follow a comprehensive equity investment philosophy which takes into account profitability of the companies vis-a-vis their valuations. This follows from the fundamental principles of investing - good stocks at relatively cheap valuations help in creating good value. We have a very strong research framework which ensures that we are able to spot opportunities and take advantage of the inefficiencies that lie in the market. In simple terms, it means buying profitable companies at relatively cheaper price. For example, if one company is trading at one time price to book value and other company is trading at two time price to book value, I will buy the first company, all other factors remaining the same. The process works on a combined ranking of stocks in the universe based on their return on equity (ROE) and price to book values (PB). The highest ranked companies represent the lowest PB vis-à-vis comparable ROE's in the universe In terms of strategy for the midcap fund, we have identified three sectors where we expect most action. These sectors include financials, industrials and materials as cyclicals tend to outperform whenever there is an upturn in the economy. For example, if we look at certain banks they are available at 1-1.5 times their book values and are generating ROEs of 16-20 percent, so we believe this is the segment which has potential. Also the worst of non- performing assets (NPAs) cycle seems to be behind us which will eventually result in rising ROEs. Industrials are a little tricky as they have moved up recently after we had bought in our portfolio. But as and when the economy revives we expect a rerating in the sector. Materials will gain as the economy starts to look up. On the other hand, fast moving consumer goods (FMCG) companies are relatively expensive and are fairly mature in terms of growth and hence we are underweight at the moment.
Where are you spotting the opportunity in the mid and small cap segment right now, given that high valuations of stocks?
I agree that valuations of many stocks have run up quite quickly in the past few months. But we are not short of ideas and we believe that even now there is enough opportunity to make money in the segment. As I said earlier, we look at stocks which are available with high ROEs and low PBs and I think we have enough stocks which satisfy these parameters. I would also say that, the universe of mid and small cap companies are fairly large and many companies in this segment of the market are under-researched. This offers an opportunity to generate returns/alpha due to mis-pricing. Despite a broad rally, we find opportunities to invest in select companies that are relatively attractive as compared to large caps. I believe that even at the peak of the market, one will always find companies which are 'relatively' better valued as opposed to others in the segment.
There are hundred of stocks in the mid and small cap universe, how do you narrow down in the portfolio?
Apart from our process of screening vis-à-vis price and valuation, we also have screeners for every sector and within the sector we have a hierarchy of stocks. The stocks that looks attractive from our investment point of view turns into our investment prospects. Thereafter our analysts conduct their research including meeting with the management and evaluate whether ROEs are sustainable. Once we are convinced about the ROEs we look into other financial matrices like return on capital employed (ROCE), return on investment (ROIs), capability to generate cash and the like. The stocks which qualify through these stringent parameters qualify for investment.
What do you think is the biggest risk while choosing stocks for mid cap funds?
But in financial markets we have to always deal with some risk or another. We cannot wish the risk away, but if we understand the same I think the risks represent an opportunity. As a fund house we have strict risk control measures. We invest in companies that have management integrity and keep our portfolio as diversified as possible so that it will not have a very large exposure to one stock. In our HSBC Midcap Equity Fund, we currently have over 50 stocks in the portfolio and our largest exposure to any single stock is 3.69 per cent. Our stringent governance around risk management endeavours to provide adequate comfort that investors' interest is not being compromised.