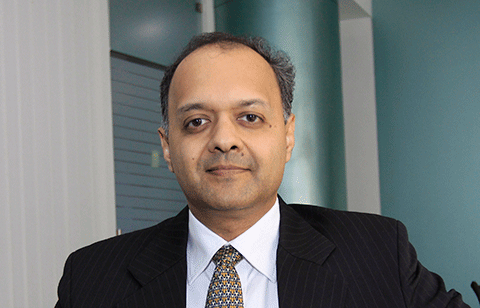 Ravi Gopalakrishnan, Head Equities, Canara Robeco AMC details why he feels a stable government at the centre will start showing results over the next 3-5 years in this interview with Chirag Madia.
A stable government at the centre has raised expectations to revive growth. In such a scenario what do you think will happen in the next couple of years?
I must say that our economy is in much better shape than it was exactly a year ago. Last year at this time, we had faced currency issue and had ballooned fiscal deficit and current account deficit. Luckily few steps by the previous government have helped to tame the twin deficits. We strongly believe that in terms of macro fundamentals, the worst is behind us. Now we hope that infrastructure projects which have been stuck due to policy paralysis and environmental issues will start reviving, which will further propagate investment cycle.
Once we see the start of investment cycle, things will start looking increasingly promising. The clear election mandate is also advantageous because the new government can take some strong and decisive measures to revive the economy. Given the scenario, I think India is all set for a 'secular macro economic recovery' over the next 3-5 years. We expect India to achieve a target of 8.5 per cent gross domestic product (GDP) growth, and equity markets will reflect that growth. Currently we are in middle of the earnings season and they have been mixed, with pockets of strengths visible. In the short run we might witness some consolidation in the markets as we have seen some sharp run up in the last few months.
Even based on valuations, our markets are currently trading at around 16 times one- year forward earnings and are just trading above the historical average. During the bull markets we have seen PE of markets peaking at nearly 22-23 times while the bottom could be anywhere between 10-12 times. Once we see growth touching over 8 per cent in the next 3-5 years, we might see PEs expanding which will have a positive impact in terms of market valuations.
As we all know there are two broad themes to the Indian growth story. One is the consumption theme and the other is the investment theme. In the past few years, we had seen only the consumption theme playing out on the back of strong rural consumption. Social schemes such as the Mahatma Gandhi National Rural Employment Guarantee Act (MGNREGA) and higher minimum support price (MSP) for food grains resulted in higher disposable income at the hands of people resulting in higher discretionary spends. In the last few months we have seen some slowdown in consumption, but we believe they will continue to remain strong given the favourable demographics. The pattern of consumption might change from pure fast-moving consumer goods (FMCG) to more discretionary products like auto, telecom, media etc.
The investment theme on the other hand saw complete breakdown, largely because of the global macro slowdown coupled with our own policy paralysis. There are several projects that are stuck. These are some of the low hanging fruits that the current government can target in order to bring back confidence of corporate India. The present government is largely focussing on removing procedural bottlenecks in an effort to speed up decision making at various ministries.
The government is having a 'bottom-up' approach wherein the strategy is to revive existing projects. They need not put any new projects or announce any big-bang reforms at this stage, but they definitely need to ensure that execution of pending projects happen in a faster and efficient manner. In my view all these decisions might take 12-18 months to fructify, but the stock market will react in anticipation of these announcements, and this will give lot of confidence to markets. Hence, we believe that we are in a secular bull market over the next 3-5 years. Although, there will be periods of consolidation and corrections; these corrections would offer a good opportunity for long term investors to invest in equities.
In such situation, what will be your overall investment strategy?
As a fund house we follow bottom up strategy, with a top down overlay. Our emphasis is to find good companies with strong earnings growth. Along with earnings growth we also need long term visibility and consistency of that earnings growth. Irrespective of which market cycle we are in, we follow the Business, Management and Valuation (BMV) model. We like to invest in companies with robust businesses, strong and capable management, and businesses that are available at reasonable valuations. Our stock selection process is based on the BMV model. We also look at macro-economic indicators for certain sectors that largely depend on macro variables.
Coming back to our investment strategy, what we envisage is that the economic growth this time around will be led by investments. In such a scenario, we believe the Auto, banking and financials, infrastructure and capital goods sectors are likely to do well. We are also quite positive on the energy sector because of the on-going reforms in this sector. We believe that their growth potential is far higher than what they are currently due to the high subsidies. We also believe that the Pharmaceutical sector growth is likely to remain strong because of their exports and companies are likely to grow at 20-25 per cent every year. The valuations have turned high, but if earnings growth are supportive it will be easy to maintain those PE multiples.
What changes did you make or plan in your portfolio now?
During the start of the current calendar year, we had anticipated improvement in the macro economic situation and had started making changes to the portfolio accordingly. We were anticipating a government with a strong mandate at the centre, but we had not anticipated the kind of mandate the present government got. We were defensive all of last year with investments in consumer, pharmaceutical and IT. But during the January-March period we started cutting the exposure from these sectors and started adding to financial, energy and industrial sectors. Fortunately for us, the mandate was very decisive and the markets rallied strongly and our portfolios were well positioned to take advantage of the market rally.
Though the focus was on large-cap stocks we had also added few high quality mid-caps, which had high growth potential and were trading at attractive valuations due to poor market conditions. Many of them were largely focused on manufacturing exports and not depended on the macro situation in India. So, fortunately for us even those calls played out very well in the last few months. We continue to add mid-cap exposure in our portfolios as we believe that mid-caps would continue to outperform large-caps in the current market environment.
What will be your investment strategy for Canara Robeco Diversified Fund?
As the name suggest it's a diversified equity fund, focussing on well-managed companies that are likely to deliver superior capital appreciation over the medium to long term. The fund has a mix of large-caps as well as mid-caps and follows a growth and value style of investing. The portfolio is mainly large-cap focused but also has exposure to a few high quality mid-caps that have a potential to generate superior returns. The current large-cap exposure is 84 per cent and the balance is in mid-caps. The fund follows a bottom-up approach with a top-down overlay. We are looking to increase the mid-cap exposure by a few percentage points because we believe given the current market conditions, alpha generation would be based largely on stock picking rather than the performance of overall markets. Though we are quite confident of a long term bull market, in the short run markets are likely to remain in a range and hence stock picking can help us deliver better returns.
What will be your strategy for Canara Robeco Emerging Equity?
This fund follows a bottom up stock picking approach to identify the best companies primarily in the mid-cap space. It is our endeavour to pick those companies that have the potential to become leaders of tomorrow. This 'growth' oriented style of investing combined with a 'value' approach creates a well diversified portfolio of fundamentally strong companies. This stock-picking strategy is also known as Growth at a Reasonable Price or GARP investing.
This fund has done exceptionally well for us from a medium to long-term perspective. The fund targets to invest in companies with high intrinsic value or those that have value unlocking opportunities. We also look at turnaround opportunities; companies who have restructured their businesses through operational or financial restructuring.
We have invested in a few engineering companies with export focus, because we believe that if domestic economy doesn't recovery for next few quarters then the exports side of the business will help the performance of these companies.
In your view which segment of the market is most promising and vulnerable at this point of time?
I see tremendous opportunity in banking and financial space. Our GDP growth of 4.5 per cent is probably the lowest and we might see upward trend from here on. If we look at the banking sector, a lot of banks in the past 3-5 years have slowed down their advances growth because of a weak economy and fear of potential high NPAs. They have been very selective in terms of lending; most banks had become very conservative. If growth were to come back to 8 per cent and above in next 3-5 years, then I see banking sector advances grow at over 20 per cent.
Our bias is still towards private sector banks as compared to public sector banks (PSB). PSBs are still going through pain in the form of high NPL's and restructuring. A lot of banks continue to report high stress levels, but fortunately the stress levels are not increasing dramatically. So if we see further stability in next few quarters, PSU banks will also become very attractive from a valuations perspective. We have a limited exposure to select PSU banks, but have not been overweight.
Apart from that, we are positive on any sector which offers a play on the revival of the economy be it Autos, industrials, capital goods or infrastructure. Materials (Cement and Metals) is another sector where we are positive given the stable pricing and economic revival. While we are over-weight on the cement sector, we are currently under-weight on metals as there are some concerns about a slowdown in China which is utting pressure on the pricing scenario.
We are currently under-weight in the consumer sector because their underlying growth have come off and we believe that it will take some more time for consumption demand to pick up. Consumer companies have had a phenomenal run in the past few years and valuations have turned very rich. They haven't yet become attractive enough for us to invest in the sector.
How long is your watch list which is not part of your portfolio and how these stocks enter your portfolio?
We have a very experienced team of analysts and fund managers and we follow an investment process which has been quite successful under all market conditions. Our endeavour is to provide consistent returns to our investors irrespective of market situations. In terms of our stock selection, first there is an idea generation process. Ideas can come from fund managers, analyst or even brokers. We evaluate those ideas based on BMV model and if they meet the criteria then they are included into our investment universe.
Currently, there are about 200 companies in our investment universe. Fund managers, depending on the scheme mandate and other factors, are free to pick any company from this list. At no point of time would any company find its way into the portfolio without going through the investment process. From the investment universe, around 133 stocks are present in the portfolio and remaining stocks are under active coverage list. They might be out because of weak earnings or performance below expectation. If there is any improvement in the fundamentals, the stock can be considered to enter the portfolio.
What kind of stocks never enters your portfolio?
We are very particular about our risk management philosophy, if any stock doesn't meet our criteria on management quality or have a weak track record, we don't invest in it. We don't mind buying good companies who are going through a bad phase, but we want to completely stay away from bad companies even if they have compelling valuations. So any stock that doesn't fit intLo our BMV model, we would avoid such companies.