Cummins India is the country's largest engine manufacturer. The company also sells gensets, internal combustion engines and spare parts. Its client industry is varied from power generation to hospitals and from IT to mining. Cummins gensets are used in places that suffer from power shortages and by institutions like hospitals which need uninterrupted power supply and need a dependable backup in place. Even though demand in South India is currently muted because of the down-cycle, as long as there are shortages, Cummins will find fertile hunting grounds to grow.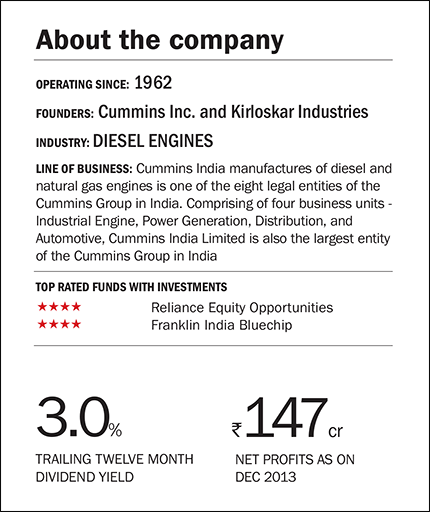 Strengths
The stricter Central Pollution Control Board-II (CPCB) norm places Cummins India which already has the necessary technology at an advantage. The race to meet the new pollution norms by April 2014 opens up a window of increased opportunity as genset owners get their gensets compliant. Further, the company is likely to gain market share from the unorganised players.
India could continue to see shortage of 7-8 per cent for the next couple of years, which makes the business opportunities humming for Cummins India. The capacity expansion at its Phaltan, Maharashtra Megasite will only ensure the company maintains its lead over the genset market in India in the coming years.
The company draws upon the technical capabilities and technologies of Cummins Inc. This helps it develop advanced and fuel-efficient engines that are able to comply with evolving domestic and global emission regulations. Given the frequent changes in these regulations, it is access to its parent's technologies that enables the company to get the better of its competitors.
Growth drivers
The most immediate trigger for Cummins India comes from the implementation of stricter pollution norms mandated by the Government and effective April 2014. The CPCB has announced the tighter norms similar to EU Stage IIIA norms for gensets below 800 KW. The last of such tightening - the CPCB-I norms was implemented between 2003-05. The current regulation by virtue of hitting even the low end of the genset market is expected to especially hit the unorganised section hard.
Small gensets, especially those that are less than 160 kW are big business for small players and account for an estimated 20-25 per cent of the 1,20,000 engines a year market. Currently this category is catered to by the unorganised sector and the new norms puts this sector at a disadvantage compared to established players like Cummins India which already have the new technology in place.
There is a big market for reconditioning gensets because existing users do not dump their existing gensets. Reconditioned old gensets are a lot cheaper than buying new compliant gensets that are already expected to be 15-20 per cent more expensive than those currently available in the market. Though the number of gensets that will be reconditioned are not available, it will add to the business of manufacturers like Cummins to fix up gensets to comply with the new norms. To cater to this re-conditioned market, Cummins is commissioning a Re conditioning parts manufacturing facility at its Phaltan megasite.
The demand for gensets will also stem from power shortages and in industries where backup is a mist. The backup demand is estimated to account for 60-70 per cent of genset demand. Moreover, the country suffers from a power deficit of around eight per cent. Even if the country manages to add 75 GW in the 12th five year Plan ending in 2017, the incremental capacity addition is expected to ease the shortfall by only 100 basis points. This means, the country could still see a deficit of around seven per cent. With the uncertainty looming around new power projects and capacity addition beyond 2017; the demand for gensets could continue to thrive. Cummins is also targeting the railways, marine and defence sectors for incremental growth.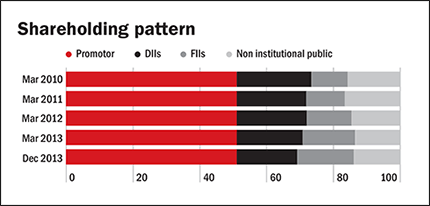 Concerns
The fall in demand in Tamil Nadu, Andhra Pradesh and NCR has meant that power generation business in the immediate term may suffer headwinds. According to a Motilal Oswal report, domestic power generation revenue could fall as much as 30 per cent this financial year before starting to look up in FY15-16. On the other side, Haryana, West Bengal and UP (East) have seen some demand improvement.
The global slowdown has had a terrible impact on Cummins India with fall in exports. High horsepower gensets have especially faced the brunt. Exports of HHP have fallen from ₹1,300 crore in FY09 to ₹880 crore in FY13 and further expected to fall to around ₹760 crore levels in the current financial year (Motilal Oswal estimates). Even though the parent Cummins Inc has made its Indian subsidiary Cummins India the worldwide export hub, any meaningful improvement in exports can come only from a sustained recovery in the US and European economies.
Financials
The December 2013 quarter saw gross margins at 38.6 per cent; the highest since 2003. Ebitda margins at 19.3 per cent were highest since September 2010 boosted by lower raw material costs and cost saving measures. The company is expanding its capacity at its megasite in Phaltan, Maharashtra by investing ₹2,000 crore between FY11-15 on its megasite, India office complex and a technical centre. It has already spent ₹180 crore in the first half of this financial and will spend 450-500 crore each this financial and the next.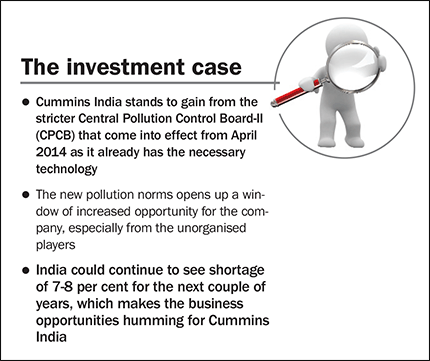 Valuations
Cummins trades at 19 times its earnings - lower than its 10 year average of 21x. This debt-free company has maintained an average returns on capital of over 45 per cent in the last three years. The stock received a battering in the markets last year. So even while the Sensex clocked in double digit gains, Cummins shaved off eight per cent of its market value.
Much of the market's pessimism with the stock was on account of lower sales which was a function of poor economic environment. With the new CPCB-II norms closing in, Cummins looks promising. Any recovery in the economy will further fuel demand for its diesel gensets. Buy with a three year horizon.