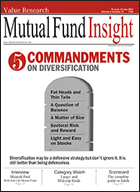 When we talk about mutual fund investments, and the advantages that an investor derives through them, we list out a lot of advantages. However, the one that stands out above all else is diversification.
The theory of diversification is very simple. All investments don't do well simultaneously. The normal state is for some investments to do well and others to do not so well or even badly at a given time. If you happen to be over-invested in something that is doing badly at a time and not at another, then you are going to have a problem.
The utility of diversification is in saving you from poor performance in a narrow set of investments. If a particular company or sector is in problem, having only a limited exposure to it helps. Apart from sectors, diversification should also be across company size as sometimes only smaller or larger companies do well or do badly.
This month's cover story of Mutual Fund Insight talks about the oft-forgotten element of diversification and its 5 commandments that are so necessary for current choppy times.
Apart from this, the issue features an interview with Mahesh Patil of Birla Sun Life Mutual Fund who has talked in detail about the strategy he employs while managing different funds of the AMC.
Since Inflation-Indexed Bonds have been launched, a full page story in Fund Radar section punctures the hoopla surrounding these bonds. Do read it before you invest in these. The section also has stories on income funds which have suddenly shot to prominence.
Our category watch section this time has Large- and Mid-cap category in focus, and not to forget our choicest picks from the category.
Apart from this, the issue has all the special features – Fund Radar, Buy Sell Hold, The Plan and the comprehensive Mutual Fund Scorecard. And exclusive columns – First Page by Dhirendra Kumar, Econology by Jay Dubashi and Economic Viewpoint by Paranjoy Guha Thakurta.
SUBSCRIBE the June 2013 issue of Mutual Fund Insight now.