Goa and Karnataka have closed down their illegal mines. Orissa has fallen hard on erring ones. So, the limelight has now shifted on to the state-owned NMDC, the country's largest iron ore producer. With iron ore in short supply in the country, the prospects of the high-quality iron ore producer seem bright.
Why you should buy NMDC?
Near monopoly: With the Supreme Court banning mining in Karnataka in 2011, the Central Government gave NMDC all the requisite approvals. With no private players now allowed to operate, NMDC has consequently turned into a monopoly in the region.
High quality reserves: It has an annual production capacity of 32MTPA and reserves of 1,354 million tonnes. Also, with an Fe content of 64 per cent (high-quality ore), NMDC's reserves are of highest quality in the world.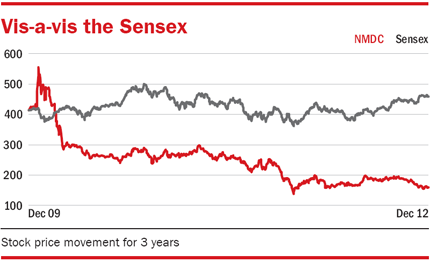 Capacity gains: NMDC plans to increase its production capacity from current levels of 32 MPTA to 51 MPTA by FY16. Two new mines in Chhattisgarh and Karnataka both with a mining capacity of 7 MTPA each are expected to come online by that timeframe. According to Neha Majithia of Microsec Research, an increase in production capacity would mean that mining capacity should grow by 9.77 per cent annually between FY12-FY16.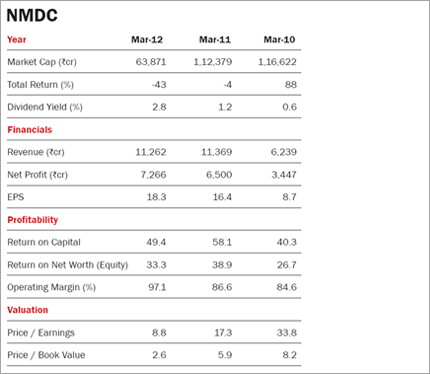 High mine life: NMDC's mines in Bacheli and Kirandul (both in Chhattisgarh - these are sites and typically contain multiple ore deposits) have an average life of 25 years. That provides a certainty that reserves will not run out in a couple of years even on increased production. Its Bailadila mines (also in Chhattisgarh) have a reserve life of 50 years.
Foray into pellets: NMDC is building at 1.2 MTPA pellet plant at Donimalai (Bellary, Karnataka). It has set aside Rs 572 crores for this project expected to be commissioned in April 2013.
Huge capex programmes: NMDC's key capex projects include: 3MTPA integrated steel plant in Chhattisgarh at a capex of 15,525 crores, 2MTPA pellet planet in Nagarnar at a capex of Rs 807 crore, coal production from the Shahpur East and West (MP) mines. In total, NMDC will invest Rs 30,000 crore to increase production.
High margins to continue: NMDC is the most profitable iron miner in the world with Ebitda margins of 79 per cent (FY12). All the aforementioned reasons have helped the company cap costs at $17 per tonne (FY12). To get an idea of how low this is, consider Sesa Goa (the second largest iron ore producer in India) which reported a cost of $84 per tonne (FY12).
NMDC is a zero-debt company with a net cash balance of Rs 20,000 crore. NMDC's RoCE has averaged at 40 per cent during the last 3 years. The stock trades at an attractive PEG ratio of 0.43x. Buy with a long term horizon.