If you want to invest in one contract research and manufacturing services (CRAMS) player in India, it should be Divi's Labs. Founded in 1990, Divi's has two main verticals – custom synthesis and generics. In custom synthesis of active pharmaceutical ingredients (APIs), Divi's collaborates with innovator companies from conception to commercialisation stage to bring the drug to market. Custom synthesis brings in 44 per cent of Divi's revenues (FY12). The other vertical is generic exports and accounts for the remainder of its topline.
Divi's high-margins business can rival that of the best pharma companies. Its return on capital has averaged at a high of 36 per cent in the last ten years – among the best in its class.
Why you should buy Divi's Labs?
Relationships: Divi's today has partnerships in place with 20 of the top-25 global pharma companies. In a $45 billion global CRAMS market Divi's has this strong competitive advantage. CRAMS revenues are expected to grow by around 20-25 per cent over the next two years.
Building capacity: Divi's has undertaken capacity expansion of around Rs 450 crore in the past two years. Apart from that, it is targeting fresh capacity investments to the tune of Rs 150-200 crore in FY13 alone.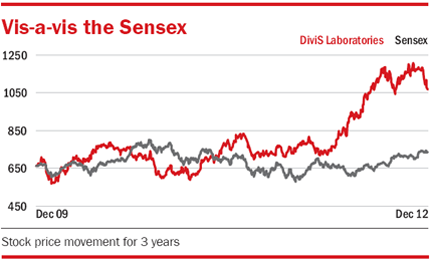 Robust revenues: In the latest quarter (Q2FY13), it reported robust revenue growth. Custom synthesis business (48 per cent of Q2 topline) grew 31 per cent (y-o-y) while API sales (52 per cent of sales) surged 35 per cent (y-o-y). Divi's though cut its revenue outlook for FY13 from 25 per cent to 20-25 per cent. That has hit market sentiments. The cut has to do with delayed USFDA inspections of its new units and lower than expected ramp-up in nutraceutical business. But Divi's structural story remains intact and it has guided 20 per cent revenue growth for FY13E and 25 per cent growth for FY14E.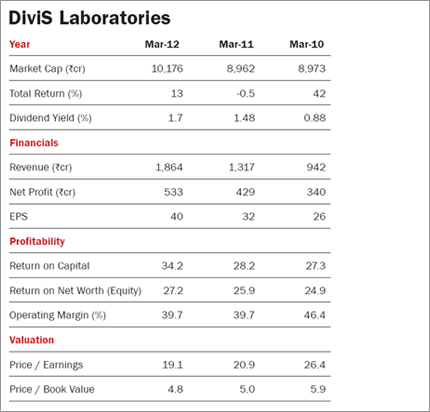 Superior margins: Improved product mix and better currency realisation have helped Divi's post gross margins of 66.1 per cent (Q2FY13). The said quarter saw margins expand 6.7 per cent because of the above-stated factors. Ebitda however expanded by just 3.6 per cent because of higher power costs which are expected to remain at current levels (because of power shortages) for at least the next 2-3 quarters. The high power costs notwithstanding, Divi's Ebitda margins at 39.3 per cent are second only to industry leader Sun Pharma's 44 per cent margins (Q2FY13). According to Manoj Garg of Edelweiss Securities, Divi's topline is expected to grow between 21-22 per cent in the next two years while earnings per share are expected to grow by 27 per cent and 25 per cent, respectively in FY13 and FY14.
Invest with a long-term horizon. Long-term investors have already seen 60 per cent gains in the past 12 months.