Value Research Stock Advisor has just released a new stock recommendation. You can click here to learn more about this premium service, and get immediate access to the live recommendations, plus new ones as soon as they are issued.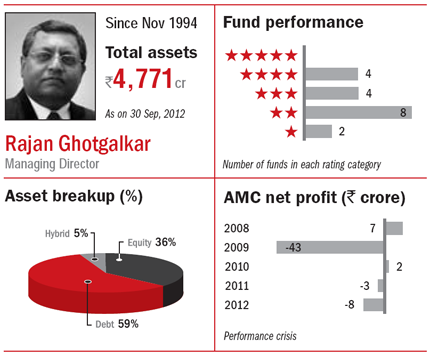 Principal mutual fund has been through several changes in ownership over the past 18 years to become Principal PnB Mutual Fund in May 2004 with 35 per cent and 5 per cent acquisition by PNB and Vijaya Bank respectively in Principal AMC. Principal PnB started off as IDBI Mutual Fund in 1994 and functioned as IDBI Principal in 2000. Given its pedigree and international experience, the Indian venture has not achieved a meanigful scale. The frequent ownership changes and inconsistent performance have been key reasons for this.
The fund house has a wide range of product offerings across debt and equity. It has extensively re-engineered its business model to focus on the retail end of the market and is working towards raising the level of its fund performance. However, there is nothing remarkably outstanding in their performance. There is a wide range of offerings on the equity front, but none of it has been consistent with its performance to elicit investor interest in these schemes which sporadically post good returns.