Formed in 1990, KPIT Cummins (KPIT) has taken the road less traveled. The company does not obsess with application development and maintenance (ADM) that nearly all of Indian IT competes for. It does not even focus on the fabled banking and insurance segment. No, KPIT decided to focus on the automotive, manufacturing, energy and utilities verticals.
And how's that worked for the company? KPIT is the largest third-party vendor for automotive electronics in India. Revenues have grown by 40 per cent and PAT by 43 per cent annually in the last 10 years.
Formerly, KPIT Infosystems, it merged with Cummins Infotech in 2002 to form KPIT Cummins Infosystems Limited. Today, Cummins Inc and its Indian subsidiary together hold 10.63 per cent stake in it and are KPIT's largest client bringing in 20 percent of the revenues.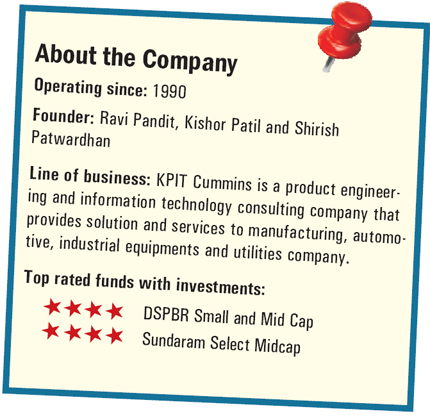 Strengths
KPIT is a mid-cap IT company with a consistently strong revenue CAGR of 42 percent in the last decade.
• Has made 10 acquisitions in the last decade
• Post acquisitions, companies acquired have grown at an average of 30 per cent CAGR
• Inspite of acquisition-focused strategy, organic revenue growth robust at 24 per cent CAGR since 2006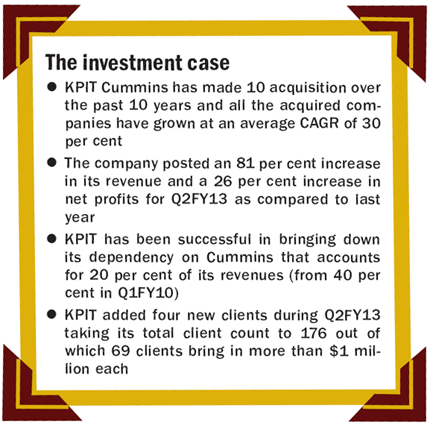 Growth drivers
By remaining unwavering in its focus areas of manufacturing, utilities and automotive, KPIT has managed to build strong domain expertise in these verticals. Today automotive accounts for 40 per cent of KPIT's revenues and the company has 40 patents in this space.
Automotive and engineering will drive growth: The Deloitte Auto Transformation Report estimates that by 2020, electric vehicles and green cars will constitute a third of total global sales in developed markets and about 20 per cent in emerging countries. These cars are expected to have a greater content of electronics compared to the prevailing mechanical systems in place now. This trend is already getting visible in newer cars being launched today. This "electronisation" of cars will provide multiple opportunities for companies like KPIT that have built competencies in this vertical.
The company recently won a deal with PACCAR, the world's third largest heavy truck manufacturer. The deal envisages setting up a 200 head technical centre in Pune which will cater to PACCAR's engineering, IT and component sourcing for worldwide production.

Billion dollar target: KPIT has set itself a revenue target of $1 billion by 2017. How has the management's track record been at guiding revenue targets? KPIT guided $500 million by FY13. Today the guidance seems closer to $418 million. A target like that suggests a CQGR of 5 per cent. KPIT is currently maintaining that momentum. It has been growing at an average of 15 per cent (sequentially) over the past six quarters. But a $1 billion target will require more than just organic growth. That incremental growth can come only by further inorganic moves.

The acquisitions game: Like many other domestic IT players, KPIT has followed a strategy of acquiring services and capabilities that it does not already possess. The company has acquired 10 companies in the past 10 years.
But unlike other companies that have traditionally struggled with acquisitions, KPIT has had a successful track record with its acquisitions. Sparta Consulting, for instance, (acquired in 2009) contributed five percent of KPIT's revenues at the time of acquisition. Today, its contribution has scaled to 20 per cent.

Organic growth pushes from rear: KPIT's focus on acquisitions does in no way mean that its organic business has matured nor that it is a slow mover. Organic growth in FY11 came in at 39.5 per cent. FY12 it was at 37 per cent. The company has guided organic revenue growth of 21-24 per cent in FY13. However, don't be misled by the rather conservative number. KPIT is known to beat its guidances consistently.

Will Revolo really bring a revolution? KPIT in association with Bharat Forge aims to develop and manufacture Revolo – a technology that converts existing diesel and petrol engines to hybrids. The technology is supposed to improve fuel efficiency by 35 per cent and reduce emissions by 30 per cent. Currently undergoing tests, Revolo could be launched by the end of FY13 if things go according to plans. The market though does not factor this into valuations yet and neither should you. At least not till there is more clarity about the launch and how consumers receive it.

The Cummins Connection: Cummins is KPIT's largest client and brings 20 per cent of its revenues. KPIT's dependency on Cummins has already reduced from earlier levels of 40 per cent (Q1FY10). This dependency could further go down as KPIT maintains its acquisition led growth strategy.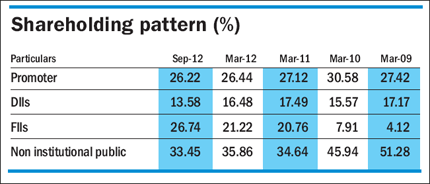 Concerns
Among KPIT's key concerns is the hit on profitability that acquisitions could make. Ebitda margins have been on a downward movement from 22 per cent in FY10 to 14 per cent in FY12. Higher onsite presence of acquired companies leading to lower net margins was the primary culprit. KPIT's onsite ratio has as a result increased from 40 per cent in FY10 to 48 per cent in FY12. The company has guided an Ebitda margin of between 15-18 per cent as the acquisitions move towards better profitability.
Revolo has faced battery issues that threaten to further delay the projects. Already the company which had earlier wanted FY13 to make the first year of Revolo sales, this deadline could be missed. KPIT's $48 million payout to Systime (between FY13 and FY14) will be funded by debt. This could raise the company's debt to equity ratio from 0.31x to 0.41x. Further debt funded acquisitions to reach its $1 billion revenue target could raise the debt levels.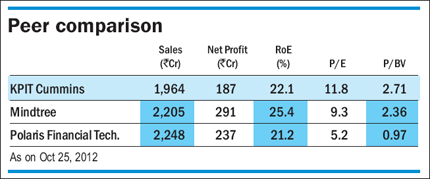 Financials Q2FY13 saw the company report revenue growth of 81 per cent (y-o-y) while PAT was higher by 26 per cent. Ebitda margins improved to 16.6 per cent from year-ago levels of 13.6 per cent. KPIT added four new clients during this quarter taking its total client count to 176 of which 69 bring in more than $1 million each.
Valuations
KPIT is a growth stock in all aspects except its valuations. The stock trades at a reasonable 11.79 times its TTM earnings. Expect more acquisitions in the future. Its commendable track record at turning around its acquisitions and the tight ship it runs bear credence that the company may have a reasonable shot at its $1 billion target by FY17. Buy and hold with at least a five-year horizon.