Redington India specialises in end-to-end supply chain management of IT and non-IT products and commenced its India operations in 1993. The company has presence in several countries of South Asia, Middle East and Africa and is an authorised pre- and post-sale support partner for some of the leading global brands, operating through its multi-layered subsidiaries. Redington's presence in India is limited to four southern states – Tamil Nadu, Andhra Pradesh, Kerala and Karnataka and derives 53 per cent of its revenue from overseas operations.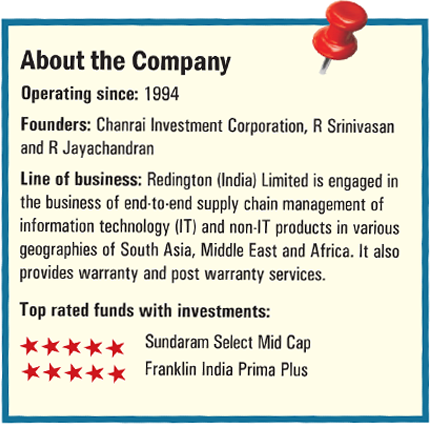 Strengths
Redington has come to be known as to-go service provider to a host of MNCs and big brands due to its ability to provide complete post-manufacture services. It also offers the entire range of 3PL (third-party logistics) to its clients – import clearance, warehousing, primary, secondary and last mile deliveries, and reverse logistics; fully supported by a call center and a consignment sale agency model.
l It has presence in over 22 countries and has diversified vendors and product lines. This provides it a hedge in the current uncertain economic climate and also insulates it from sectoral slowdowns
* Being the first major international player in Africa for the IT products distribution, it has leveraged the opportunity to become a market leader in the continent. Redington has distribution network in 12 countries in Africa, post sales support in 10 countries and sells smart phones in five countries there
* The Nook business model has translated into a huge success for Redington, especially in India. The Nook model reaches out to all the potential towns in the market and establishes direct engagement with the final tier of the channel, the last mile in distribution – the reseller and retailer
* It has a strong distribution network and offers value adding services such as packing, bar-coding, stickering, kitting, bundling and shrink-wrapping to the brands it supports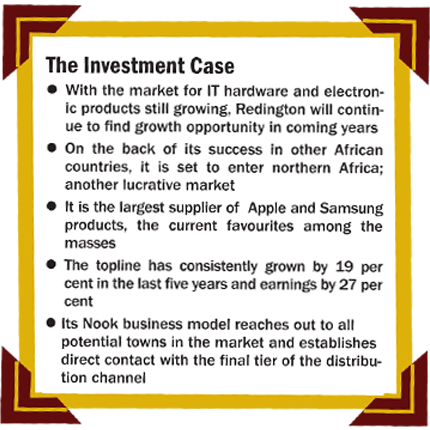 Growth drivers
The market for IT hardware and electronic products is still at a nascent stage in India which means Redington will continue to find huge growth opportunity over the years. Also, improving socio-economic conditions, emergence of democratically-elected governments in African countries and increasing investments in infrastructure will accelerate adoption of IT and communications products there.
* International consumption is expected to grow even more rapidly with economic liberalisation, better network facilities and bigger offerings in consumer electronics. Most of the African countries are either underdeveloped or developing which means Redington has the full potential of tapping markets as they grow
* On the back of its success in other African countries, the company is set to enter into North Africa — Morocco, Libya, Algeria, and Tunisia — and into South Africa over the next three years
* Redington is the largest distributor (through its overseas subsidiary Redington Gulf FZE) for Apple and Samsung products, which are currently hot market favourites. India is also witnessing a significant increase in the number of Apple users and Redington is expected to leverage the opportunity fully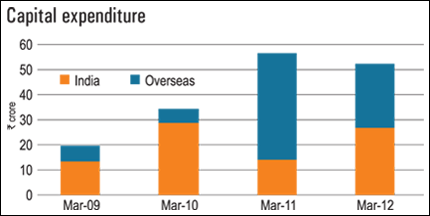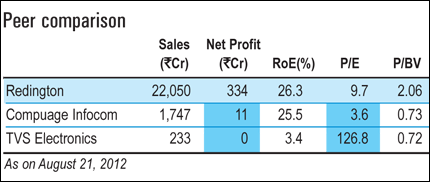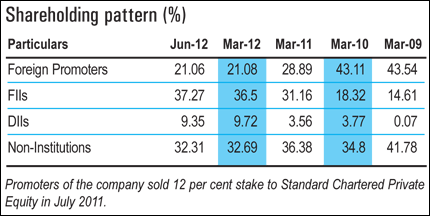 Concerns
In the past 12 months the rupee has depreciated by 25 per cent. As a result, profit margins of vendors are under pressure that has resulted in further price hike. The falling rupee has also adversely impacted the non-branded PC segment as imported components have become significantly more expensive. Although the company hedges against currency fluctuations, but with rising prices the demand side can put some pressure.
* The company's African operations face a strong competition from local distributors. Redington will need to mould its strategies regularly
* Vendors trying to cut down the channel margin available with the company is also a concern. They may also start looking for an alternative cheaper distribution route
Financials
Redington has ample cash holdings which represent around 18 per cent to the total market cap. Receivable days have declined from 43 days in FY10 to 35 days in FY12; while payable days have increased by more than four times to 28 days from 7 days in FY08. This is favourable as the company has pushed down its working capital requirement. The net profit margin is very low with a 5-year average of 1.5, which is understandable due to the nature of the business. Since it is a trading based company, RoE plays an important role, which has stayed above 20 per cent in the past five years. The topline has consistently grown by 19 per cent and the earnings by 27 per cent during the past five years. The company also turned around its cash from operations from negative to positive this financial year.
Valuations
At Rs 69 the share is trading 9.3 times its earnings. The earning per share (EPS) which is 36 per cent below its five-year median price to earnings of 14.5. Price to earnings growth (PEG) converts to 0.40 and current price to book is 1.93 which is at 20 per cent discount to 5-year average of 2.43. The stock is attractively valued and it is time to accumulate. The stock has also featured in two screens of our stock ideas this month: Attractive bluechip and growth at reasonable price. BUY.