The three mid- and small-cap equity funds from HSBC are performing well compared to their peers. Dhiraj Sachdev, who manages all of them, has been instrumental in running these funds differently and at the same time has managed to bring about spectacular performance from each of them this year. Varun Chabba interacted with Sachdev about this turnaround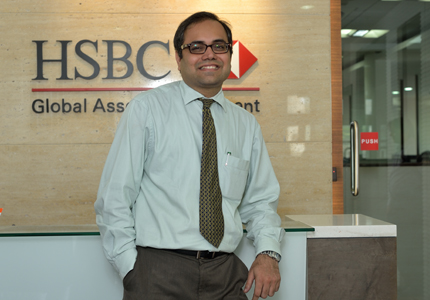 Tell us something about yourself and your journey in the world of finance.
I have been in the markets for about 14 years now and have completed almost seven years of association with HSBC Asset Management. Prior to this I was working with ASK Raymond James and by qualification I am a Chartered and Cost Accountant.
What all do you keep in mind while evaluating a company and who is your inspiration in the world of investing?
I think the quality of business, management and valuations are important for evaluating any company and one also has to be stock specific. I was a portfolio manager earlier and Bharat Shah was my mentor for about two years (2003-2005) before I joined HSBC. Besides, reading books on investing by successful investors like Peter Lynch, Warren Buffett and likes are sources of inspiration.
Briefly describe your strategy for three of your funds.
For mid- and small-cap side of the market, the focus is mainly on stock selection because the universe is pretty large; around 2,000-3,000 companies to shortlist from. So stock selection is quite important. Moreover, mid-caps often show peculiar characteristics; they have higher volatility, some of the companies may have higher earnings acceralation, some of them are in the early stage of business lifecycle and are relatively under-researched and so there are more market inefficiencies to exploit. However, they can generate superior alpha too. Remember, today's mid-cap can become tomorrow's large-cap and good companies can yield terrific compounded returns. As such we focus on distressed valuations and try to seize the opportunity as and when it happens whether it's a mid-cap or a progressive fund. The methodology that we adopt internally is the PB/RoE framework, which is a value-focused strategy. It tends to focus on companies that offer reasonable returns in terms of capital efficiency and are available at attractive valuations on a price to book basis. Sometimes, you have excessive valuations in quality companies while some of the ordinary companies may be under-priced or mis-priced.
Over a period of time, due to mean reversion and disparity in valuations, ordinary companies can generate relatively better returns than over-priced companies. We are very conscious of underlining liquidity of individual stocks because we can't have a cumulative stock position which cannot be liquidated on time. So, these are the norms that are evaluated to control any kind of ill-liquidity that happens in the open-ended funds. Broadly, that's why we tend to diversify the portfolio but the main aspect is that the stock has to fit into our PB/RoE model.
Your funds have given spectacular returns in 2012. What reasons do you attribute to this?
I think a couple of things have helped in the recent performance of our funds. Firstly, I think there are always over-reactions in the market. In case of the mid-caps, when the market sentiments are low there is an opportunity to hunt for bargains and such window of opportunities don't last for too long. So at the beginning of the year when the Nifty was at around 4,000-5,000 levels, most of the mid-caps were mis-priced and were available at a bargain value. At that time, we thought it would be good to keep some of these companies as part of our portfolio because mean reversion could lead to outperformance. So, it is important to focus on value stocks and a lot depends on your stock selection in terms of sustainability of capital efficiency and earnings. We have a much-diversified portfolio and are currently playing anti-commodity given the slowdown in China and Western world, where the commodity cycle has started reversing atleast in the medium term. We have selective companies in various businesses such as agro-chemicals, food processing, mining, consumer durables, auto ancillaries, technology and logistics. What are you avoiding currently?
Given the current market scenario, we are underweight on defensives. I think some of the defenses are over-priced like the FMCG companies. We are also underweight on metal companies because of our bearish view on commodities.
What is the compelling buy for you at this time?
I think the mid-cap section itself is compelling because there is a relative difference in valuations between the large-cap and the mid-cap as of now. From here on the risk-reward ratio will be favourable. Whenever the market turns or sentiments change, mid-caps generally tend to outperform large-caps. Again, stock selection will make difference in performance. You can see even from the year-to-date period, the mid-cap index has done better than the large-cap one and within the mid-caps if you do the stock selection with focus on value, you tend to really outperform the index levels. We like selecting companies in auto ancillaries, banking, technology, agro-chemicals, mining, logistics, branded textiles and food processing. As such, the portfolios are fairly diversified.
Do you benchmark your funds' performance vis-à-vis peers?
I focus on specific companies/ stocks, given it is difficult to mirror a mid-cap index. Mirroring benchmark may not necessarily give optimum returns over long run. I don't tend to mirror the benchmark and the peers. I also don't try to see what others are doing.
How will you play progressive theme fund today?
It is a flexible two-themed fund. Currently, the portfolio is constructed across two themes – infrastructure and economic reforms that occupy around 65 per cent of the portfolio. It is an interesting play because a large portion of the infra is currently under-priced. And infra includes many businesses — capital goods to logistic companies to construction and BOT (Build Own Operate) companies.
We tend to focus on capital efficient infra companies that are temporarily mis-priced. We have large exposure to engineering and capital goods, logistics, power trading and utilities, banking and financial services. The other theme of this fund, economic reforms, has not worked so far in the broader sense but we are focused on banking, insurance and power sector reforms. The focus is on stock selection within our PB/RoE framework.
So you get the opportunity to interact and meet most of the companies directly?
Yes, we do that when the team meets the management. Otherwise we interact with them either on a conference call or by meeting up with them.
How long will it take to get rewarded once we are invested in these funds?
While it is difficult to give a timeframe, investments across funds have started yielding relatively better returns. The infra-focused fund is likely to perform on undervaluation and likely capex revival. Mid-caps/small-caps have seen hibernation over the last couple of years and have been broadly ignored. We do expect that such disparity and under valuation will get corrected sooner than later by mean reversion.