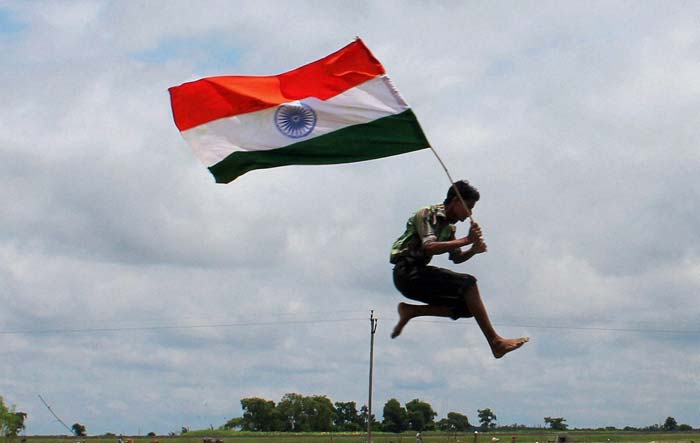 We launched our inaugural quiz on the eve of this Independence Day and quite unexpectedly received a phenomenal response from all our readers. So, we decided to award almost double the number of participants (than we previously announced). We have been very liberal and generous with giving points. Here are the answers.
Swayed by the infectious patriotism, Gourmohon Dutta, the founder of this iconic brand had distributed one lakh tubes of this salve, fondly known as hathiwala cream (due to its logo), for free on 15th August, 1947. Which brand or product?
Answer: Boroline

For a long time this organisation has been sporting a Sanskrit slogan, derived from Bhagavad Gita, as its tagline. The phrase translates to "your welfare is our responsibility". Which organisation that came to life due to a Parliament Act is being talked about?
Answer: LIC. The tagline being 'yogakshemam vahamyaha'
This brand originated in 1952 when a concerned Jawaharlal Nehru (the then Prime Minister) personally requested JRD Tata to manufacture beauty products in India so that Indian women don't have to spend precious foreign exchange on those. Which brand?
Answer: Lakme. Interestingly enough, the name was derived from a French opera titled 'Lakme', which in turn derived its name from the Sanskrit term 'Lakshmi' (as in the Hindu goddess)
Mysore Paints & Varnish Ltd. is a PSU that was formed in 1937 and currently owned by the Government of Karnataka. Its most well-known product has the unique distinction of being the only certified manufacturer of a certain product that is used across the length and breadth of India from time to time. The product is also exported to a number of countries in Asia and Africa. What 'unfading' product is being talked about?
Answer: Indelible voter's ink. It is exported to countries like Afghanistan, Turkey, South Africa, Nigeria, Nepal, Ghana, Papua New Guinea, Burkina Faso, Burundi, Canada, Togo, Sierra Leone, Malaysia, the Maldives and Cambodia.
This bank, founded in 1894 by several Swadeshi movement leaders, has the distinction of being the first Indian bank to have been started solely with Indian capital (also owned, managed and operated by Indians) that has survived to the present. It also had the privilege of maintaining accounts of leaders like Mahatma Gandhi, Shri Jawahar Lal Nehru, Shri Lal Bahadur Shastri, etc. Name the bank.
Answer: Punjab National Bank
This photo of Lord Pethick-Lawrence (then Secretary of State for India) and Mahatma Gandhi was taken during an interview in 1946. It holds immense significance in our daily lives. What is the significance?

Answer: The portrait of Gandhiji, used on our currency notes, has been taken from this particular photo. Here, compare.

In 1999, it became the first Indian company to be listed on NASDAQ. Here you can see an early day photo of the founders. Which company?

Answer: Infosys. You possibly couldn't have missed N. R. Narayana Murthy on extreme left.
This illustrious civil servant and politician (image below) did away with a 53-year-old tradition (or rather a colonial hangover) in 2001. What did he do?

Answer: Yashwant Sinha, the then Finance Minister of India, changed the Union Budget timing from 5pm to 11am. Till 2000, the Budget was announced at 5 pm (which was decided in the colonial era as it was convenient to the British).
To what 'first' can you connect these three clues?

Answer: India's first mutual fund - Unit Scheme 1964 or US-64. It was launched in 1964 by UTI, which was set up and controlled by the Reserve Bank of India.
Abhin Hattikudru
Karun Bir Singh
V.Srinivasa rao
Prasanth John
Om Prakash Jaiswal
Akhil Garg
Raja Selvam
Ashwin Date
Rohit Singh
Pankaj Setiya
S Mahadevan
pritam panja
Vipul Jain
Jinay Shah
Devender Mishra
Venkateswaran
Indu Sachan
Atul Sachan
Mayank Vibhuti Jha
Sanjeev Singha
Aditya Singh
Ritesh Baruah
Koushik Mondal
Supratik
Venu Madhav
Prasad Parsewar
Hari
Vishal Mehta
Suresh Mohapatra
Dr. Manojkumar Agarwal
Vasudeva Kothamasu
M K Dheer
Madhu
Ajitav Sahoo
Debiparna Chakraborty
Siddharth Arora
Milan
Krishna Murti
Venkatraman S
Hemant Bengani
Ganesh Kotak
Kiran Nayak
Kamal Krishan
Bishwajeet Kumar Sinha
Khojeshwar
Nebu
Anil M S
Krishnaswamy T
Abhay Bhattad
Jyothsna
Neeraj Lohia
P. Pushparaj
Mohit Chokhani
Sunitha
Prashant Poduval
Narendra Mahajan
Devraj
Srinivas Rao
Harish
Abhishek Rajput
Bhaskar Deb
Ramesh B Popat
S.Ramesh
Arpit Srivastava
Sanjay Sahu
Saurin Patel
Aludaiyaarasu T
Vikas Gupta
Amit Harode
Neeran
Sendil Kumar
Krishnan
Muzzammil Bambot
Vasant
Rajeswara Rao S
Saurabh Shukla
Manivannan G
Ajit Gupta
Srinivasan
sanjay sahu
Mukesh Singhal
Naveen Menon
Chandresh Sharma
Mahesh Buch
Srinivas Narayanam
Atul
Lokesh Gupta
Kaushik Bhattacharjee
Dhaval Jindal
K J Sarvaiya
Mahender
Dilip Tahiliani
Sanjay Kumar
Kamlesh Dhavale
Winners will be contacted soon. And we hope to be back with another quiz soon enough.