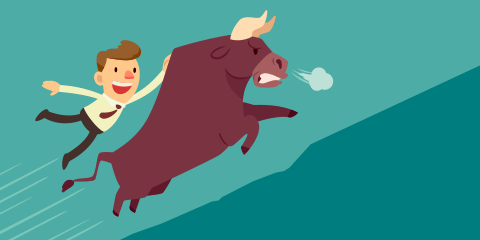 With two big initial public offers (IPOs) hitting the market, interest in the primary market has increased. Both Coffee Day Enterprises Ltd and InterGlobe Aviation Ltd had launched large sized IPOs (more than R1,000 crore). Coffee Day listed on Monday at a discount of around 17%. Therefore, listing gains aren't a given, a lot has to do with the demand and the pricing.
What are listing gains?
Listing means that the shares have been allotted as per IPO allotment schedule and now investors will be able to buy and sell these shares on stock exchanges. Issuing company ideally has to complete all the necessary formalities for listing up to 12 business days after the IPO closes for subscription.
On the day of listing, the stock might list or start to be traded at a price that is higher or lower than the cut off, or allotment price. If the opening stock price is higher than the allotment price, this difference is referred to as listing gain. Ideally, an IPO is expected to list with a positive bias in anticipation of market demand for a security, which was till now not available in the public domain. There is no guarantee that a stock will list with gains; there are many that have ended the first trading day with losses.
Investors who weren't able to apply in the IPO or got a lower allocation are able to buy from the secondary market after a stock is listed.
Listing gains or long-term return?
While listing gains are anticipated in every IPO, the actual outcome depends not only on the demand for the particular issue but also on the general market mood. If the market sentiment is bearish, then the likelihood of gains on listing is low. The listing gains themselves at times may be unrelated to long-term returns. The immediate fortune of a stock depends on external factors, market environment, shortterm trader outlook and global factors. In the long run, returns align themselves to the growth and earnings expectation. So, if there are gains on listing, these may or may not last beyond a few days.
For traders, lure of listing gains is high, but they also analyse that on the basis of the demand for an IPO and external factors. Long-term investors should be more concerned about future growth and earnings.
Also consider valuation of the stock at the price it was allotted.
In 2015, of the 52 large- and small-sized IPOs, 26 listed at a gain of less than 10% and 11 listed with negative returns.
Leave listing gains to professional traders; for long-term investors, the attraction of investing in an IPO should be about long-term returns and owning a piece of company that wasn't available earlier.
In arrangement with HT Syndication | Mint