Titan Industries is a company in transition. The Titan brand holds two different connotations for people separated by age. Our parents still regard it as a wrist watch company. Our generation knows Titan more for its Tanishq brand — the stores where we can buy our better halves the only branded gold and diamond jewellery that is available throughout the country.
To understand the transition at Titan, consider this. Founded in 1985, the company started its jewellery operations 10 years after incorporation. Sixteen years hence, Titan currently derives 76 per cent of its revenues and 72 per cent of its operating profits by selling gold jewellery.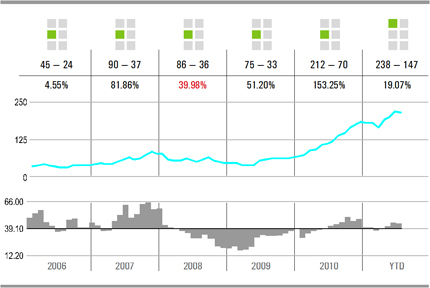 Source of moat
The Tata stamp. What helps Titan is the Tata brand name backing it and the high level of trust that people repose in that name. "The Tatas will not cheat" is a strong perception among the general public — a very advantageous association to have, especially when selling jewellery.
The nation's time keeper. Watches bring a little less than 20 per cent of Titan's revenues, but the lower contribution hides Titan's real strength in that market. With a 25 per cent volume share and 45 per cent value share in the Rs 3,800 crore Indian watch market, no other branded watch maker has the same brand equity and customer reach as Titan's popular brands that include Titan, Sonata and Fastrack.
Management — Titan's real competitive advantage. Titan's fortunes were not as robust as they are today. As late as 2004, the company was weighed down by debts of over Rs 400 crore (debt to equity ratio stood at 3.5) while return on capital employed (RoCE) stood at sub 10 per cent levels.
The management's decision under Bhaskar Bhat, the managing director, to focus on jewellery has paid off handsomely. The company is now net debt free with free cash flow estimated at upwards of Rs 600 crore (FY11). RoCE has improved significantly: between 2000-05, RoCE averaged 11 per cent. In the next five years, as the jewellery business's contribution started dominating Titan's sales, RoCE jumped to an average of 34 per cent.
The management team headed by Bhat has to be credited for the turnaround. A Tata veteran, Bhat joined Tata Watch Project (later christened Titan Industries) in 1983, and has been leading Titan as its MD since 2002.
Bhat is now betting big on eye wear. With 150 stores, it is already the country's largest optical retail chain. Will he achieve the same degree of success as with the Tanishq brand? Only time will tell.
Whether it is watches, jewellery or eye wear, Titan under Bhat has successfully branded somewhat generic categories and carved a niche for itself. What if the next MD is not as keen-sighted or is, well, not another Bhat?
Growth drivers: jewellery business
Opportunities galore. Driven by rising disposable incomes and strong social association (which marriage in our country is not accompanied by purchase of gold?), India has turned out to be the world's largest gold market, with an estimated size of around `90,000 crore (FY10). About 75-80 per cent of this demand comes from jewellery. Most of gold buying has traditionally been done through local jewellers who roughly have 94 per cent of the market to themselves, leaving the remaining to organised players.
According to the World Gold Council, the total market for gold in India is expected to double by FY16. That is a humungous opportunity, especially for branded players like Titan who are able to charge a premium for their brand. Expanding presence. Titan has 150 jewellery stores in 75 towns. The company plans to expand to the tune of 60,000-70,000 sq ft in FY12, which will augment the current base of 0.32 mn sq ft (FY11). Store size too is set to increase from the current average of 2,000 sq ft to 20,000 sq ft in tier I cities. The larger size is expected to improve inventory turnover, besides increasing visibility.
Titan does not intend to ignore tier II cities either. It is looking to expand its "Gold Plus" stores targeted at semi-urban and rural areas (estimated jewellery market size of Rs 30,000 crore). From the current base of 29 stores, Titan plans to add two to three stores every year to extend its reach in this segment.
Finding moolah in diamonds. Increasingly, Titan is pushing the sale of diamond jewellery. Diamonds are more attractive as they have higher gross margins than gold — 40 per cent against an estimated 20 per cent for gold. The company started selling diamonds through its Zoya stores only in FY10, targeting the premium and young consumers in tier I cities. Within this short time, diamonds are estimated to account for a third of Titan's jewellery sales. To further augment diamond sales, Titan plans to launch lower-priced 18 carat diamond jewellery targeted at the mass market.
Watches: in with the times
Existing opportunities. Do you think watches are ubiquitous? In reality, only 27 per cent of Indians own a watch! Titan has a 45 per cent market share (by value) of the Rs 3,800 crore watch market in India. The low penetration offers a huge opportunity even for the market leader.
Lower price points. Around 65 per cent of the 4.8 crore watches sold every year in India are those under Rs 500 apiece. Titan has launched the Sonata range at the Rs 275 price point to grab entry-level customers.
Expanding store network. Titan plans to add around 30 new Helios stores (multi-brand outlets) in FY12 to its current base of three. An additional 150 "World of Titan" (exclusively Titan) and Fastrack stores will be added to their current tally of 291 and 43 respectively.
What could cause moat to be breached
Gold rush. Tanishq's success has attracted a number of players. Leading among them is Gitanjali (Gili brand) which owns 485 stores (compared to Tanishq's 150). Other smaller competitors include Big Bazaar (49 stores), Rajesh Exports (26), and Reliance Jewels (22). Even though the number of organised players looks set to rise, none of them has the same customer recall, reach and the Tata brand association.
Watches — a dying industry? How many times have you reached out for your cell phone when you wanted to see the time? A lot of us do that unconsciously now — sometimes several times a day — which begs the question: would you miss your wristwatch if you had only your cell phone with you?
The threat from the cell phone is more relevant in the lower-priced watch segments. A plethora of cheap cell phones —Nokia 1280 (Rs 1,200), Samsung Guru (Rs 1,100) and a host of Chinese unbranded cell phones that come at even sub Rs 1,000 — all tell the time. They could potentially pose a threat to Titan in future.
The same argument, however, is not likely to hold true for premium brands: would you replace your Omega, Rado or Tissot for your cell phone? Most likely not!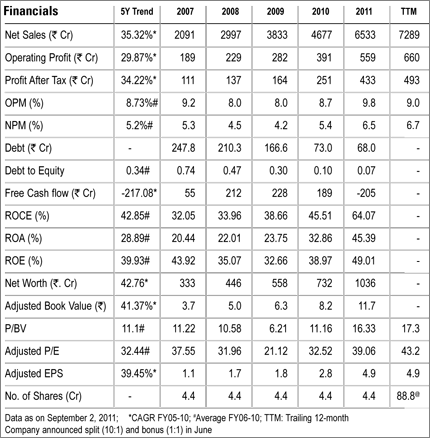 Financials
Titan reported a 40 per cent jump in net sales in FY11 to Rs 6,533 crore. PAT came in 74 per cent higher at Rs 436.5 crore. Revenues from watches grew 24 per cent to Rs 1,266 crore while the jewellery business saw revenue growth of 44 per cent to Rs 5,027 crore. Watch margins improved 60 basis points to 14.7 per cent, while jewellery margins jumped 127 bps to 8.5 per cent owing to higher diamond sales. The company added 122 stores in FY11, taking total retail store count to 665, which includes 360 outlets for watches, 150 for jewellery, and 150 stores under Titan Eye+.
Valuation
At Rs 216.80, the stock is close to its all-time highs. Titan now trades at 43.23 times its FY11 earnings, which makes it more expensive than the BSE Consumer Durable index, which is currently at a multiple of 19.62. Titan's current PE is also way above its five-year median PE of 38.82.
At a price-earnings to growth (PEG) ratio 1.10 (based on five-year EPS in the denominator), Titan does not seem to offer value. That is because maintaining its five-year compounded annual growth rate of 39.45 per cent in EPS may prove difficult in future. Even the more optimistic analysts see the company reporting earnings growth ranging from 30-35 per cent in FY12. As such, there is no comfort in the stock for investors looking to buy it at current valuations. Exercise patience till the stock's price cools down from its current peak levels.